Washington, D.C. – This morning, The Wall Street Journal refused to run a print ad (see below) from MoveOn calling on Rupert Murdoch to stop Fox News's lies and noting its censoring of MoveOn's ad "Lied to You." The WSJ's censorship follows Fox News's refusal last week to run MoveOn's broadcast ad. That ad quotes recently released emails and text messages from Fox News executives and hosts showing they intentionally presented false allegations about election fraud during reporting on the 2020 presidential election results in order to keep ratings and profits up. 
"Despite Rupert Murdoch's deposition revealing he knew Fox News hosts were lying about the 2020 election, Murdoch continues to censor the truth. Tucker Carlson Tonight's blatantly sanitized and heavily-edited coverage of the Jan. 6 insurrection last night shows just how much Murdoch is willing to manipulate the truth for the sake of profits and power," said MoveOn Civic Action Executive Director Rahna Epting. "Fox News needs to acknowledge its lies. Until they do, we'll keep mounting pressure on Murdoch to take responsibility for his political propaganda machine that platforms conspiracy theories and dangerous falsehoods."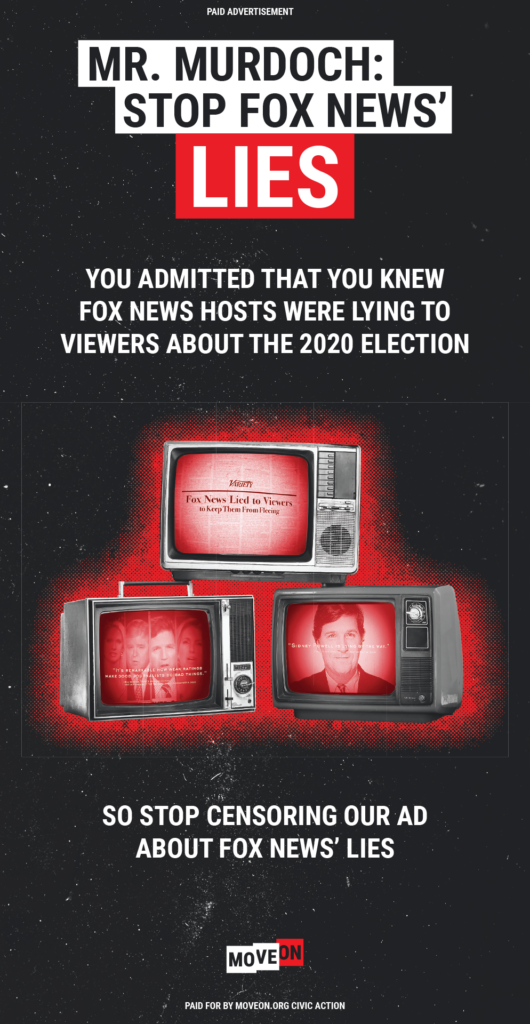 Since Fox News rejected "Lied to You," MoveOn has run the ad on digital platforms to reach Fox News audiences shielded from the bombshell exposé.
###
MoveOn is a people-powered force for progress. MoveOn mobilizes the left to elect Democrats and enact progressive change. We are the homebase for millions of members who refuse to accept the status quo and are moved to take action. For more than a generation, MoveOn has been a bulwark against the radical right, channeling our voices to end wars, protect democracy, and advance justice for all.