Need a quick, healthy side with loads of flavor? Try these Air Fryer Carrots with Honey Balsamic Glaze. They're packed with sweet, savory, tangy flavor and incredibly easy to make!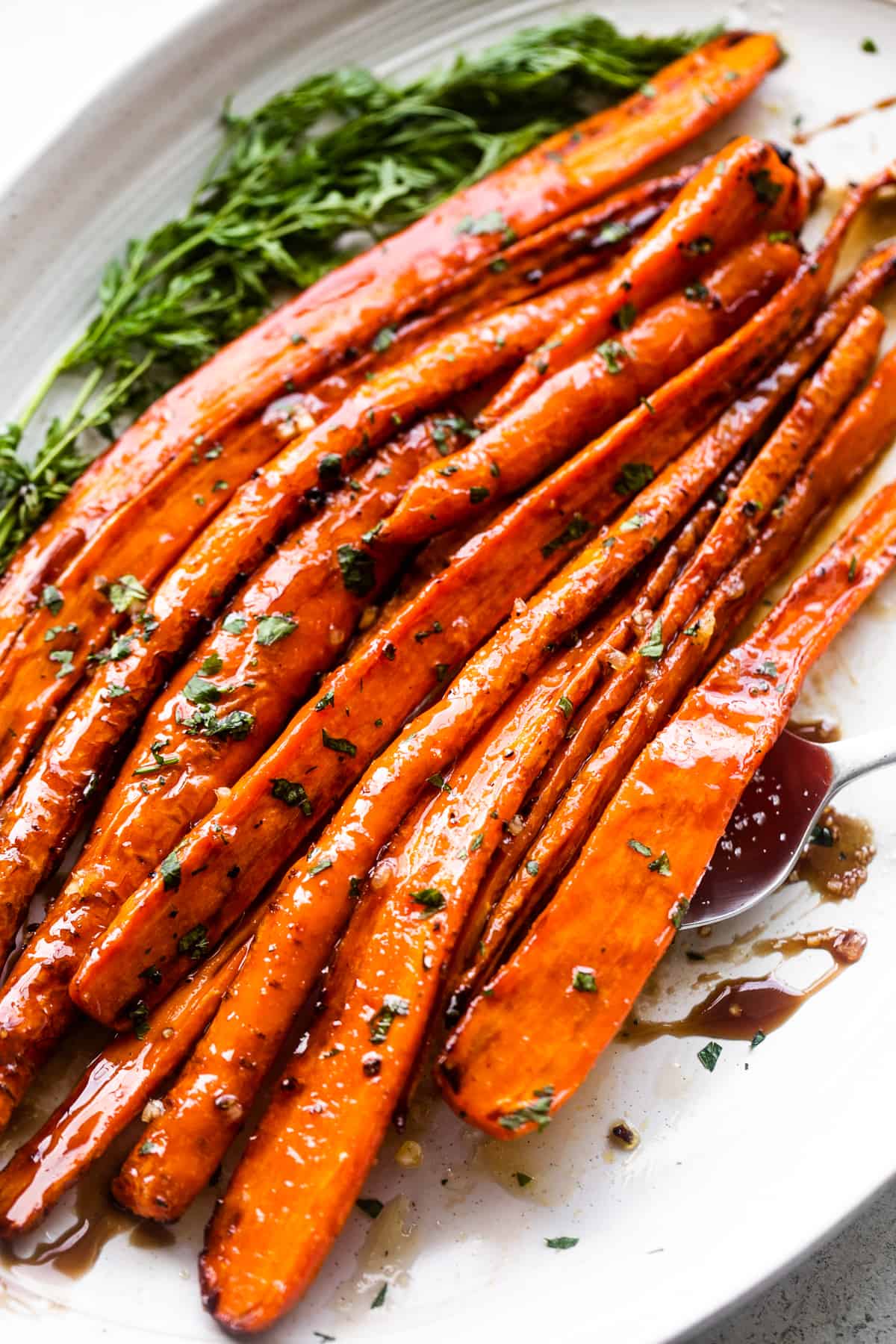 Sweet and Tangy Air Fryer Carrots
Air fryer carrots are my secret weapon in the world of side dishes. They're easy to make, with a great texture and light caramelization. Plus, carrots are nutritious, and you can flavor them with anything you like! From garlic and butter to honey and cinnamon, any combo works with this classic veggie.
For this recipe, I'm using another one of my favorite ingredients: balsamic glaze. If you are familiar with balsamic vinegar, you'll love the thicker, sweeter cousin, balsamic glaze – it adds a deep, tangy, savory taste to dishes like this. Balanced with some honey, that's one unforgettable combo!
Are Air Fried Carrots Healthy?
Definitely! Carrots are a wholesome veggie side dish that delivers a boost of vitamin A, vitamin K1, biotin, potassium, and inflammation-fighting antioxidants. All of that with low calories and a low glycemic index! And when you cook carrots in the air fryer, you are not losing nutrients into the cooking liquid, unlike boiling or simmering. This hearty, healthy side dish not only tastes great, it's great for your body.
What You'll Need
Just what's in this simple side dish? Good question! All you need are some good carrots and a few simple seasoning items. Here's the list:
Fresh Carrots: You can choose whether or not to peel or scrub them, but make sure they're well-rinsed and cut in half lengthwise.
Olive Oil: Or avocado oil, or another cooking oil of your choice.
Butter: Melt the butter before using it.
Honey: Maple syrup would also be great.
Garlic: Freshly minced, or you could substitute garlic powder in a pinch. 
Salt and Pepper 
Balsamic Glaze: This is usually sold near the vinegars, oils, or condiments.
Chives: Freshly chopped, for garnish.
What's the Difference Between Balsamic Vinegar and Balsamic Glaze?
Balsamic vinegar is a type of vinegar that's intensely flavored with a sweet, woodsy, herbal fragrance.
However, in its most basic form, balsamic glaze is simply balsamic vinegar that has been simmered to evaporate the water and leave a thicker, richer version. This is called "reducing" the vinegar, or more specifically, a balsamic reduction.
You can also buy balsamic glaze at the store, but you may want to read the labels. Some of them are just vinegar thickened with stabilizers and sweetened with sugar, rather than an actual balsamic reduction.
How to Make Air Fryer Carrots
This method is about as easy as it gets – perfect for busy cooks and busy weeknights. Here's the skinny:
Prep the Air Fryer. First, set the air fryer to preheat to 400˚F. Next, give the air fryer basket a light spritz of non-aerosol cooking spray.
Season the Carrots. Mix the olive oil, butter, honey, garlic, salt, and pepper together in a large bowl, and then dump in the carrots. Toss to coat.
Air Fry in Batches. Add some of the seasoned carrots to the air fryer basket, enough to make a single layer. Air-Fry for about 10 minutes, flipping, or shaking the carrots halfway through that time. Move the cooked carrots to a serving plate, and then air-fry the remaining carrots the same way until they are all cooked.
Serve! Drizzle the cooked carrots with balsamic glaze, garnish with chives, and serve.
Tips for Success
Check out these helpful tips and tricks for making the best air fryer carrots. This might just become your new favorite side!
The Carrot Options Are Endless: Baby carrots, whole carrots cut into coins, sticks, or chunks; purple carrots, white carrots… you name it. All of these are up for grabs. You can even air-fry frozen sliced carrots (although they won't be nearly as crispy).
Shake the Basket: Depending on the size and shape of the carrots, you can skip flipping each one and simply shake the basket once or twice to ensure even cooking.
Serve Immediately: I find that air fryer carrots tend to soften a bit as they sit, so recommend serving them right away for the crispiest, best texture.
What to Serve with Air Fryer Carrots
Air fryer carrots go with just about anything, from beef to pork to your favorite vegetarian dish. Here are a few simple recipes to spark your menu-making creativity:
Pork Chops: The sweet and tangy flavors in this recipe are perfect with pork. Try these Ranch Pork Chops for a family-pleasing main course that's a breeze to make.
Casserole: Any casserole dinner needs a good, healthy side dish, and vice versa. For these carrots, I think a Cheesy Chicken Spinach Bake would be a match made in heaven.
Pasta: Serve these flavorful air fryer carrots with a hearty helping of Southwest Chicken Alfredo, and prepare for everyone to beg for seconds! You could also do any pasta dish that you love.
How to Store and Reheat the Leftovers
Like many veggies, these will keep fresh in your refrigerator for 4 to 5 days, covered tightly. Reheating is easy, too – just microwave for a couple of short bursts, or pop them back in the air fryer for a few minutes at 350˚F, to warm them up.
Can I Freeze These?
Yes, roasted carrots are great for freezing. In fact, you may want to make extras if you have the time, and freeze them for another meal.
For best results, cool the carrots down to room temperature first, and then pack them into freezer bags and store in your freezer.
Reheat directly from frozen.
ENJOY!
Preheat Air Fryer to 400˚F.

Lightly grease air fryer basket with cooking spray.

In a large mixing bowl whisk together the olive oil, melted butter, honey, garlic, salt, and pepper.

Add the carrots to the honey mixture and toss to coat.

Working in batches, add carrots to the air fryer basket in one single layer; cook for about 10 minutes, flipping, or shaking the carrots halfway through cooking.

Transfer carrots to a serving plate.

Drizzle with balsamic glaze.

Garnish with chives.

Serve.
Carrots: I used long carrots for this recipe, but you can use any type of carrot that you like or have on hand; baby carrots, large carrots, purple carrots, etc… For a prettier presentation and faster cooking, I suggest to cut the carrots in half, longwise. 
Prepping the carrots: If your carrots are longer, you may find it easier to toss them, with the honey butter, in a rectangular dish, like a 9×13 baking dish. OR, use a pastry brush to brush the carrots with the mixture instead of tossing them in a bowl.
Cooking the carrots: I have a single basket air fryer and that is why I cook the carrots in batches. IF your air fryer can fit all the carrots, and in one single layer, then it's fine to cook them all at once.
Balsamic Glaze: Make sure you are using a balsamic glaze and NOT balsamic vinegar.
Calories: 82 kcal | Carbohydrates: 11 g | Protein: 1 g | Fat: 4 g | Saturated Fat: 2 g | Polyunsaturated Fat: 0.4 g | Monounsaturated Fat: 2 g | Trans Fat: 0.1 g | Cholesterol: 5 mg | Sodium: 261 mg | Potassium: 251 mg | Fiber: 2 g | Sugar: 6 g | Vitamin A: 12688 IU | Vitamin C: 5 mg | Calcium: 29 mg | Iron: 0.3 mg | Net Carbs: 9 g
Nutritional info is an estimate and provided as courtesy. Values may vary according to the ingredients and tools used. Please use your preferred nutritional calculator for more detailed info.
More Air Fryer Veggie Recipes