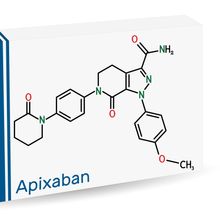 New data from a clinical trial suggest that apixaban, an anticoagulant that's widely been prescribed to promote recovery in patients with severe cases of COVID-19, doesn't offer any discernable benefit for people with the disease.
The UK-wide trial, which is run by Addenbrooke's Hospital and the University of Cambridge, involved more than 1,000 hospitalized COVID-19 patients and compared the outcomes of those who had been randomly assigned to receive apixaban to those who had not, according to Financial Times. It found that 29.1 percent of those who received the blood thinner either ended up back in the hospital or died within a year, compared to 30.8 percent of people who weren't given the drug. That finding doesn't support apixaban as an effective treatment for COVID-19, and the researchers conclude that doctors ought to stop prescribing it to their coronavirus patients. Meanwhile, BBC News reports that a "small number" of the 402 patients who took apixaban had to discontinue treatment due to severe bleeding.
"Up until now it's been assumed that Apixaban helps patients recover after severe Covid-19 and that thinning their blood to prevent clots is beneficial," joint chief investigator Mark Toshner, director of translational biomedical research at Cambridge, tells FT. He adds that he and his colleagues hope "these results will stop this drug being needlessly prescribed to patients with Covid-19 and we can change medical practice."
Charlotte Summers, the other joint chief investigator on the trial and an intensive care specialist at Addenbrooke, tells BBC News: "This finding is important because it will prevent unnecessary harm occurring to people for no benefit." She adds that it "also means we must continue our search for therapies that improve longer-term recovery for this devastating disease."
The trial will continue with other drugs thought to help against COVID-19, according to BBC News, including a statin called atorvastatin that may help lessen the inflammatory response launched by COVID-19 patients' immune systems and so prevent tissue damage.