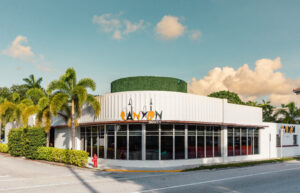 After nearly 30 years of serving the Fort Lauderdale dining crowd, Canyon's latest evolution demonstrates its commitment to serving a contemporary dining experience suited for today's foodies. After moving to Fort Lauderdale's charming Rio Vista neighborhood, the new owners of the well-established restaurant wanted to ensure the venue kept to its original concept but with a more contemporary flair. Thus, a 20-seat Tequila bar was crafted with speakeasy vibes and flavorful cocktails with enticing aromas to provide more sophistication and relaxation.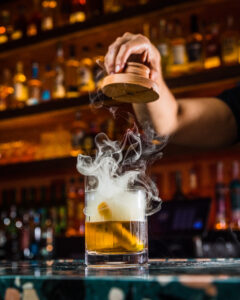 Decked with a bar and comfortable lounge seating, Rio's Tequila Bar inside Canyon offers the perfect scene for pre-dinner drinks and appetizers. Based on the waiter's recommendation of crowd-favorite beverages, we started the night with the Smokey Gun concoction crafted from Se Busca Blanco Mezcal, walnut bitters, honey and smoked Oak Wood that gives a unique fireplace smell you don't often find in South Florida to enhance the secluded environment. With our senses heightened, the popular Sixth St. Sour mix of Rosaluna Mezcal, chinola passionfruit and pisco added even more taste to the flavorful adventure. A Tapas menu of small bites with a bevy of flavors adds to the relaxed atmosphere. Our appetizer foray led us to try the Canyon Ceviche, which certainly hit the spot with a perfect blend of poached calamari, shrimp, chef's choice fish, jalapeno and pico de gallo, all blended smoothly with a citrus kick. The seasoned corn tortilla chips were the ideal vehicle to pair with the ceviche and cocktails to ensure a bevy of interconnected tastes.
With 5,000 square feet of redesigned space blanketed by custom murals inspired by the neighborhood's lush vegetation, the intimate setting offers an upscale yet approachable dining experience. Guests have more than enough room to gather privately in a 20-person dining area or the east and west-side dining room with a capacity of over 100 on each side. Following our move from Rio's Tequila Bar to the newly reimagined space for traditional sit-down dinners, we were greeted by friendly waitstaff and The Famous Prickly Pear Margarita. The popular drink among locals served as our go-to cocktail for the night, made with an infusion of reposado tequila with prickly pears, triple sec and house-made sour mix.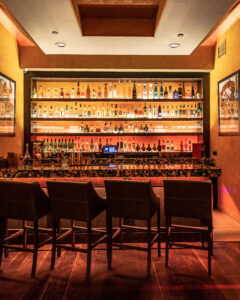 With just the ideal amount of Mezcal and Tequila in our system, it was time for globally-inspired cuisine to take center stage and it certainly proved to be the perfect complement. Canyon is known for its American artisanal cuisine with Asian, South and Central American offerings. Wanting to experience the variety, I chose the quintessential short rib rigatoni with green chili cabernet, cremini mushroom and manchego cheese. I quickly devoured the pasta and short rib, smothered in a delicate gravy sauce featuring the makings of an authentically made dish. Keeping to the crowd favorites among locals, we delved into the crispy pork tacos with manchego cheese, mashed avocado, cabbage slaw and pico de gallo covered in cilantro cream, which indeed adhered to the restaurant's traditional southwest theme and flavor.
While some South Florida mainstays in the hospitality world can become stale or worn out, Canyon's ability to deliver an eclectic mix of cocktails, tapas and large dishes ensures it can cater to a range of evolving tastes and lifestyles. Whether stopping in to experience the speakeasy tequila bar, live music happy hours on Thursdays and Fridays, or a traditional sit-down dinner, Canyon's variety of delicious food and lively entertainment will ensure this pillar of the Fort Lauderdale dining scene remains a trendy hotspot for years to come.
For more information about Canyon or to make a reservation, please visit www.canyonfl.com.