This Mulligatawny Stew is a rich, heartwarming, one-pot meal loaded with chicken, veggies, lentils, coconut milk, and warm Indian spices. It's quick and easy and sure to get your taste buds dancing. 
Hearty & Filling Mulligatawny Soup
I love good, hearty stews. They come together so easily and warm you to the core. This mulligatawny stew is one of my favorites. It's packed with nutrients and the enchanting aromas of curry and other exotic spices. Just the smell of the stew on the stovetop promises your taste buds a fantastic treat.
Hearty lentils, fall-apart chicken, lots of veggies, a hint of sweetness from coconut milk, and a lone Honeycrisp apple all come together in this delicious one-pot meal. In just 45 minutes, you could be taking your senses on a trip to South India. What are you waiting for?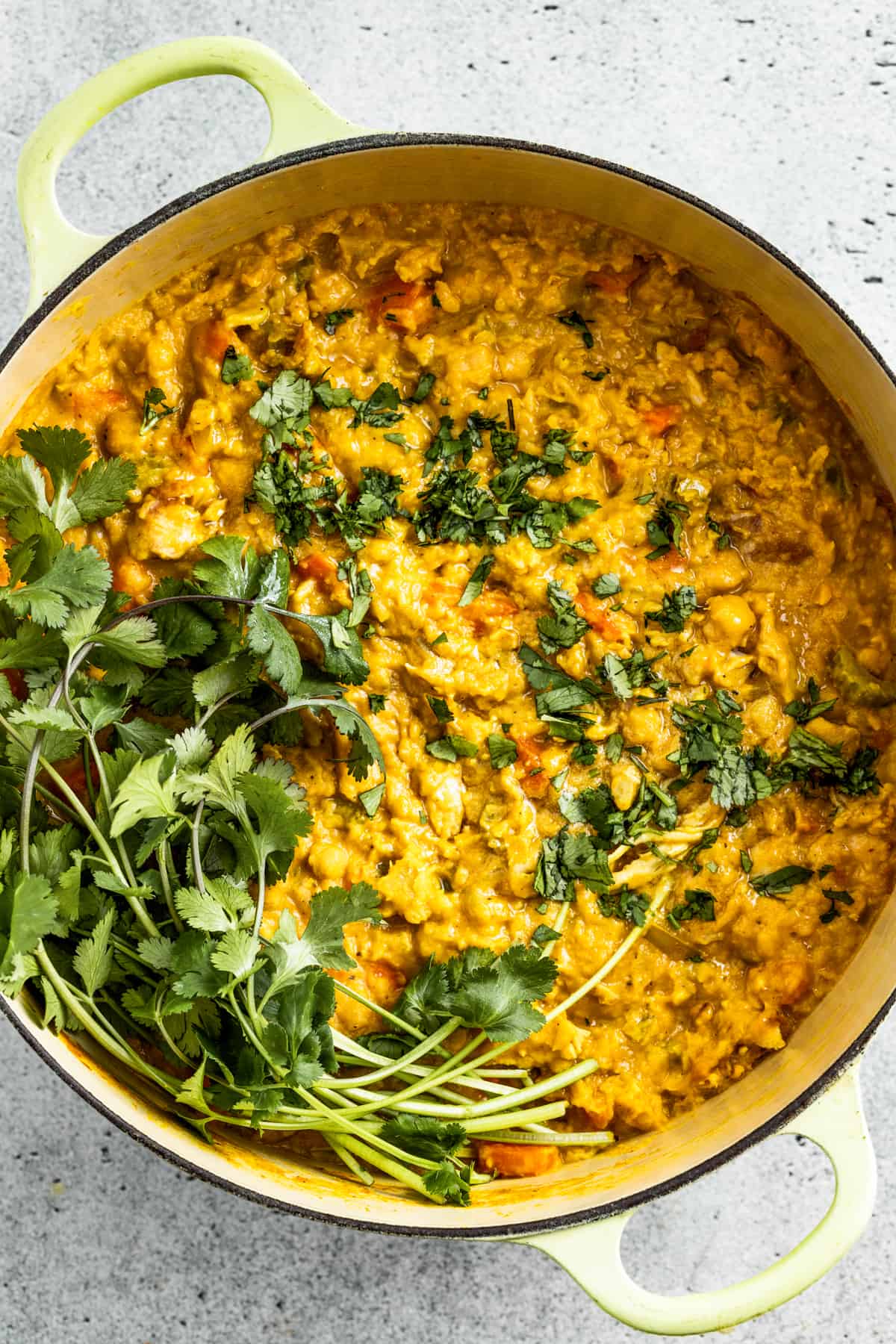 What Is Mulligatawny Stew?
Mulligatawny Stew is a hearty dish originating from South India. It features lentils, veggies, warm spices such as curry, and protein (usually chicken and mutton). To make this recipe more accessible, I have chosen to leave out the mutton here but feel free to try it if you come across some. 
Fun fact. While westerners have eliminated peppers from mulligatawny stew, the traditional version contained peppers, hence the stew's name. Mulligatawny translates, more or less, to "pepper water." It was brought to the West by members of the East India Company after their time stationed in India in the late 18th century. 
Recipe Ingredients
Some chicken, some lentils, some veggies, and a plethora of warming spices, and you've got a meal to write home about. Here's what you will need to make mulligatawny stew.
Unsalted butter
Boneless skinless chicken thighs: Feel free to use boneless skinless chicken breasts too. You are also welcome to use a different protein, such as turkey or beef. Traditionally, mutton is a top protein choice in this hearty stew. If you can find it, throw it in with the chicken. 
Sea salt
Ground black pepper
Onion 
Celery
Carrots
Honeycrisp apple: Other apples will do. I suggest you choose one that is on the sweeter side. 
Garlic
Turmeric
Ground ginger
Cardamom
Cumin
Curry powder
Tomato paste
Red lentils
Canned chickpeas: These are optional. They make for a much heartier stew.
Coconut milk: I prefer using full-fat coconut milk but low-fat will work as well.
Chicken stock: Select a quality stock. I like boxed products as opposed to canned ones. If you have time to make your own, that's even better! Try this Chicken Broth recipe.
Chopped fresh cilantro to garnish: Some people hate cilantro with a fiery passion. If that's you, feel free to use chopped fresh parsley instead.
Easy Variations & Additions
This stew is pretty near perfection as is but I encourage you to play around and find out what's best for you. Here are a few suggestions of ways to make this Indian classic your own.
Go vegetarian. It's A-OK to leave the chicken out. You can easily replace it with extra chickpeas and/or veggies. I bet bell peppers would make an excellent vegetarian addition here. Just add them with the rest of the veggies.
Choose a different protein. Traditionally, mulligatawny stew is made with chicken and mutton. I left the mutton out this time, but feel free to sub out half of the chicken for mutton. You could also use turkey or cubed beef.
Add more stock to get your ideal consistency, or add more coconut milk if you like a coconut flavor. Adding more liquid will turn this dish from stew to soup. Give it a try, and make sure to season it with salt and pepper as you add extra liquid.
How to Make Mulligatawny Stew
This one-pot wonder cooks up in under an hour. Pretty impressive considering the resulting depth of flavor. Here's an overview of how to make chicken mulligatawny stew. Remember to scroll to the recipe card below for more detailed instructions.
Brown the chicken. Heat some butter in a large, heavy-bottomed pot over medium-high heat and add the chicken. Season with salt and pepper and cook for 2 minutes on each side. Remove the chicken from the pot and set aside. 
Saute the veggies. Add the rest of the butter, the veggies, and the apple to the pot, season with salt, and sauté for a couple of minutes. 
Add the spices. Add the garlic, turmeric, ground ginger, cardamom, cumin, and curry powder and sauté until fragrant. 
Stir in the tomato paste. 
Add the rest. Add the red lentils, chickpeas, coconut milk, and chicken stock followed by the browned chicken and bring the stew to a boil. Reduce the heat to low. 
Simmer for 20 minutes.
Chop the chicken on a cutting board and return it to the stew pot. 
Season with salt and pepper to taste and garnish with fresh cilantro. 
Tips for Success
Ready to make the best chicken mulligatawny stew you've ever had? Follow these simple tips and tricks and you'll be well on your way.
Use a sturdy pot. Using a heavy pot will ensure that the heat spreads evenly throughout the stew and help prevent the ingredients at the bottom of the pot from burning. 
Choose a quality stock. The stock permeates the entire stew. It is important that you select a good one. I tend to like boxed stocks better than canned ones. If you can make your own, please do!
Keep it at a simmer. Trying to speed up the cooking process by cooking at a higher heat can be tempting, but don't do it. You will end up with tough chicken and unevenly cooked, fall-apart veggies. In addition, the flavors won't get a chance to develop as nicely as they would at a slow simmer. 
Season at the end. Before serving, give the stew a taste. At this point, you've added lots of veggies and liquids, so it's always good to recalibrate at the end of the cooking process. If it needs a little extra salt and/or ground black pepper, give it a pinch or two. 
What to Serve With Homemade Stew
This delicious stew will fill you up on its own but that doesn't mean it's not fun to serve with a side or two. Lighten things up with some veggies or a salad or dive even deeper into Indian cuisine with homemade naan. The choice is yours. Here are some of my favorites.
How to Store & Reheat Leftovers
Unless you are feeding a large group, you will likely have leftovers here. Yay! Allow the stew to cool completely before sealing it in an airtight container and storing it in the refrigerator for up to 4 days.
When ready to enjoy, transfer the stew to a pot and heat over medium heat on the stovetop, stirring occasionally. You can also reheat it in an individual bowl in the microwave. Cover the bowl and heat for 30 seconds before stirring and heating for another 30 seconds.
Can I Freeze Mulligatawny Soup?
Mulligatawny soup freezes beautifully. Allow the soup to cool completely before transferring it to an airtight container. Seal the container and store it in the freezer for up to 3 months.
To reheat: Allow the soup to thaw in the refrigerator overnight before reheating it over medium heat on the stovetop, stirring occasionally.
More Easy Stew Recipes:
The winter months may be coming to an end, but it's always stew season. I love this chicken mulligatawny stew, but here are some other easy recipes to dip your spoons into.
ENJOY!
Melt 2 tablespoons butter over medium-high heat in a large Dutch oven or heavy-bottomed soup pot.

Add the chicken, season it with salt and pepper, and brown it for about 2 minutes on each side.

Remove the chicken from the pot and set aside.

Add the rest of the butter to the pot along with the chopped onion, celery, carrots, and apple.

Season with sea salt and sauté for 2 to 3 minutes or until the onions are translucent.

Stir in the garlic, turmeric, curry powder, cumin, ground ginger, and cardamom; sauté for about 20 more seconds.

Add the tomato paste and stir until evenly distributed.

Stir in the red lentils, chickpeas, coconut milk, and chicken stock.

Return the chicken to the pot and bring everything to a boil.

Reduce heat to low, cover, and simmer for 20 minutes.

Remove the chicken from the pot and transfer it to a cutting board; chop it into bite-sized pieces and return it to the soup pot.

Give the stew a taste and, if desired, season with more salt and pepper.

Ladle into bowls and garnish with chopped fresh cilantro.

Serve warm.
Chicken: I used boneless skinless chicken thighs, but you can also use chicken breasts instead of thighs. Traditionally this recipe is prepared with mutton, so if you can get your hands on that, go ahead and use that together with the chicken. If you want a vegetarian dish, please feel free to leave out the protein. 
Apples: Honeycrisp is a great choice, but you can also use whatever you have on hand. 
Coconut Milk: I suggest using one 14-ounce can of unsweetened coconut milk; full-fat or low-fat will work.
Sea Salt heightens the flavor of the dish, but if you don't have sea salt, use regular table salt.
Season at the end. Before serving, give the stew a taste. There are lots of veggies and liquids here, so it's always good to taste and adjust the seasonings at the end of the cooking process.
Storing: Transfer the cooled stew to an airtight container and keep it in the refrigerator for up to 4 days or freeze it for up to 3 months.
Serving: 1 bowl | Calories: 360 kcal | Carbohydrates: 32 g | Protein: 21 g | Fat: 17 g | Saturated Fat: 12 g | Polyunsaturated Fat: 1 g | Monounsaturated Fat: 3 g | Trans Fat: 0.1 g | Cholesterol: 56 mg | Sodium: 784 mg | Potassium: 822 mg | Fiber: 12 g | Sugar: 8 g | Vitamin A: 4326 IU | Vitamin C: 7 mg | Calcium: 61 mg | Iron: 4 mg | Net Carbs: 20 g
Nutritional info is an estimate and provided as courtesy. Values may vary according to the ingredients and tools used. Please use your preferred nutritional calculator for more detailed info.