Creamy Chicken Francaise is a classic French-inspired Italian-American recipe, kicked up a notch with the creamiest garlic and lemon sauce. This restaurant-style favorite is an easy one-pan dinner that you can make at home in 30 minutes!
Easy and Creamy Chicken Francaise
A little lemon on your plate brightens up a whole meal, and this easy Chicken Francaise is a testament to that. This flavorful chicken recipe is rich, creamy, garlicky, and perfect for any night of the week. Creamy Chicken Francaise combines the classic dish with a rich garlic and lemon sauce, and you can enjoy this restaurant-quality, one-pan meal at home in just 30 minutes! The chicken tastes totally gourmet, and the best part is that it's super simple to make. To top it all off, your house will smell incredible with all that lemon and garlic simmering in cream! I'm sure you can imagine.
Why You'll Love This Chicken Francaise Recipe
One pan. The chicken is lightly breaded and then pan-fried so that the outside is golden and crispy, while the inside is juicy and tender before it's smothered in creamy sauce. Everything is cooked in the same skillet for quick and easy clean-up.
Garlic and lemon cream sauce. Delicious flavors of lemon and fresh herbs come together in a rich homemade cream sauce in this recipe. The sauce is so simple, yet you're going to want to drink it from the pan.
Family-friendly. The light flavors and extra creaminess in this homemade Chicken Francaise make it especially family-friendly. If your kids love creamy chicken dishes like Chicken Alfredo, there's a good chance they'll love this recipe, too!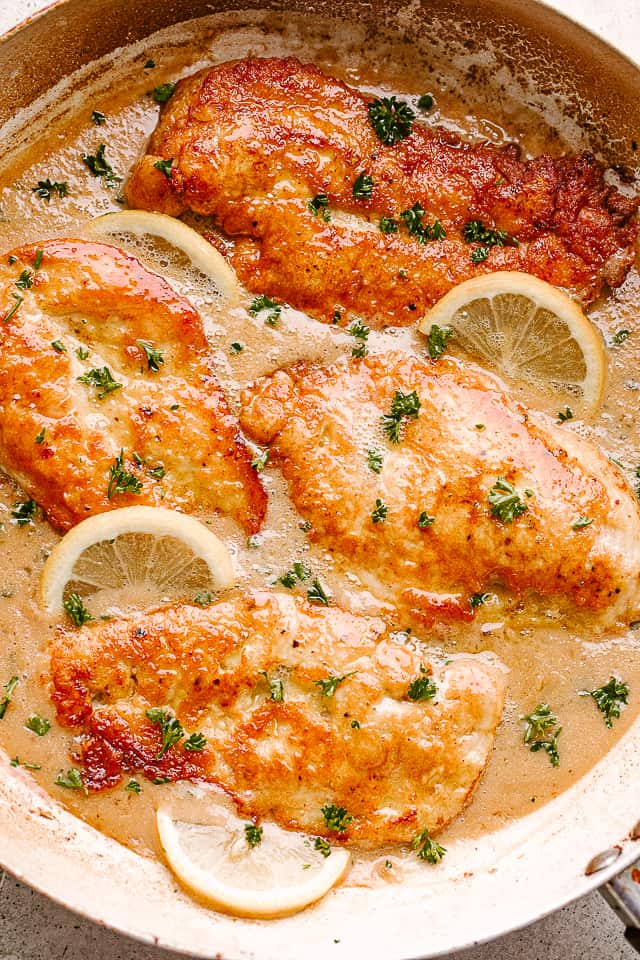 What Is Chicken Francaise?
Chicken Française, also spelled Chicken Francese, is a French-inspired, Italian-American specialty. It's often confused with its similarly saucy cousin, Chicken Piccata, but there are a few differences. Francaise means "in the French style". In this case, the chicken is breaded in a backward process to piccata. The filets are dredged in flour first and then coated in egg before they're pan-fried and topped with a delicious lemon sauce. While piccata includes capers, Chicken Francaise keeps it simple with a garnish of fresh parsley. This recipe is made extra-rich with a touch of heavy cream. It's a fun spin on the classic butter, white wine, and lemon combo of traditional Chicken Francaise sauce.
How to Make Chicken Francaise
Below, we'll have a look at the quick steps to make the perfect chicken Francaise. It's likely that you have most of what you'll need for the breading and sauce in your pantry already! Remember to scroll to the recipe card for the full ingredient amounts and recipe details.
Recipe Ingredients
Chicken: I recommend boneless, skinless chicken breasts for Chicken Francaise. Cut them in half lengthwise so that they're thin enough for frying. You can also use boneless chicken thighs, though thigh meat may take a bit longer to cook.
Olive Oil and Butter: Butter adds flavor, while oil increases the smoke point and keeps the butter from burning.
Eggs and Parmesan: You'll make an easy egg wash enhanced with freshly grated parmesan cheese for flavor.
Flour, Salt, and Pepper
Garlic: Fresh garlic cloves, finely minced. I like my sauce garlicky, so I use four whole cloves but feel free to adapt the number of cloves to taste. You can use less or leave the garlic out altogether if you're making this dish for kids.
Chicken Broth: I recommend low-sodium chicken broth or stock so that the sauce doesn't turn out overly salted. It's easy to adapt the seasonings to taste.
Heavy Cream: Or half-and-half, to thicken the sauce and make it ultra-rich and creamy.
Parsley: You'll need freshly chopped parsley for the sauce and for garnishing the finished dish. 
Lemon: Freshly squeezed lemon juice is essential for this recipe. Give the bottled stuff a pass!
Directions
Prepare a dredging station. In a shallow bowl, whisk the eggs together with the parmesan. In a separate bowl, combine the flour, salt, and pepper for the breading.
Coat the chicken. One piece of chicken at a time, dredge the filet first in flour, followed by the egg wash. Make sure it's well-coated on both sides. 
Fry. Add the coated chicken to a preheated skillet with olive oil and butter. Work in batches if needed, and cook the chicken for 4 to 5 minutes per side. Set the cooked chicken aside on a paper towel-lined plate while you get started on the sauce.
Make the sauce. In the same skillet, add the garlic. After about 15 seconds, deglaze the pan with the chicken broth, scraping up any stuck-on bits. Simmer the broth for another few minutes until it's reduced. Lower the heat and stir in heavy cream and parsley. At the very end, whisk in the lemon juice.
Serve. Let the sauce cook for a couple of minutes longer, and then take it off the heat and nestle your cooked chicken pieces back into the pan. Spoon over the sauce to get the chicken nice and coated. Finish with a sprinkle of parsley, and serve!
Tips for the Best Chicken Francaise
If you're new to cooking breaded chicken on the stovetop, recipes like Chicken Francaise are a good starting point. Here are some extra tips to keep in mind:
Use thin pieces of chicken. Your chicken pieces should be about 1-inch thick so that they cook through in the time it takes to brown the coating. If needed, you can pound the chicken after you cut the breasts in half, to get it to the right thickness.
Get organized. Set up your dredging station from left to right, using one hand to dip the chicken into the flour and the other to dip in the egg.
Flour, then egg. It's the French way, after all. Dip your chicken in the flour first and then the egg wash. Give the egg time to drip off afterward for the crispiest results when frying.
Don't disturb the chicken. Once your dredged chicken is frying in the skillet, leave it untouched until you're ready to flip it. This way the breading stays put and the sides get a good sear.
Cook in batches. Depending on the size of your pan, you may need to fry the chicken in batches. Avoid over-crowding the pan as this causes the chicken to steam, making it less crispy.
Watch the chicken as it cooks. If you notice that the chicken is cooking more quickly on the outside than it is on the inside, lower the heat so that it doesn't burn.
Turn off the heat before adding the chicken back into the sauce. If the chicken cooks for too long in the cream sauce, the breading will get soggy and crumble. Instead, spoon the sauce over the chicken and serve right away.
Make keto Chicken Francaise. Replace the all-purpose flour in this recipe with keto-approved/low-carb flour. I've tested this recipe with coconut flour and it works great. Coconut flour is also a good option to make this recipe gluten-free.
Serving Suggestions
Not just a pretty face with a fancy name, Chicken Francaise is also very versatile. This chicken recipe pairs deliciously with so many sides (not to mention a glass of dry white, like Pinot Grigio). Here are more of our favorite serving ideas:
Salad. For a light meal, we love creamy Chicken Francaise with a side of leafy kale Caesar salad or a fresh tomato burrata salad in the summer. This La Scala chopped salad recipe is also a year-round favorite.
Appetizers. Lead into a tasty chicken entree with easy starters like baked mozzarella sticks or Mediterranean-inspired caponata with warm crusty bread slices.
Pasta. This chicken in cream sauce tastes amazing served over a bed of pasta. Fettuccine and linguine are good long options, or you can use penne, fusilli, orzo, or any kind of pasta you'd like.
Potatoes. For a hearty dinner, pair Chicken Francaise with a side of mashed potatoes (mashed cauliflower if you'd prefer fewer carbs) or crispy air fryer roasted potatoes. 
Veggies. For an easy vegetable side dish, we love roasted Brussels sprouts, sauteed broccolini, or tender-crisp roasted green beans. If you're looking for something a little different, try roasted artichokes.
Storage
Fridge. Refrigerate leftover Chicken Francaise in an airtight container for 4 to 5 days.
To Reheat. Gently warm the chicken with the sauce in a skillet on the stovetop, or in the microwave until hot throughout.
Freezer. You can also freeze leftovers airtight in a freezer-safe container for up to 3 months. Note that the texture of the cream might change once the chicken is thawed. Defrost the chicken in the fridge overnight before reheating.
ENJOY!
More Easy Chicken Dinner Ideas
2

(8-ounces each)

boneless, skinless chicken breasts,

cut in half, lengthwise, to make four 1-inch thick filets

4

tablespoons

olive oil

2

tablespoons

butter

2

large

eggs

¼

cup

grated Parmesan cheese

¼

cup

all-purpose flour,

salt and fresh ground black pepper,

to taste

4

cloves

garlic,

minced

1

cup

low sodium chicken broth

1

cup

heavy cream,

you can also use half & half

3

tablespoons

fresh chopped parsley,

divided

1

lemon,

juiced
Set a large skillet over medium-high heat and add in olive oil and butter.

Add the eggs and Parmesan cheese to a shallow bowl and beat/mix until well combined.

Add the flour, salt, and pepper to a separate shallow plate and stir to combine.

Working with one chicken cutlet at a time, coat both sides of the chicken with flour, then dip it in the egg mixture to coat on all sides. Allow excess egg mixture to drip off.

Add the chicken to the heated oil and cook for about 4 to 5 minutes per side or until cooked through and golden brown. Lower the heat if the chicken is browning too quickly but not cooking through on the inside.

Remove the cooked chicken cutlets from the skillet and transfer them to a paper towel-lined plate. Cover with a towel or paper towel and set aside.

Set the skillet back over medium-high heat. Add garlic to the skillet and cook for 15 seconds or until fragrant. Stir so it doesn't burn. Slowly whisk in the chicken broth, scraping up any browned bits from the bottom of the skillet. Continue to cook for 4 minutes or until liquid is reduced.

Lower heat to medium-low and whisk in the heavy cream and 2 tablespoons parsley. Continue to cook for 2 minutes or until thickened.

Whisk in lemon juice; whisk until completely incorporated and continue to cook for 2 minutes. It's important to whisk continuously so the cream does not curdle when you add in the lemon juice.

Remove from heat and add the chicken pieces back into the pan; spoon sauce over the chicken, garnish with parsley and serve.
Chicken Cutlets: Use 1-inch thick chicken pieces to ensure even cooking. If necessary, pound the chicken after cutting the breasts in half.
Breading Stations: Prepare your dredging station in order, using separate hands for the flour and eggs to stay organized. Always dip the chicken into flour first and then the egg, allowing the excess egg to drip off for a crispier result.
Cooking/Frying: While frying, avoid moving the chicken to achieve a nice sear. Cook in batches to avoid overcrowding. Monitor the cooking process, lowering the heat if needed to prevent the exterior from burning. Turn off the heat before adding the chicken back to the sauce to keep the breading from getting soggy.
Lighter Options: For a keto version, substitute all-purpose flour with a low-carb option like coconut flour, which is also gluten-free.
Calories: 618 kcal | Carbohydrates: 12 g | Protein: 33 g | Fat: 49 g | Saturated Fat: 22 g | Cholesterol: 256 mg | Sodium: 352 mg | Potassium: 611 mg | Fiber: 1 g | Sugar: 1 g | Vitamin A: 1509 IU | Vitamin C: 21 mg | Calcium: 143 mg | Iron: 2 mg | Net Carbs: 11 g
Nutritional info is an estimate and provided as courtesy. Values may vary according to the ingredients and tools used. Please use your preferred nutritional calculator for more detailed info.