Not everyone enjoys the prep work involved in creating a Thanksgiving meal. Thankfully, plenty of South Florida restaurants are offering special meals on the holiday to ensure everyone's dining preference can be met. So we've gathered some local establishments who will be serving up fresh meals on Thanksgiving Day:
Amar Mediterranean Bistro
522 East Atlantic Ave., Delray Beach
Celebrate Thanksgiving at Amar Mediterranean Bistro with a special tasting menu featuring a robust selection of Amar's popular hot and cold mezze to choose from, including Baba Ganouj, Hummus, Falafel and Fried Cauliflower. For the main course, Amar offers several special dishes for the holiday, such as Lebanese Roasted Turkey, Baked Pumpkin Kibbeh, Grilled Branzino and Pan Roasted Atlantic Salmon. Finish with an assortment of Amar's delicious homemade desserts or their famous Kanaffeh for two ($10 upcharge). Dinner is $65 per person or $35 for guests under 12. Seatings are available between 3 p.m. to 8 p.m.
Reservations required: https://amardelray.com/reservations/
Timpano Las Olas
450 East Las Olas Blvd., Fort Lauderdale
Timpano Las Olas' Thanksgiving menu is available all day (11 a.m. – 9 p.m.) and priced at $65 per person (excluding tax and gratuity). The holiday prix fixe menu includes Tuscan Turkey Tortellini Soup, Roasted Delicata Squash with root vegetable, caramelized yogurt and anchovy honey vinaigrette; Roasted Turkey with vermont butter whipped potatoes, grilled asparagus, leek and sausage stuffing, cranberry sauce and gravy; and Apple Crumb Tart with salted caramel. All items are available a la carte along with the regular menu. It also features an extensive wine list, a rare whiskey program, and craft cocktails. For group dining, the restaurant also offers a private wine-tasting room.
DUNE by Laurent Tourondel
2200 N. Ocean Blvd. Fort Lauderdale
DUNE by Laurent Tourondel is offering a special prix fixe Thanksgiving menu from 12 p.m. to 8 p.m. on Thursday, Nov. 24. For $98 per person, guests can select one appetizer, entrée and dessert from the following menu:
Appetizers
CRISPY PARMESAN SOUFFLE | prosciutto San Daniele, baby greens, truffle vinaigrette
WINTER GREEN SALAD | baby kale, escarole, radicchio, Maytag blue cheese, candied walnuts, bartlett pears, pickled shallot, warm brown butter vinaigrette
YELLOWTAIL CRUDO | sun gold tomato, champagne vinegar, chili, shiso
BUTTERNUT SQUASH RISOTTO | roasted squash, pecorino, balsamic and amaretto cookie
White truffle from Alba ($MP supplement)
Entrees
ROASTED HERITAGE TURKEY, WILD MUSHROOM ROULADE, SHALLOTS, SAGE
Cranberry-tangerine relish, rosemary gravy, chestnut and pork sausage stuffing
ROASTED DRY-AGED PRIME RIB | creamed spinach, hen of the woods, sauce choron (+$20)
ROASTED SCOTTISH SALMON | cauliflower couscous, honey-cumin roasted carrots, Greek yogurt
ORECCHIETTE WITH SAUSAGE & BROCCOLI RABE | parmesan, black pepper-lemon breadcrumbs
Family-style sides
Spaghetti squash, gorgonzola, pine nuts
Brussels sprouts, honey, bacon
Mashed potatoes, olive oil
Desserts
PUMPKIN PIE | hazelnut crunch, amaretto whipped cream
PECAN PIE | bourbon-date gelato
WARM CHAMPLAIN ORCHARDS' APPLE PIE | cinnamon gelat
The Strand at Carillon Miami Wellness Resort
6801 Collins Avenue, Miami Beach
Chef Rosario Corrao's Thanksgiving menu at The Strand at Carillon Miami Wellness Resort will offer two seatings — at 5:30 p.m. and 7:30 p.m. Reservations are required by calling 305-514-7474. Pricing for the four-course meal is $95 for adults and $45 for kids 12 & under.
COURSE I – BUTTERNUT SQUASH SOUP

– butternut squash, pumpkin, sweet potatoes, garlic, baby kale, burratina cheese fondue, sunflower seeds, fresh thyme, alfalfa sprouts, evoo

COURSE II – BLACK FIG RAVIOLI

– saffron housemade pasta, creamy ricotta cheese, honey roasted figs, black truffle, roasted walnuts, fresh sage

COURSE III – LEMON PEPPER ROASTED TURKEY

–

housemade cranberry sauce, turkey stuffing, gravy, sweet mashed potato, brussels sprouts, black garlic wild mushroom

COURSE IV – CINNAMON & APPLE TART

– caramelized crispy pecan nuts, valrhona chocolate sauce, french vanilla ice cream, fresh berries, mint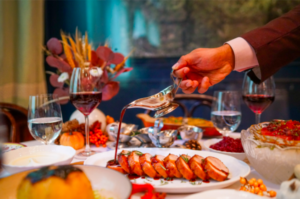 Carbone Miami
49 Collins Ave, Miami Beach
This Thanksgiving, Carbone is offering a luxurious four-course feast with options including, but not limited to, Tuna Calabrese, Mario's Meatballs, Caesar Salad alla ZZ, and an extraordinary Glazed Turkey Breast served with cornbread stuffing, mashed potatoes, squash agrodolce, and cranberry mostarda. Finish the meal with a Pecan Pie or Lemon Cheesecake.
Dirty French Steakhouse
1200 Brickell Ave., Miami
For Thanksgiving, Dirty French Steakhouse is planning a decadent three-course menu that kicks off with classics like the Beef Carpaccio before it's time for The Dirty French Turkey Feast, featuring Roasted Heritage Turkey and four exceptional sides. Add a World-Famous Prime Rib as a supplement, and finish the meal with Pecan Pie å la Mode and Crème Brûlée.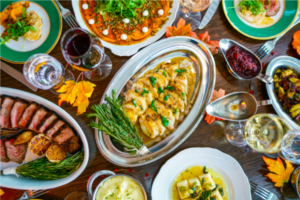 Contessa Miami
111 NE 41st St, Miami
Contessa Miami offers a luxurious four-course Italian feast featuring Meatballs Aldo, Ricotta Gnudi, Roasted Turkey, and plentiful accompaniments; a Porterhouse will be available as a supplement. Enjoy pumpkin ice cream and Contessa's take on a Boston Cream Pie for dessert.
Catering at home:
Mrs. Mandolin
Mrs. Mandolin was founded by the creative minds behind Mandolin Aegean Bistro. Anastasia Koutsioukis, fondly known as Mrs. Mandolin and the interior designer behind their restaurants, has taken her eye for design and made the most refined homewares, fashion, art, and objects accessible to all. If you are hosting your loved ones this Thanksgiving, Mrs. Mandolin offers tabletops, glassware, table linens, serveware, Mediterranean-inspired pantry staples, home decor and much more.
Lenore Nolan Ryan Catering & Cooking School
3311 N Ocean Blvd., Fort Lauderdale
For a special homemade recipe, the Lenore Nolan Ryan Catering & Cooking School in Fort Lauderdale shared one of their favorite recipes for the holiday: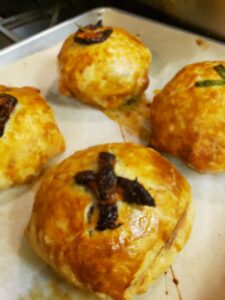 BEEF WELLINGTON AND SAUCE AU POIVRE:
Timeless and elegant. The preparation time is lengthy, but you can make it all ahead. On the day of, you are carefree to pick up dessert from your favorite bakery, make a lovely salad, steam some asparagus and have another glass of wine before your guests arrive.
Ingredients:
6 (5 ounce) thickly cut trimmed filet mignon medallions
1 teaspoon salt
1/2 teaspoon freshly ground black pepper
1 tablespoon olive oil
5 (1-ounce) slices goose or duck liver, or pork country-style pate
One (17 1/4-ounce package) frozen puff pastry (2 sheets), thawed
Mushroom Duxelles,
Recipe directions:
One large egg beaten with two teaspoons water to make an egg wash
1. Preheat the oven to 425 degrees F. Line a baking sheet with parchment paper and set aside.
2. Season both sides of each filet with 1/4 teaspoon of salt and 1/8 teaspoon of pepper.
3. Heat the oil in a large, heavy skillet over medium-high heat. Add the filets and sear for 1 minute on each side for medium-rare. Transfer to a plate to cool completely. Set the saute pan aside to use for the sauce.
4. Roll out the puff pastry on a lightly floured surface to a 14-inch square and cut into 4 (7-inch) squares.
5. Spread one-quarter of the mushroom duxelles on top of each filet and top each with one slice of the pate, pressing to flatten. Place one filet, mushroom side down, in the center of a puff pastry square. Using a pastry brush or your finger, paint the inside edges of the pastry with egg wash. Fold the pastry over the filet as though wrapping a package and press the edges to seal. Place the packages seam-side down on the prepared baking sheet. Refrigerate overnight. Take the packages out of the refrigerator 15 minutes before you are ready to bake them. Transfer them to a new sheet pan lined with parchment paper. Brush the egg wash over the tops and sides of each package and bake until the pastry is golden brown and an instant-read thermometer registers 120 degrees F for medium-rare, about 15 minutes.
6. Remove from the oven and let rest for 15 minutes before serving.
Au Poivre Sauce:
¼ c. mixed peppercorns, pink, black, white and green, crushed or ground in a coarse grinder
1 C. Veal Stock
¼ C. Shallots, diced
¼ C. Brandy
2 T. Garlic, chopped
2 T. Dijon Mustard
1 C. Heavy Cream
4 T. Butter
Remove any excess fat using the same pan as you seared the beef. Gently sauté the shallots in two tablespoons of butter. Deglaze w/ brandy. Scraping up the bits from the meat. Add the ground peppercorns, garlic, mustard, & veal stock. Reduce by half
Stir in the cream, reduce 2 mins more. Add the butter. Enjoy!
MUSHROOM DUXELLES:
16 ounces mushrooms, mixed variety, your favorite
Six tablespoons unsalted butter, divided
1/3 cup finely chopped shallot
Two tablespoons chopped dried herbs de Provence
Kosher salt, to taste
Freshly ground black pepper, to taste
1/2 cup dry vermouth, sherry, or white wine
Scrape the mushrooms onto a clean cotton kitchen towel. (Choose an old towel as the mushrooms will stain it. Do not use terry cloth.)
Place the mushrooms in a food processor and pulse until finely chopped, NOT pureed.
Heat a large (10-inch) nonstick skillet over medium to medium-high heat. Add one tablespoon of the butter and swirl to melt and avoid burning.
Add the mushrooms, shallot, thyme, a pinch of salt, and a pinch of black pepper.
Cook until the mushrooms release their liquid and continue to cook until the liquid evaporates and the mushrooms appear dry and begin to brown, about 5 minutes, stirring frequently.
Stir in the remaining one tablespoon of butter and, when melted, add the vermouth.
Cook until the vermouth has evaporated, stirring frequently. Taste and season with additional salt and pepper, if desired.