Sweet and tangy, sticky and savory, this easy Slow Cooker Pulled Pork might just be the ultimate family meal! Best of all, it only takes a few minutes of prep and your crock pot does the rest.
If you need it done now and quickly, grab my recipe for Instant Pot Pork Shoulder.
Sweet and Savory Pulled Pork with Dr. Pepper!
Slow cooker recipes are a busy family's secret weapon. There's practically no better way to get that home-cooked, slow-simmered result, and it's so easy to do. Just let your ingredients simmer while you are out, or busy doing other things, and come home to a meal that tastes like you worked on it all day long.
If you are familiar with crock pot cooking, you probably already know that tough roasts and other cheap cuts of meat really shine when they're slow cooked. This recipe uses pork shoulder, which might just be the most flavorful and affordable option out there. Cooked in a mix of Dr. Pepper and savory spices, it's then smothered in homemade Dr. Pepper barbecue sauce. You won't be able to resist this flavor!
The Ingredients
You might be thinking, "Dr. Pepper? Seriously?". I know, I know. That may not earn this slow cooker pulled pork the title of "healthiest dish" anytime soon… but it could just earn it the title of "yummiest pulled pork ever!" The deep, unique sweetness of the soda is a fantastic pairing with pork and barbecue.
For the Pork
Pork Shoulder: I used a medium pork shoulder, between 3 and 4 pounds.
Onion: Thinly slice an onion – any kind is fine.
Seasonings: You'll need sweet paprika, garlic powder, onion powder, salt, and pepper.
Dr. Pepper: One standard can.
For the Barbecue Sauce
Dr. Pepper: Another standard-sized can of Dr. Pepper forms the base of the barbecue sauce.
Ketchup: I use sugar-free ketchup for this recipe.
Apple Cider Vinegar: For depth of flavor and a great tanginess.
Light Brown Sugar: Or maple syrup, or honey.
Tomato Paste: Make sure to use paste, not sauce – tomato paste is thicker, with a more powerful flavor.
Worcestershire Sauce: This handy condiment packs a punch of flavor in just a couple of tablespoons!
Seasonings: More paprika, salt, pepper, and garlic powder.
What Is the Best Cut of Meat for Pulled Pork in the Slow Cooker?
Boneless pulled pork is the classic, and you can also find it sold as a pork butt, pork shoulder picnic, or Boston butt. This cut comes bone-in or boneless. Whichever you use is up to your taste and preference.
Can I Use Root Beer Instead of Dr. Pepper in Pulled Pork?
Sure! You could use root beer, Dr. Pepper, or regular Coke for this recipe – whichever appeals most to you!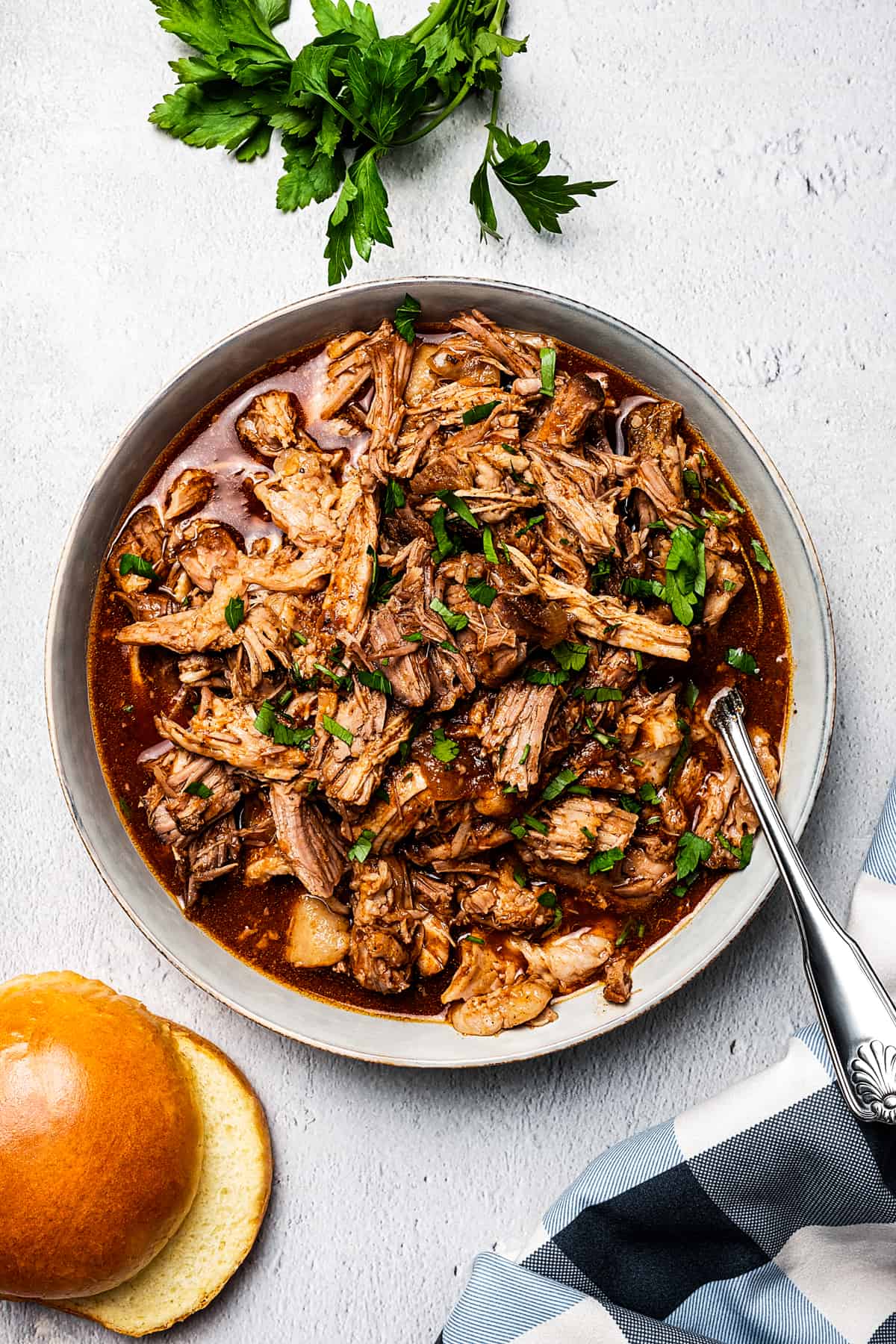 How to Make Pulled Pork in Your Slow Cooker
Most of the cooking happens in your slow cooker, which is so convenient. Then, at the end of the cooking time, you'll need to heat the barbecue sauce in a saucepan before adding it to the pork. Easy!
Season the Pork. To begin, mix the pork shoulder seasonings together in a small dish. Grab the pork shoulder and pat it dry with paper towels. Rub the seasoning all over the shoulder.
Arrange the Onions, Pork, and Dr. Pepper in the Slow Cooker. Next, spritz the inside of your slow cooker with cooking spray, and add the onions in the bottom. Place the pork shoulder on top of the onions, and pour the Dr. Pepper all around it.
Cook. Place the lid on the slow cooker, and let it cook for 8 to 10 hours on LOW.
Heat Up the Barbecue Sauce. When the pork is almost ready, combine all of the barbecue sauce ingredients in a deep pot or a large pan. Whisk together, and simmer gently over medium heat for a minute or two. Then lower the heat and let it cook slowly for 20 to 30 minutes, or until thickened. Make sure to stir occasionally so the sauce doesn't burn.
Finish the Dish. Taste the sauce for seasoning, and adjust as needed. Then take the cooked pork out of the slow cooker, and shred it with two forks or meat shredders. Return the pork to the slow cooker, pour the barbecue sauce on top, and shred some more until everything is well-mixed.
Enjoy! Serve this any way you like – on sandwiches, in tacos, you name it.
Can You Overcook Pulled Pork in a Slow Cooker?
The short answer is yes – you can overcook anything in a slow cooker. However, it's very unlikely that a tough, fatty cut like pork shoulder will actually overcook, since that would take a really long time. However, be careful because, it is technically possible!
Recipe Notes
Before you start cooking, be sure to check out these helpful recipe notes! Each one will help make sure your dish is a masterpiece of flavor and texture.
Cooking Time: A larger roast will take more time, while a smaller roast will finish cooking faster.
Cooking Juices: If your pork is swimming in juices when it's done, pour most of those juices off before you add the sauce and return it to the crock pot. You don't want to water down the barbecue sauce too much. 
No Peeking! Lifting the Crock Pot lid adds about 20 extra minutes of cooking time, so only open it up if you have to.
Mouthwatering Sides
Pulled pork is really versatile. You can serve it as a main course with a few sides, pile it onto buns for sandwiches, or even use it to make some sweet and spicy nachos! If you're looking for side dishes that would work for all three, check out these easy recipes.
Baked Beans: Perfect for a picnic or family dinner, baked beans are a hearty side dish that's always at home with barbecue. These Quick Baked Beans with Smoked Sausage are a favorite. 🤩
Macaroni: Who doesn't love mac and cheese? Especially when it's got a little feta added. This easy recipe for Baked Macaroni with Feta Cheese has all the delicious details.
Coleslaw: Nothing goes with pulled pork better than creamy, crunchy, Classic Southern Coleslaw! This authentic recipe will have everyone coming back for more.
Refrigerating, Freezing, and Reheating
Got leftovers? Perfect – because this dish is even tastier the second day! Here's how to store, freeze, and reheat your slow cooker pulled pork:
Refrigerate: If you know you'll use your leftovers soon, just stick them in an airtight container in your refrigerator. They'll keep for 3 to 4 days.
Freeze: For longer-term storage, pack the cooled pulled pork in an airtight container or in freezer bags, pressing out as much air as possible before sealing. It will keep in the freezer for up to 3 months. Thaw in the fridge before reheating.
Reheat: When you're ready to reheat the pulled pork, place the desired portion in a covered skillet or saucepan over low heat. Let it warm up until it's hot all the way through, and you're ready to go. You could also reheat it in the microwave, if you prefer. 
ENJOY!
Pat dry the pork shoulder with paper towels.

Lightly coat the insert of your slow cooker with cooking spray.

Arrange the sliced onions on the bottom of the insert of the slow cooker.

In a small mixing bowl combine 2 teaspoons salt, 2 teaspoons paprika, 1 teaspoon garlic powder, 1 teaspoon onion powder, and 1 teaspoon fresh ground black pepper.

Rub the seasoning all over the pork shoulder.

Place the pork over the onions.

Pour in a can of Dr. Pepper.

Close with the lid and cook on LOW for 8 to 10 hours, or until fall-apart tender.

In the meantime, prepare the BBQ Sauce by adding all of the ingredients for the BBQ Sauce to a saucepan.

Whisk together all the ingredients and cook over medium heat; bring to a gentle simmer.

Decrease heat to medium-low and simmer for about 20 to 30 minutes. Whisk and stir occasionally until cooked through and thickened. Be careful not to burn the sugar.

When done, taste the sauce for seasonings and adjust accordingly. Set aside.

Remove the pork shoulder from the slow cooker and transfer to a cutting board.

Using two forks or meat claws, shred the pork, then return it to the insert of the slow cooker.

Pour the bbq sauce over the pork and shred some more until everything is well combined.

Serve pulled pork on buns, over nachos, with cornbread, or with a side of baked beans.
Soda – If you don't want to use Dr. Pepper, you can use root beer or coca cola, instead.
Cooking Time – The larger the roast, the longer it will need to cook. You're looking for the cooked pork shoulder to register between 195˚F to 205˚F on an Instant Read Meat Thermometer.
Storage – Put the pulled pork in an airtight container and keep in your refrigerator for about 4 days. To freeze, place the pulled pork in freezer bags, and keep in the freezer for up to 3 months.
Serving: 8 ounces | Calories: 248 kcal | Carbohydrates: 21 g | Protein: 21 g | Fat: 8 g | Saturated Fat: 3 g | Polyunsaturated Fat: 1 g | Monounsaturated Fat: 3 g | Cholesterol: 70 mg | Sodium: 919 mg | Potassium: 507 mg | Fiber: 1 g | Sugar: 18 g | Vitamin A: 581 IU | Vitamin C: 4 mg | Calcium: 34 mg | Iron: 2 mg | Net Carbs: 20 g
Nutritional info is an estimate and provided as courtesy. Values may vary according to the ingredients and tools used. Please use your preferred nutritional calculator for more detailed info.
More Savory Slow Cooker Recipes