This delicious easy tofu pumpkin curry can be ready to eat in just about 30 minutes and has a short and sweet ingredient list. Thai red curry paste add tons of flavor and some heat that is balanced out by the sweetness in canned pumpkin.
This delicious easy tofu pumpkin curry needs less than 10 ingredients and can be ready to eat in about 30 minutes, which is perfect for busy weeknights. Keep just a few ingredients like curry paste, pumpkin, and coconut milk stocked in your pantry and you can make this curry whenever the craving hits.
Why You'll Love this Recipe
Pantry Friendly: All you need to recreate this tasty tofu pumpkin curry tonight are some canned goods, an onion, a bell pepper, and some firm tofu.
30 Minute Meal: Gather all of your ingredients before you start as this meal goes fast once you start adding ingredients to the hot pan. I usually start by pressing the tofu and chopping everything so it's all ready to go.
One Pot: I love when I can make dinner in just one pan/pot because I hate doing dishes!
Origins of Red Curry
This tofu pumpkin curry recipe is inspired by the flavors and cooking method of a Thai red curry. Red curry is a popular Thai dish made from red curry paste, coconut milk and protein (either meat or tofu). The secret to all the flavor in the dish is the red curry paste which is made from red chili peppers, lemongrass, garlic, turmeric, and shrimp paste. However, you can find vegetarian brands of red curry paste in the store that do not have fish. If you want to try out a more traditional curry recipe, check out this Thai red curry recipe from Hot Thai Kitchen.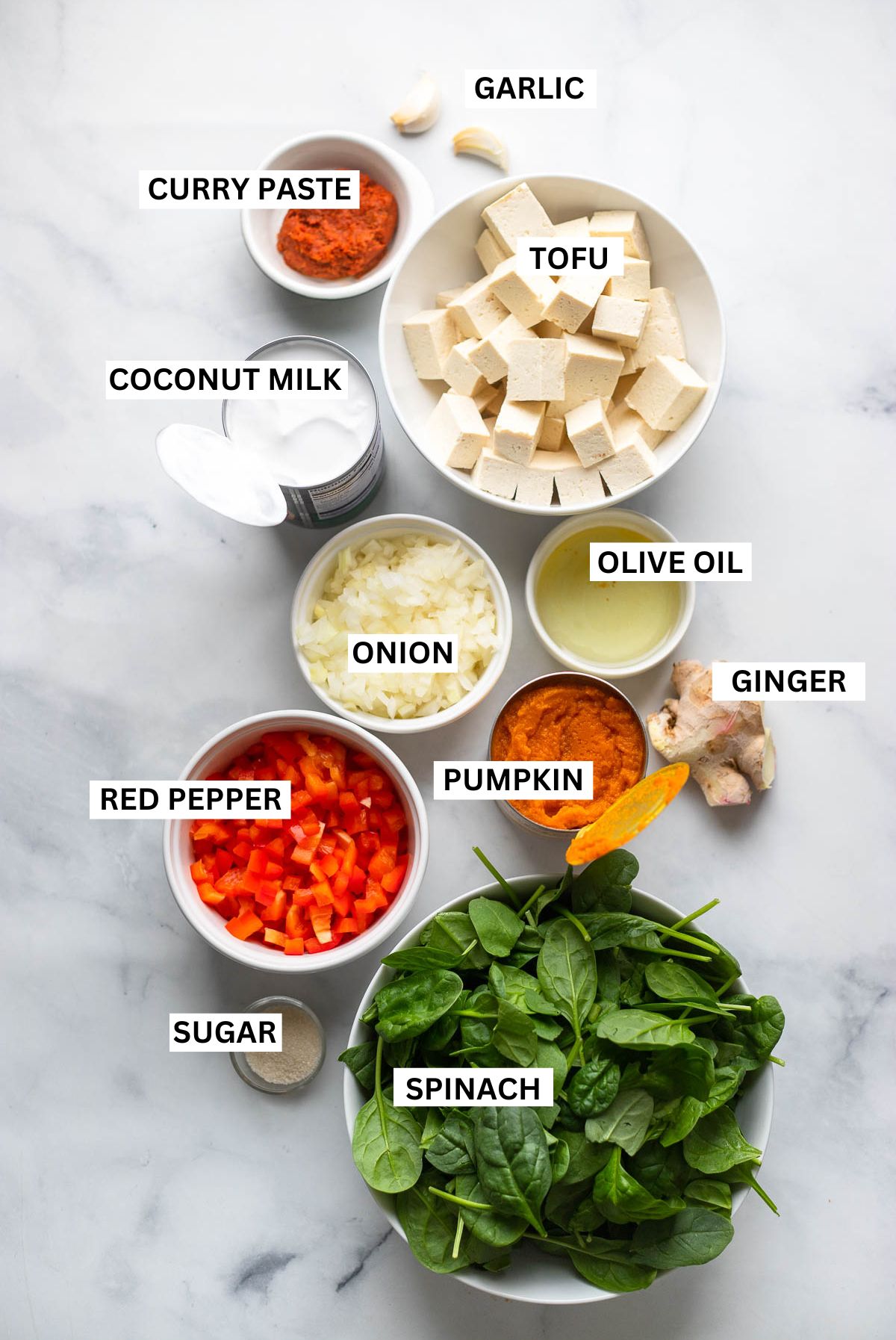 Ingredients You'll Need
Tofu: use firm or extra firm tofu for this curry recipe. Press it to remove some excess moisture before cooking so that it doesn't crumble when added to the curry. You can also add chickpeas to this curry instead of tofu.
Canned Pumpkin: You can use pureed butternut squash in place of the canned pumpkin if you want. You can also add chopped fresh pumpkin or butternut squash to this recipe as the red curry paste pairs well with both.
Red Curry Paste: Many contain shrimp paste or fish sauce so take a look at the ingredients before buying to find a vegetarian one. We often buy this one which is carried at our local grocery store.
Coconut Milk: You can use either full fat or lite canned coconut milk for this recipe. Coconut milk adds lots of creaminess and balances out the spice from the curry paste.
Red Bell Pepper/Onion/Spinach: I like to add some extra veggies to my curry so feel free to use these ones. Other vegetables that would be delicious include: cauliflower, bok choy, kale, eggplant, or zucchini.
Step by Step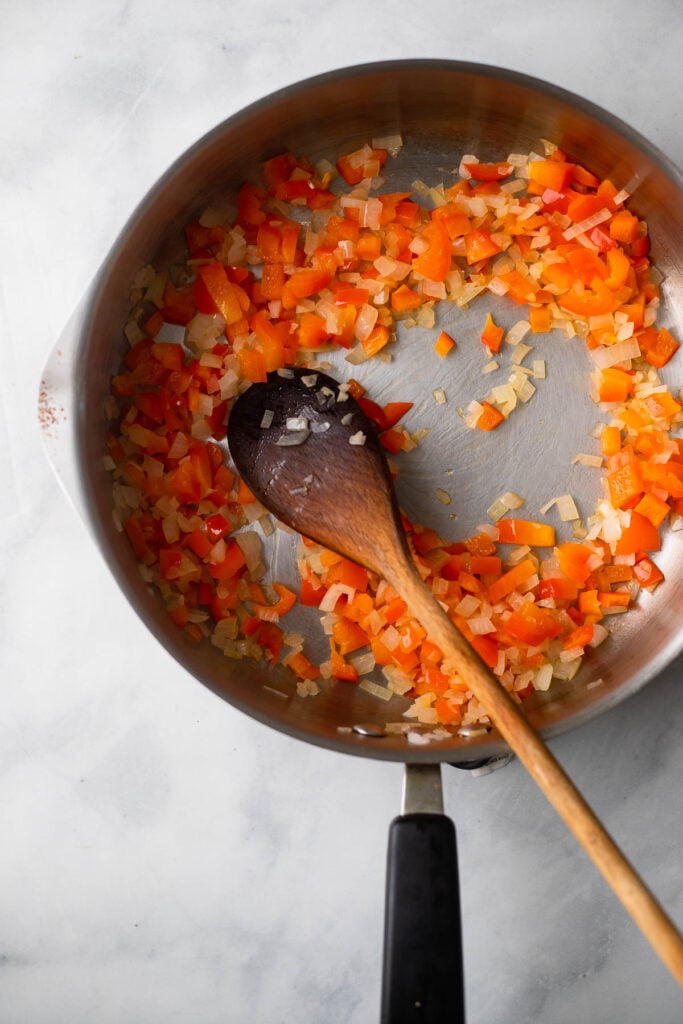 STEP 1: Press your tofu in a tofu press or wrap in paper towels and place a heavy object like a cookbook on top to press out extra liquid. Set aside while you start the curry.
**Note: I used to cook the tofu first until browned and crispy (as seen in video below) but found that the extra step wasn't really worth all the trouble since it softens again once you add it to the curry. However, if you like crispy tofu, feel free to cook in a skillet first and add to the curry when serving.**
STEP 2: Add the oil, chopped onion and chopped red pepper to a pan and sauté over medium heat until onion is softened and translucent; about 5 minutes.
STEP 3: Stir in the curry paste, ginger, and garlic and sauté for a minute.
STEP 4: Stir in the coconut milk, canned pumpkin, soy sauce, and sugar. Bring to a gentle simmer.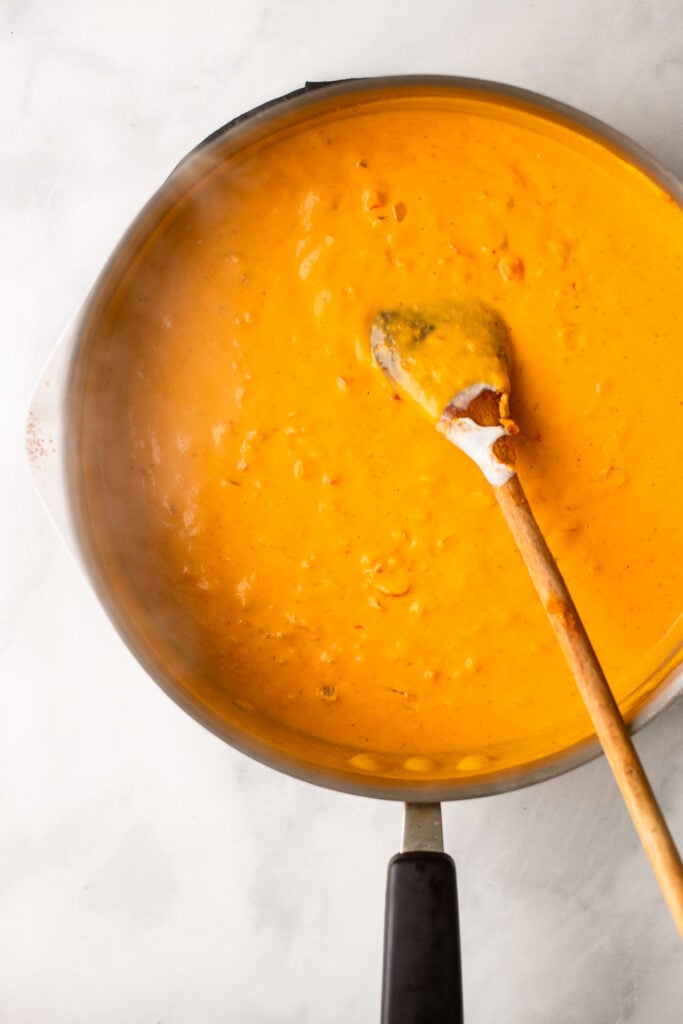 STEP 5: Once simmering, stir in the spinach. Cook or 2-3 minutes or until spinach has wilted.
STEP 6: Cut tofu into 1/2 inch cubes. Stir in the pressed, cubed tofu and cook for another 5-7 minutes or until tofu is warmed through. Taste and add salt if needed. Serve over rice and garish with fresh cilantro.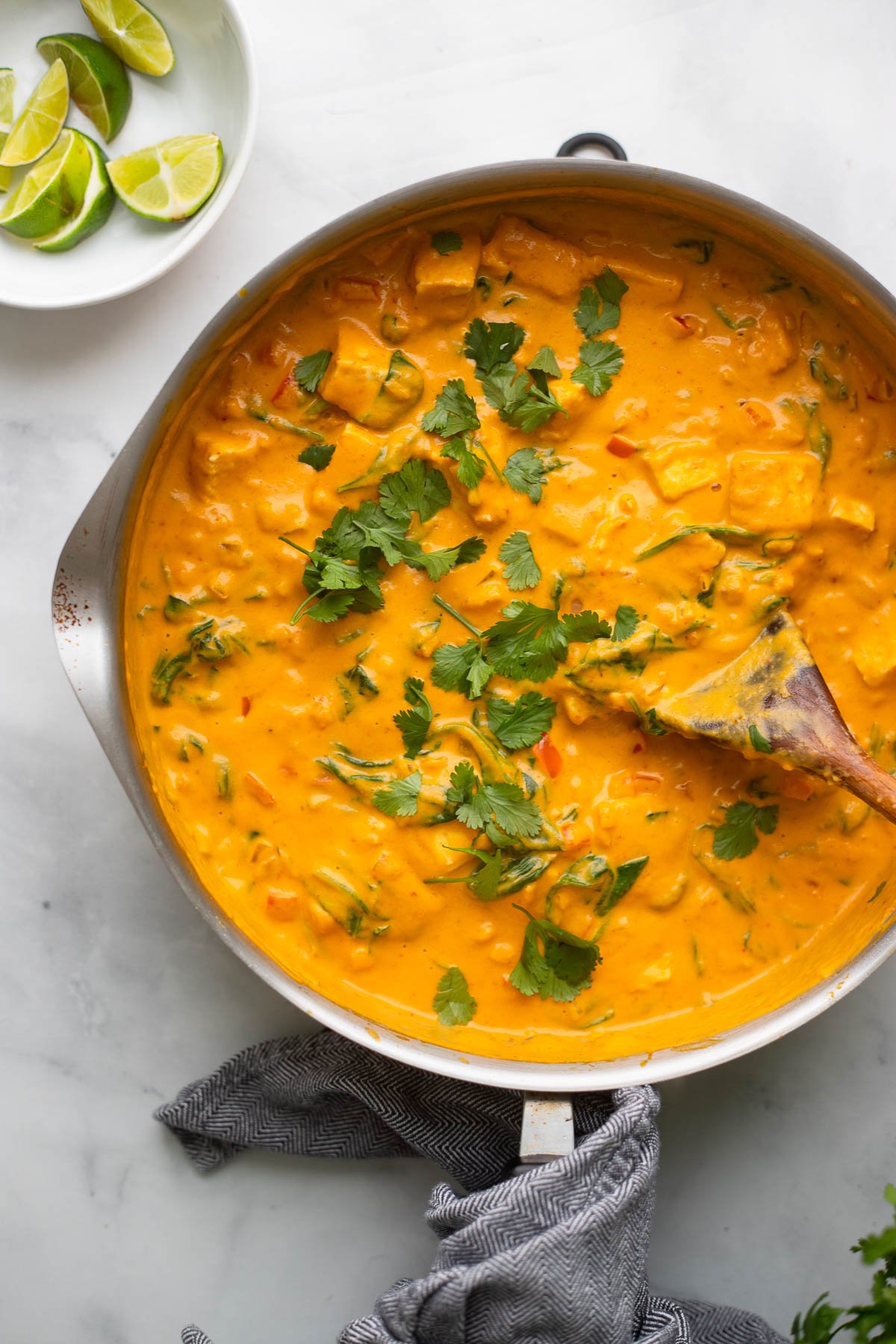 Storage
Fridge: Allow your pumpkin curry to cool to room temperature before adding to airtight container and storing in the fridge. Leftover curry can be stored in the fridge for up to 3 days.
Freezer: Leftover curry can be stored in the freezer for up to 3 months. Just transfer cooled curry to an airtight container to store.
Reheat: To reheat curry, place in microwave safe dish and reheat for 2-5 minutes in the microwave until warmed through. If frozen, allow to defrost in fridge overnight before reheating in the microwave. You can also reheat in a skillet over medium heat for about 5 minutes.
Frequently Asked Questions
What can I use instead of pumpkin?
You can also use pureed butternut squash in place of the pumpkin.
Can I make this recipe sugar free?
Yep – just omit the sugar if you wish OR sub with your favorite alternative sweetener like stevia or monk fruit. However, I would reduce the amount if using a sugar free sweetener. The curry tastes great without the sugar, but I find that the hint of sweetness really balances out the flavors to make it not just tasty but delicious.
Can I use curry powder instead of curry paste?
Yes, but it will have a different flavor profile than curry paste since different spices are included. Instead of 2 tablespoons of red curry paste, I would use 2-3 teaspoons of curry powder.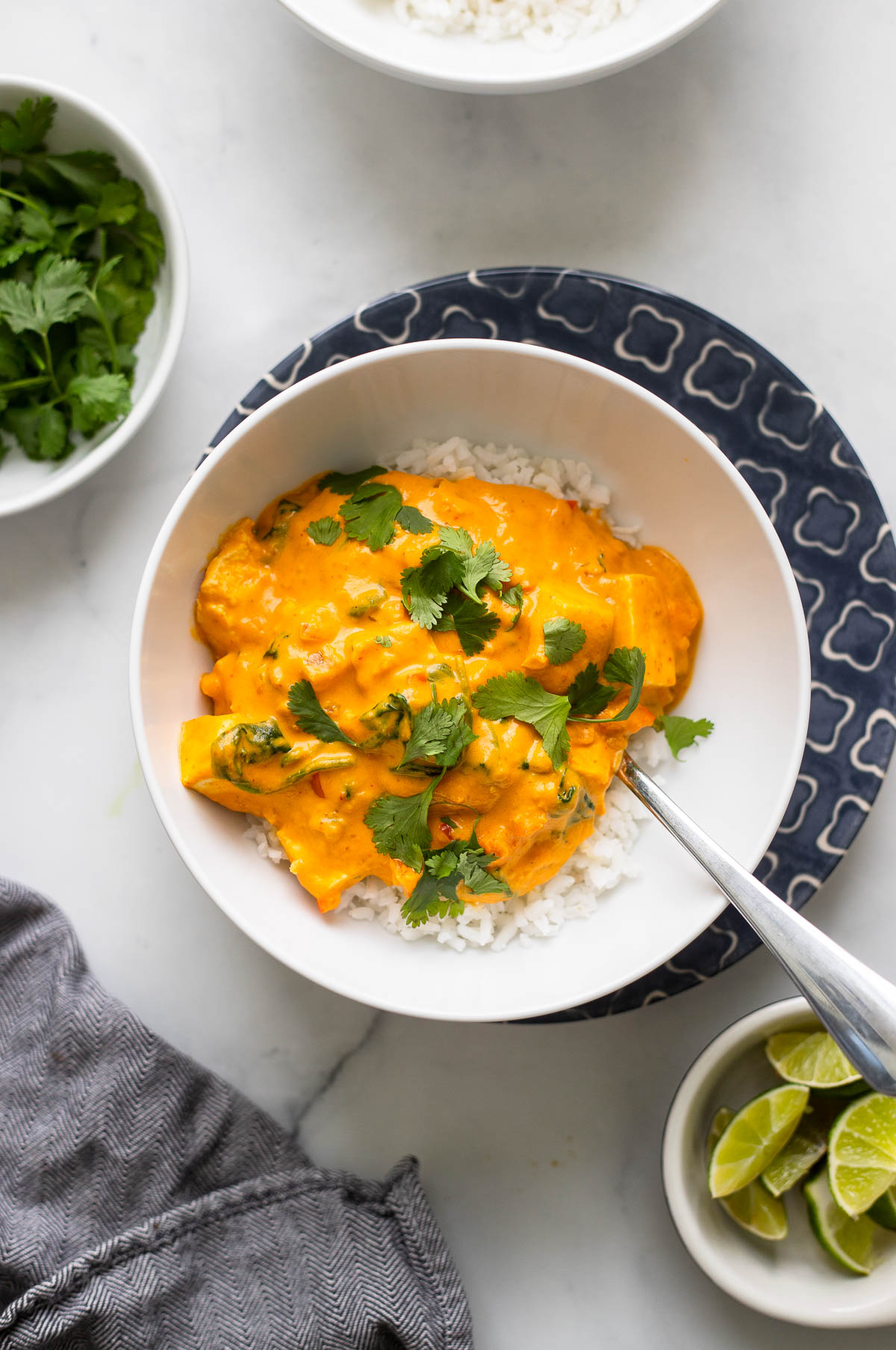 Health Benefits of Pumpkin
A serving (1/2 cup) of canned pumpkin puree has more than 100% of your daily needs for Vitamin A. This vitamin is important for eye health as well as immunity.
Pumpkin is rich in beta carotene which supports skin health by helping to protect your skin from UV damage and improving the texture and appearance of your skin. The vitamins C and E in pumpkin also support healthy skin.
The combination of potassium and fiber in pumpkin is a power combo for reducing heart disease. Potassium helps with blood pressure control and fiber can help lower "bad" cholesterol.
More One Pot Meals You'll Love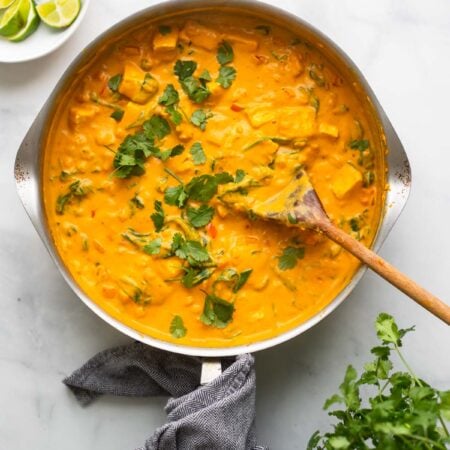 Easy Tofu Pumpkin Curry
Created by: Deborah Davis
Whip up this easy tofu pumpkin curry in less time than it takes to order take out. All you need are a few pantry staples to create this healthy dish any night of the week.
Prevent your screen from going dark
Ingredients  
For the Curry
1

package

(14 oz) extra firm tofu

cut in 1/2″ cubes

1

tablespoon

olive oil

1/2

yellow onion

chopped

1

red bell pepper

chopped

1

clove

garlic

minced

1

teaspoon

fresh ginger, minced

2

tablespoons

red curry paste

1

can

(15 oz) pumpkin puree (or 1 1/2 cups homemade pumpkin puree)

1

can

(15 oz) full fat coconut milk (or sub 1 can lite coconut milk)

1

tablespoon

soy sauce

1

teaspoon

granulated sugar

4

cups

fresh spinach leaves

1/4

teaspoon

sea salt
To Serve
Cooked rice

Cilantro

Lime Wedges
Instructions
Press tofu in tofu press or wrap in paper towels and place under heavy object; set aside.

Heat olive oil in a large skillet over medium high heat. Add the onion and red bell pepper. Saute for 3-5 minutes or until onion begins to soften. Add the garlic, ginger, and curry paste and cook one more minute.

Stir in the pumpkin, coconut milk, soy sauce, and sugar and bring to a gentle simmer.

Cook for 3 minutes. Add the spinach and cook another 2-3 minutes or until spinach is wilted.

Cut tofu into 1/2″ cubes and stir into the skillet. Cook another 2-3 minutes or until tofu is warmed through. Taste and season with salt if needed.

Serve over rice or other starch and top with a squeeze of fresh lime juice and chopped cilantro.
Notes
You can use substitute one (15 oz) can drained chickpeas for the tofu if you would like. 
Leftovers can be stored in the fridge for up to 3 days.
Curry can be stored in the freezer for up to 3 months.
Nutrition
Serving: 1/4 recipe | Calories: 368kcal | Carbohydrates: 20g | Protein: 13g | Fat: 29g | Saturated Fat: 21g | Polyunsaturated Fat: 2g | Monounsaturated Fat: 4g | Sodium: 504mg | Potassium: 869mg | Fiber: 5g | Sugar: 8g | Vitamin A: 21471IU | Vitamin C: 54mg | Calcium: 125mg | Iron: 7mg
Reader Interactions