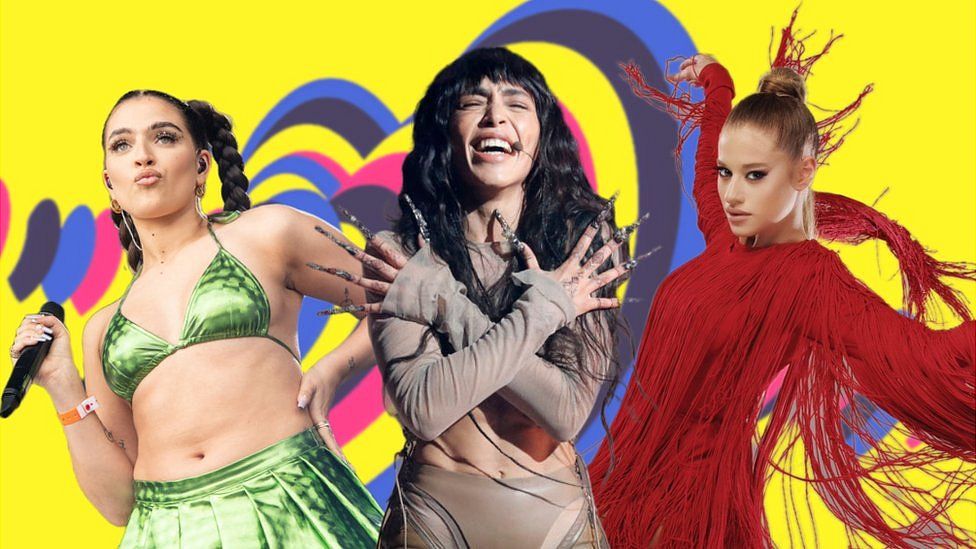 The countdown has begun. This Friday marks 40 days until Eurovision week kicks off with a "turquoise carpet" opening ceremony in Liverpool.
All 37 songs have now been submitted, with lyrics addressing everything from demonic possession to Russia's invasion of Ukraine.
As always, the quality's about as consistent as a vat of jelly, but there are some gems amongst the inevitable onslaught of power ballads.
What follows is a highly subjective attempt to rank them all. You'll undoubtedly disagree, and I've inevitably snubbed someone's favourite. But that's the beauty of Eurovision: Everyone gets a say, and my opinion is no more important than anyone else's. (Also, I have a terrible track record in predicting the winner, so there's that.)
With that in mind, let's have some fun. You can listen along with an alphabetically-sorted playlist on Spotify, on Apple Music or on YouTube.
Albania: Albina & Familja Kelmendi – Duje
In a quirk of typographical synchronicity, Albina is Albania's representative for 2023.
A former runner-up on The Voice, she's performing Duje, a dramatic ballad about families being separated, and the impact that has on children. The performance typically ends with Albina collapsing to her knees in tears.
Albina's impassioned verses build to an appealing chorus, featuring background vocals from her family – but overall, it's pretty heavy-going.
Prediction: Bottom half of the leaderboard
Armenia: Brunette – Future Lover
"I just wanna make art, read books and just find someone who likes me enough to kiss my face."
Brunette is the stage name of 21-year-old Elen Yeremyan, whose got a huge following in Armenia. She wrote this yearning ballad, about a lover she has yet to meet, specifically for Eurovision.
Pairing a pretty, lilting chorus with an anxiety-stricken rap verse, it's strangely compelling.
Australia: Voyager – Promise
This could be Australia's final year in Eurovision – as the country's participation agreement runs out after May.
For their last roll of the dice, they've gone with pop-metal quintet Voyager, who have been campaigning to represent their country since 2015.
Their song gives off unmistakable Duran Duran vibes, with an anthemic "woah-oh" chorus, and a wibbly guitar solo that sounds like the theme to Beverly Hills 90210 – which is either a blessing or a curse, depending on your feelings about Jason Priestley.
It should go down well in the arena, as Voyager draw on their two decades of live experience to get the crowd pumped.
Austria: Teya & Salena – Who The Hell Is Edgar?
The best song you'll ever hear about being possessed by the ghost of 19th Century horror writer Edgar Allen Poe.
Daft as it sounds, the song is a pointed commentary on how hard it is for female songwriters to be taken seriously. Claiming demonic possession, Teya & Salena suggest, would gain them more kudos than just being themselves.
The mid-section, meanwhile, is directed at Spotify's royalty rate of $0.003 per song. "Give me two years and your dinner will be free".
A wildly inventive Trojan horse of a pop song. What's not to love?
Prediction: A real contender. Top five.
Azerbaijan: TuralTuranX – Tell Me More
TuralTuranX are twin brothers Tural and Turan Bağmanovlar, who've been making music ever since they discovered a piano at school and skipped lessons to practise songwriting.
Their entry takes the form of a voicemail, left on an old lover's phone, reminiscing about their time together and hoping for a reunion. "Just call me back when you get this message," the brothers sing over a delicate chord sequence that recalls Sixpence None The Richer's Kiss Me.
It's all very sweet until they decide to explore their feelings via the medium of clumsy white-boy rap. Ed Sheeran has a lot to answer for.
Prediction: Knocked out in the first semi-final
Belgium: Gustaph – Because Of You
Fasten your seatbelts tight, we're going back to the 90s.
Gustaph's joyous club stomper Because Of You is festooned with chunky piano chords and wobbly synth lines that reference house classics like Kym Sims' Too Blind To See It and Crystal Waters' Gypsy Woman (La Da Dee).
The 42-year-old dedicates his song to the friends and allies who constitute his "chosen family, which happens a lot in the queer world". And while Eurovision is awash with songs about overcoming derision and stereotyping, Gustaph sings it like he means it.
His outfit, meanwhile, will please anyone who's a fan of frills and oversized hats.
Prediction: Lower half of the leaderboard
Croatia: Let 3 – Mama SC!
Shock-rock band Let 3 are incredibly famous across the Balkans for their provocative, avant-garde performances. For Eurovision, they've entered a thinly-veiled attack on Vladimir Putin, which surely tests Eurovision's ban on political lyrics to the limit.
The "mama" of the title refers to Mother Russia and moustachioed frontman Damir Martinović repeatedly sings "Mama kissed a moron", an apparent criticism of Russia's political class for their continued support of Putin's regime.
Musically, though, it's a travesty. The first minute is essentially the Macarena stripped of any charm or guile. That's followed by a bewildering cod-operatic section, and a cacophonous finale that sounds like 10 songs being played at once while someone has their chest hairs plucked out one by one.
Prediction: Let 3 should qualify for the final, just.
Cyprus: Andrew Lambrou – Break A Broken Heart
Twenty-four-year-old Andrew Lambrou previously entered Australia's selection contest in 2022, coming in seventh place. But his Eurovision journey didn't end there.
Lambrou's performance made such an impression on Cypriot broadcaster CyBC that they offered him the chance to go to Liverpool in May.
He arrives in the UK with Break A Broken Heart, a profoundly vanilla ballad about "rising from the ashes" of a break-up.
Full of unnecessarily busy production flourishes, it's rescued only by Lambrou's soaring multi-octave vocal.
Prediction: At risk of being eliminated in semi-final two.
Czechia/Czech Republic: Vesna – My Sister's Crown
Czechia, also known as the Czech Republic, has a poor track record at Eurovision, only qualifying for the final four times since they joined in 2007. My Sister's Crown should change that.
Performed by the all-female Czech-Bulgarian-Russian band Vesna, it's a song about sexual equality and female empowerment, with frontwoman Patricie Fuxová declaring: "We are not your dolls."
Immediate and intense with a strong Balkan flavour, it stiches together at least three (maybe more) ludicrously catchy hooks in its all-too-brief run-time.
Its success will ultimately be determined by the staging: During Czechia/Czech Republic's selection process the band kept things fairly simple but, with a decent budget, you could imagine their marionette dance routine being one of the night's highlights.
Prediction: Locked on for the top 10.
Denmark: Reiley – Breaking My Heart
Breaking My Heart has a chequered history.
Reiley, a 25-year-old Danish singer who's signed to US record label Atlantic, first wrote the song a couple of years ago in the midst of a toxic relationship. But it languished on a hard drive until his manager suggested he enter Eurovision, at which point it was dusted off, spruced up and put forward for Denmark's selection process.
But in the run-up to the show, it was discovered he'd performed the song before (specifically at a concert in South Korea last year) – which is against the rules.
In the end, an exception was made, and Reiley went on to win the contest. You can see why they were keen to keep him in. Breaking My Heart is a robust, modern pop song – the sort of thing you could imagine the Jonas Brothers having a crack at.
But it falters through over-repetition of the chorus and, crucially, the 25-year-old's wobbly live vocals.
Prediction: Will struggle to qualify for the final.
Estonia: ALIKA – Bridges
There's a moment in this song where Alika Milova sighs, and it feels like the most despondent moment in the whole of Eurovision 2023.
Why does every song have to be a bold statement of self-actualisation? She sounds exhausted and, honestly, that's the sort of content I can get on board with.
Predictably, though, it builds to a rousing final chorus about "building bridges" and becoming "strong enough" to overcome your demons. Shame, because for a moment there I had a kindred spirit.
Prediction: Bottom end of the leaderboard.
Finland: Käärijä – Cha Cha Cha
The song that answers the question: "What if Gangnam Style, but Finnish?"
Performed by 29-year-old Jere Pöyhönen, dressed as Jim Carrey in Dumb and Dumber, it took me on quite a journey. Here are the verbatim notes from the first time I played it.
"Sounds like a spoon in a blender, only less melodic: A cacophony of thrash guitars, offensively cheap synths and unintentionally hilarious Euro-rap.
"Sudden handbrake turn into catchy J-pop melody. This would be amazing on Dance Dance Revolution.
"Oh God, I like it now. What is going on?"
This has been going down a storm with live audiences, particularly with the audience-participation cha, cha, chanting. And therefore….
France: La Zarra – Evidemment
Could La Zarra be the person to break France's 45-year losing streak? Maybe, just maybe…
The 25-year-old has conjured an intoxicating blend of smoky jazz vocals and subdued disco beats for her Eurovision entry. It's quietly gorgeous, like a sort of Sunday morning Dua Lipa.
Prediction: Potential winner.
Georgia: Iru – Echo
Iru Khechanovi won the fifth season of The Voice Georgia after performing Loreen's 2012 Eurovision song Euphoria.
Now, she gets her own shot at Eurovision, and comes up against…. Loreen, who's doing a victory lap for Sweden. Ooops!
Iru describes her song a "fight for love", but the lyrics seem to have been written by an AI chatbot. "Love is a wordless"? "I feel I'm progressed"?? "Thing is known"???
The production is crammed full of military drums, EDM synth blurts and James Bond strings. But ultimately, it's as hollow as a Kinder egg (other chocolate eggs are available).
Prediction: Lower half of the leaderboard.
Germany: Lord Of The Lost – Blood & Glitter
A dreary thrash metal dirge that's presumably intended to subvert Eurovision's shiny, happy aesthetic. It was fun when Lordi did it 2006 but surely things have moved on since?
That said, Lord Of The Lost are seasoned live performers who recently toured with Iron Maiden; and their most recent album – also called Blood And Glitter – topped the German album charts in January.
That experience and exposure, coupled with their ability to stand out from the endless windswept ballads, could tip the scales in their favour.
Prediction: Mid-table at best.
Greece: Victor Vernicos – What They Say
Greece's Victor Vernicos has adopted the odd vocal tics of Dermot Kennedy and Tom Walker, where it sounds like you're chewing vowels for breakfast.
But hey, those singers are wildly successful, and this song lands squarely in their ballpark: Drums crash, vocals crack, and emotions meet sleeves upon which they are worn.
Annoyingly, Vernicos flubs the final chorus, cutting the rhythm track for what I guess is supposed to be a hands-in-the-air, "Radio Gaga" moment. Instead, it sucks the energy out of what could have been a thrilling finale.
Prediction: Eliminated in the second semi-final.
Iceland: Diljá – Power
Throbbing with a Scandi-pop synth pulse, Diljá's song is about the realisation that you, and no-one but you, has power over your life. Or, in her own words: "Don't let the trauma take the wheel".
The chorus is precision-tooled to stick in your head with its insistent "p-p-p-pick up a Penguin" refrain*; but, alas, it's very much Eurovision by numbers.
Prediction: I can't see this being a strong vote-winner. Could finish in the low teens.
(* not the actual lyrics, obviously)
Ireland: Wild Youth – We Are One
The sort of music they put in banking commercials: A grasping, aspirational hymn to togetherness, with lyrics Coldplay would have rejected for being too twee.
Wild Youth? They're about as rowdy and unpredictable as a facecloth.
Prediction: Eliminated in the first semi-final.
Israel: Noa Kirel – Unicorn
The BBC is not responsible for the content of external sites. YouTube content may contain adverts.
Skip youtube video by Noa Kirel
Allow YouTube content?
This article contains content provided by Google YouTube. We ask for your permission before anything is loaded, as they may be using cookies and other technologies. You may want to read Google's cookie policy, external and privacy policy, external before accepting. To view this content choose 'accept and continue'.
The BBC is not responsible for the content of external sites. YouTube content may contain adverts.
End of youtube video by Noa Kirel
Noa Kirel has been called Israel's biggest pop star – she's scored four number one singles, won five MTV Awards and been a judge on Israel's Got Talent, all while serving a compulsory two-year stint in the Israeli army.
Her selection comes after Israel failed to qualify for last year's Eurovision final – an embarrassing turn of events for a country that's won four times.
The state broadcaster was so keen to get her on board that they announced Noa's name before she'd fully signed up, leading to an awkward four-week period where her participation hung in the balance.
The 21-year-old eventually accepted, with a song that sounds like Katy Perry after one too many vodka & Red Bulls.
Bonus points for including a drumbeat that sounds like a galloping unicorn. Bonus bonus points for inventing the word "femininal" (rhymes with "phenomenal"). A fun distraction.
Prediction: Upper half of the leaderboard.
Italy: Marco Mengoni – Due Vite
Marco Mengoni is a big deal in Italy. Since winning The X Factor in 2009, he's topped the album charts seven times, and scored 29 top 40 singles.
But for all the success, he's a reflective, thoughtful musician, who's spoken openly about his struggles with mental health and body dysmorphia.
His Eurovision entry is called Due Vite (Two Lives) and it explores the power of dreams to nourish our day-to-day lives.
"It is a tribute to life and an invitation to enjoy even the most boring moments, those that seem to teach us nothing but hide ideas for the future," he told Vanity Fair.
Sung with searing sincerity, it's one of this year's standout ballads.
Latvia: Sudden Lights – Aijā
Aijā is the Latvian word for "lullaby" – and this song is supposed to be a soothing remedy to the horrors of modern life.
Now, maybe I'm missing some important cultural context here but, in my experience, lullabies aren't stuffed full of guitar feedback and glitchy, jumbled drumbeats that sound like someone pushing a cupboard of saucepans over a cliff.
The quiet-verse/loud-chorus dynamic suggests Sudden Lights are students of the Nirvana/Pixies school of songwriting, but they lack either band's ferocity or bite.
Prediction: Good enough to make the final, but poor chances thereafter.
Lithuania: Monika Linkyte – Stay
Those of you who pay attention to the lyrics will discover that Monika Linkyte has been through a lot. She's carried sadness with her since she was 16. She's tasted failure and had her dreams broken. The fire that burned inside her has been extinguished.
But she's reaching out for help, pleading with her loved ones to stay by her side while acknowledging "it ain't easy to love someone like me".
It ends with the repeated phrase "čiūto tūto" – an old Lithuanian folk mantra that's supposed to help people reconnect with nature and their true selves.
Monika, who previously entered Eurovision in 2015, says the song is based on "a time when I didn't feel comfortable in my body", and you can hear the desperation in her delivery. Only a stony heart would be unmoved.
Prediction: Just outside the top 10.
Malta: The Busker – Dance (Our Own Party)
Taking its cue from 2020 Eurovision icon Daði Freyr, this is a slab of socially-awkward disco funk, featuring the iconic line: "I feel better/in my sweater".
Delightfully bonkers, and cheesier than a wheel of brie.
Prediction: Unloved by fans and bookmakers, this may drop out after the semi-finals. A real shame.
Moldova: Pasha Parfeni – Soarele si Luna
Pasha Parfeni started his musical career at the age of seven, studying classical piano, and previously entered Eurovision in 2012, when he took 11th place.
He's back this year with a piledriving house track that features an unexpectedly lovely nose-flute breakdown.
Lyrically, it's a wedding song infused with images of nature symbolising the harmony between the married couple. Musically, it's the sort of thing the producers of Fast & Furious would dub on to an Eastern European nightclub scene.
Nice antlers on the backing dancers.
Prediction: Bottom half of the leaderboard.
Netherlands: Mia Nicolai & Dion Cooper – Burning Daylight
The only duet in this year's contest, Burning Daylight is, on first impression, a boilerplate Eurovision piano ballad.
But co-writer Duncan Lawrence is a former winner, and he knows the value of a slow burning build-up.
After Mia and Dion spend two minutes exploring their depression (he can't "find joy anymore" and she's stopped believing in God) the song explodes into a fantastic, heart-tugging resolution: "Goodbye, old life!"
It'll be interesting to see whether the duo have the requisite chemistry to pull it off, though. In interviews, Dion has made it very clear they were only put together for Eurovision.
"We come in as two separate artists," he told one interviewer. "That's also why we are Mia Nicolai and Dion Cooper and not [2014 Eurovision runners-up] The Common Linnets."
Norway: Alessandra – Queen Of Kings
An electric jolt of Euro-pop, with a baroque chorus most artists would kill for, and a sea shanty breakdown that feels very pandemic-fever-dream.
Lyrically, the song has a strong message about self-acceptance.
"I am bisexual and when I lived in Italy I had to hide who I was because some of my friends and relatives would not approve," says Alessandra. "So I think it's important to accept who we are, without caring about the opinion of others."
Alessandra also has the biggest vocal moment of the night, reaching a high E note that's essentially a whistle tone. Bet they put that in the montage.
Prediction: Hovering around the top five.
Poland: Blanka – Solo
A disarmingly simple track, Solo has a reggae-pop lilt and a sing-song chorus you could imagine Zara Larsson chucking out as a b-side.
It has charm in abundance, but singer/model Blanka Stajkow hasn't been the strongest vocalist in Poland's televised selection process, so she'll need to work on her delivery before Liverpool.
Prediction: Eliminated in the semi-finals.
Portugal: Mimicat – Ai Coração
Marisa Isabel Lopes Mena, aka Mimicat, brings the Moulin Rouge to Eurovision. All castanets and flamenco skirts, this is a big, ballsy cabaret number about love driving you crazy. "My doctor said there's nothing to do / Lost case, I saw him writing, too," she sings (in Portuguese).
Mena won Portugal's selection process despite having pharyngitis, so imagine what she'll be capable of in Liverpool.
Prediction: Will suffer in comparison to France's stylistically-similar entry.
Romania: Theodor Andrei – DGT (Off and On)
I think this is the only song in waltz time this year… Not that it helps. "Don't you just wanna sit right next to me / With your favourite dress on the floor and your dreams?" asks Andrei, to which the answer is clearly, "Ugh, get away from me".
Conceptually, the song describes a toxic relationship and the struggle to choose between passion and self-preservation.
Andrei, who's just 18, inhabits the psychodrama, sounding alternately doleful and sleazy and remorseful and angry. But when he sings lines like, "I'm begging you, take off your clothes and step on me", it's genuinely upsetting.
Prediction: Eliminated in semi-final two.
San Marino: Piqued Jacks – Like An Animal
San Marino's entry starts promisingly enough with a twisty, sinuous guitar riff, but it quickly goes downhill. "C'mon baby, I can smell you like an animal," growls singer Andrea Lazzeretti, deploying one of the ickiest chat-up lines in history.
He later claims to have "butterflies in my ears", raising the terrifying possibility he was growing caterpillars in there first.
If you can ignore the words, the song's a solid enough glam-pop stomper. But you can't ignore the words.
Prediction: Eliminated in semi-final two.
Serbia: Luke Black – Samo Mi Se Spava
"I just wanna sleep forever / I like it better when I dream," sings Luke Black in this trippy, unsettling electro banger.
The song dates back to 2020, and the lyrics are very much rooted in the dark days of lockdown.
"I spent the last years very alienated from the world, especially throughout the pandemic," Luke told the Eurovision Fun website. "I immersed myself into my bed, video games and anime and that's how the song was created."
Musically, he conveys the oppressive vacuum of isolation perfectly – but could it be too experimental for Eurovision?
Prediction: Just outside the top 10.
Slovenia: Joker Out – Carpe Diem
Self-styled "shagadelic rock band" Joker Out are what the world gets for tolerating Maroon 5 for the last two decades. Carpe Diem sounds like rock music, it moves like rock music, and when it finishes, you will have no memory that it ever happened.
Spain: Blanca Paloma – EAEA
One of the most musically intriguing entries this year, EAEA is all flamenco handclaps and Arabic vocals lines, underscored with a pulsating synth line.
The 33-year-old wrote the song to honour her roots: The artwork features a photograph of her late grandmother, Carmen, who introduced her to flamenco, and she performs with five backing singers, representing the power and strength of her female ancestors.
A lot will ride on how Blanca's melismatic vocal performance can be recreated live. If she wins, expect lots of "Una Paloma Blanca" headlines.
Sweden: Loreen – Tattoo
Returning to Eurovision as a former winner is a risky strategy – a fact that wasn't lost on 2012 champion, Loreen.
"They popped the question, the answer was, 'It's not gonna happen'", she told the BBC's Eurovision podcast. "It took me four weeks [to decide]. It was more like, 'What can I say in this? Do I have anything to give again?'"
The answer is a resounding yes. Tattoo is a stormy trance anthem that sweeps you up like a hurricane. The opening melody makes a clever nod to Abba's The Winner Takes It All, and the staging is spectacular.
Already the bookies' favourite to win, it presses all the right buttons, in exactly the right order, like a fabulous Eurovision lift concierge.
Prediction: Potential winner.
Switzerland: Remo Forrer – Watergun
An earnest anti-war ballad, Remo Forrer's song follows two childhood friends who used to play army games in the back garden; only to be confronted by the horrors of war as grown-ups. (The similarities to 1903 music hall number Two Little Boys are surely a coincidence?)
Although Forrer sings with real conviction, the song is lumbered with plodding, uninspired production. A shame, as a more sensitive reading could have been genuinely moving.
Prediction: Knocked out in the first semi-final.
Ukraine: TVORCHI – Heart Of Steel
For their 2023 entry, reigning Eurovision champions Ukraine have taken a genre swerve from the anarchic folk-punk of Kalush Orchestra to the spooky electro-soul of Tvorchi.
Unsurprisingly, the duo's entry is coloured by the ongoing war against Russia. Band member Andrii Hutsuliak wrote it after watching videos of the siege of Azovstal, taking inspiration from the armed forces and civilians who defended the town's steel works.
On stage, they perform the song in stark, yellow and black costumes, against a video backdrop of nuclear alerts and dancers in gas masks.
Justifiably dark, it's probably too confrontational to win on musical merit alone, but plenty of voters will want to show Ukraine their support.
United Kingdom: Mae Muller – I Wrote A Song
The UK is in last place alphabetically, and last place in the running order for Eurovision's grand final – but Mae Muller isn't in danger of scoring the dreaded nul points.
I Wrote A Song is a frank and funny revenge track, bitter as a bag of lemons and catchier than the common cold.
The flamenco guitar flourishes are a smart touch; as is the wordless chant in the post-chorus – a trick she's borrowed from Lady Gaga (ooh-la-la) that handily transcends language barriers,
It's probably too generic to top the leaderboard, but this camp disco banger is difficult to ignore.
Prediction: Seventh place.
All the build-up, insights and analysis is explored each week on a new BBC podcast called Eurovisioncast.