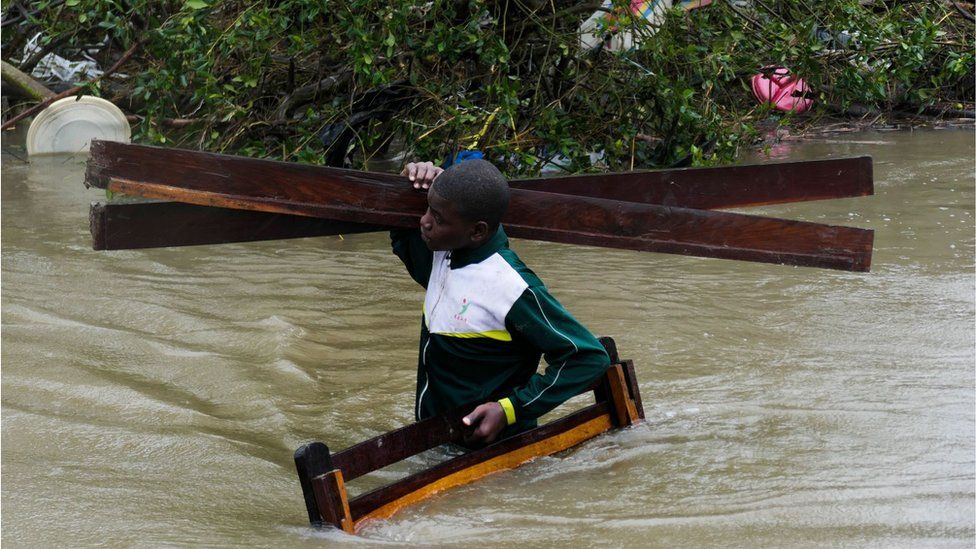 Malawi, Madagascar and Mozambique are reeling from the effects of Tropical Cyclone Freddy.
More than 400 people have been killed and thousands of homes destroyed.
Freddy has been one of the longest-lived storms ever recorded in the Southern Hemisphere, if not the whole world.
Southern Africa is often battered by cyclones and tropical storms coming in from the Indian Ocean but Freddy was different for several reasons.
How long has Freddy lasted?
Freddy has finally been declared over by the French Meteorological service. The storm was named by the Australian Bureau of Meteorology on 4 February and and finally came to an end on 14 March.
It was strong enough to be officially classified as a tropical system for at least 36 days.
However, we need to wait for confirmation by the World Meteorological Organization before we can say whether it is officially the longest-lasting recorded storm.
What is interesting about Freddy is how far it has travelled. It began its journey off the coast of north-west Australia, crossing the Southern Indian Ocean from east to west, one of only four storms in history to do so.
How powerful was Storm Freddy?
The classic way of measuring the strength of a storm is by its wind speed. At its strongest Freddy was the equivalent of a Category 5 hurricane with winds in excess of 160mph (260 km/h).
Fortunately, it was most intense over open waters.
Freddy broke the record for all-time accumulated cyclone energy (ACE) in the Southern Hemisphere, a measure of the storm's strength over time, beating the previous record, set by Cyclone Fantala in 2016.
It was also the first storm in the Southern Hemisphere to undergo four separate rounds of rapid intensification – this is an increase in the maximum sustained winds of a tropical cyclone of at least 30 knots in just 24 hours.
Since landfall, rainfall amounts have exceeded 600mm (24 inches) in some areas with torrential rains leading to mudslides in vulnerable areas.
With hurricane-force winds, the storm also brought large storm surges as it kept re-energising over the warm waters of the Mozambique Channel.
What is the difference between a Cyclone and a tropical storm?
A Tropical Cyclone in the Indian Ocean is stronger than a tropical storm.
Freddy first hit Mozambique as a moderate tropical storm. Its second landfall in Mozambique was as a Tropical Cyclone and by the time it reached Malawi, it had weakened to tropical storm strength – although that it where it caused most destruction.
What will Storm Freddy do next?
Freddy has now broken up, but its remnants are still causing rain across parts of Mozambique and Malawi which could worsen the flood situation.
What is the difference between a cyclone, a typhoon and a hurricane?
They are all huge storms but how they're defined depends on where they're formed. In the Atlantic and East Pacific they become hurricanes, in the West Pacific they're typhoons and in the Indian Ocean and near Australia they're called cyclones.
Was Storm Freddy caused by climate change?
This is a tricky question to answer as Freddy is certainly unusual.
We've seen this type of storm previously when we have seen a strong or persistent La Nina weather pattern in the Indian Ocean. The Bureau of Meteorology has just declared the end of a series of back-to-back La Nina events which began in September 2020.
In terms of climate change, it's a well-known fact that warmer air can hold more water so the amount of rain which fell, especially during its time over land, is likely to have been enhanced by climate change.
Warmer waters in the oceans hold more energy, so it follows that these storms may well become more energetic with time and be able to unleash even more rainfall.
Rapid intensification is more likely with higher sea temperatures and so the fact that this occurred multiple times may have been partly due to climate change. The slow movement of the storm at times, especially just before the second landfall in Mozambique, could also be related.