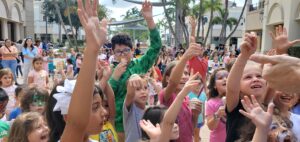 Gulfstream Park Village's popular Free Cone Day will return on Wednesday, May 17 at Häagen-Dazs. From 5 p.m. to 8 p.m., guests are invited to enjoy one free mini cone or cup with the ice cream flavor of their choice. Additionally, Gulfstream Park Village Center will transform into a family-friendly village carnival with free entertainment featuring an interactive DJ, carnival masks for the first 1,000 kids, unicyclists, stilt walkers and an aerialist.
During past events, Häagen-Dazs at Gulfstream Park Village has served over 4,225 scoops and was the No. 1 store in the U.S. to participate in Free Cone Day. This year, the Gulfstream Park shop is the only store in the country to offer the promotion.
To RSVP for Free Cone Day and be entered to win a $200 Haagen-Dazs Ice Cream Party, please visit https://gulfstreampark.com/promotion/free-cone-day-at-haagen-dazs/.