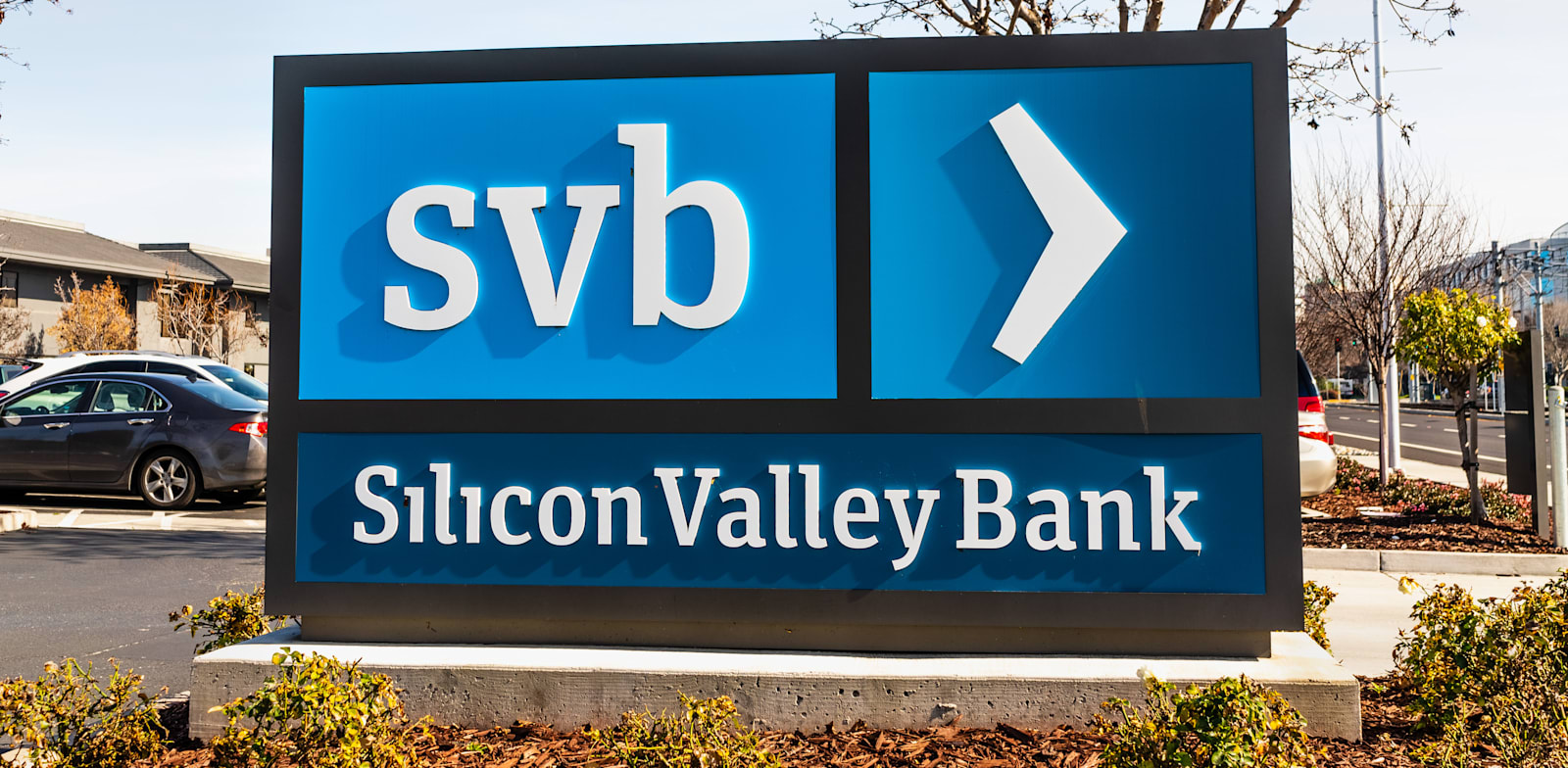 Investors, CFOs and managers of Israeli tech companies were reporting growing pressure to withdraw money from Silicon Valley Bank (SVB) (Nasdaq: SIVB) last night after the US bank announced losses of several billion dollars and there was a 60% plunge in its share price, and a further 20% in aftermarket trading.
SVB is believed to serve hundreds of Israeli companies through current accounts, deposit accounts, trade and credit.
An Israeli investor who prefers to remain anonymous told "Globes," "From yesterday afternoon we saw events unfold." The investor told their portfolio companies to withdraw money from SVB, which is considered the dominant bank in Silicon Valley for deposits and loans for startups and privately-held tech companies, including Israeli companies.
"The bank has created uncertainty and the companies are seeking a solution," says the tech investor. "Although its losses are significant, that does not put it at existential risk. What does place its existence at risk is the response of companies to the event. Sometimes, when so much money is withdrawn, the risk from the response exceeds the original risk. SVB has had a big hand in this. They have not communicated their financial risk properly. You cannot issue a statement about huge losses and hope that it will be fine – you need to prepare the industry, conduct yourself transparently, explain why the risk is low and prepare a business plan. If the situation carries on like this, SVB will be forced to present a new recovery plan today, otherwise the situation will only worsen."
SVB mainly suffers from a sharp fall in deposits from startups, which for their part are struggling to raise money from venture capital funds, as the US Federal Reserve has been raising interest rates over the past year in efforts to tame inflation.
On top of all this SVB cut its forecast for the coming year after Moody's downgrading its rating.
Israeli fintech company Papaya Global CEO Einat Guez, who was also one of the first to announce that her company was taking its money out of Israel due to the judicial overhaul, has notified tech entrepreneurs on how to implement a swift solution that will allow them to continue paying suppliers. Guez promised that within two hours from receiving a request and all the information, Papaya Global can help transfer funds to an account at J.P. Morgan and execute payments to suppliers around the world based on its platform.
Reports about SVB's problems have rocked the entire finance sector traded on Wall Street. The four biggest banks in the US had over $50 billion wiped off their value and the region bank index (KRE) fell 8% on its worst day since June 2020.
Disperse risk
While some investors have admitted that they have advised their portfolio companies to withdraw funds from SVB, others say they do not have a blanket recommendation and that they were examining together with the companies the extent of their holdings in the bank, and recommended temporarily using the bank's custodial services, so that even in the case of a collapse, it will be possible to withdraw the funds.
In any event, this is a boost for Israeli banks, which until recently suffered from funds being transferred abroad due to the companies' desire to hedge risks because of the judicial overhaul. The alternatives discussed among high-tech investors and entrepreneurs are institutions such as Poalim Hi-Tech, Leumi Tech and Valley Bank, a US bank in a partnership with Bank Leumi, as well as foreign banks such as JPMorgan Chase and Citi. "We recommend spreading the risks between an American bank and an Israeli bank," another investor told "Globes."
Poalim Hi-Tech opened a hotline last night to handle inquiries and deal with the financial and legal aspects of the situation. At the bank, as well as at Leumi Tech, customers are promised quick transfers that may take 1-3 business days.
Published by Globes, Israel business news – en.globes.co.il – on March 10, 2023.
© Copyright of Globes Publisher Itonut (1983) Ltd., 2023.