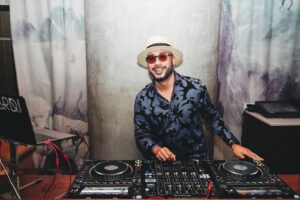 Miami's DJ Cardi and NBC 6 anchor Kelly Blanco will host Jingle After Dark: A holiday shopping fundraiser and soiree presented by Jack Daniel's. From 6 p.m. to 9 p.m. on Thursday, Dec. 22, at Brickell City Centre, 701 S. Miami Ave., Cardi and Blanco, along with a group of Miami's top DJ performers, will provide a bevy of entertainment complemented by unique Jack Daniel's holiday cocktails. DJ Cardi's performs his popular DJ sets at various nightclubs and venues around Miami, including The Lounge and Altitude Pool Deck at SLS Hotel Brickell, The Wharf Miami and for the Miami Heat at their arena.
The fundraiser will benefit Jack Daniel's Operation Ride Home, a partnership with the Armed Services YMCA (ASYMCA), which has raised more than $2.3 million in donations and helped unite more than 10,000 individual service members with their families during the holidays since 2011. The Operation Ride Home Initiative was designed to assist junior-enlisted service members and their families in traveling from their military bases to their homes around the country during the holiday season.
The holiday charity and social event is open to the public and guests can enjoy the Jack Daniel's Donor's Lounge when they make a philanthropic donation to the Operation Ride Home initiative along with the opportunity to purchase a barrel from the Barrel Tree at Brickell City Centre for $150, with 100% of the proceeds benefiting Operation Ride Home.