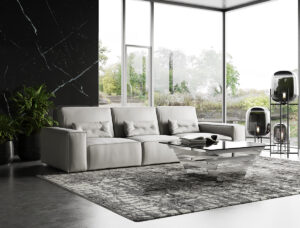 While it's true that interior and furniture experts seem to have a language all their own, it's equally true that people who enjoy living in their worlds can confuse or misuse terminology common to the design industry.
Fortunately, there's no mistaking the one-of-a-kind décor at Modern Miami, the purveyor of dazzling cutting-edge furnishings that, as the name suggests, run the gamut of modern design. Lifestyle asked Ion Cazacu of Modern Miami (2050 SW 30th Ave., Hallandale Beach; modernmiami.com) to elaborate on his store's offerings—and why modern is red-hot right now in South Florida.
For people who don't understand what the term entails, can you explain the characteristics of modern furniture?
When we use the term "modern furniture" it implies simplicity and geometry in design, opposed to the visually heavy Victorian and neoclassical styles.
Modern Miami takes the concept of modern furniture to a whole new level. Most of our paradigms are unique and cannot be found anywhere else on the market. We enhance the European straight line with our unique designs.
How do you feel that modern furniture enhances a space compared to other furniture designs?
Modern furniture is more streamlined and understated. It's elegant with clean lines, making it blend into any interior design theme without overpowering a room or home. The concept of the furniture is to enhance the home and not to diminish it. Modern furniture implies simplicity and practicality. The home has to embrace the furniture. There has to be harmony in the union, and simplicity and practicality is a perfect way to achieve that.
What would you say to people concerned that modern furniture isn't as timeless as other furniture? Or people concerned that modern doesn't work as well in South Florida?
Modern style will never be outdated. Simplicity and practicality always will be in demand. Modern furniture is not just one style, there are multiple substyles or combinations of styles that are very different from one another. It's an ever-changing design.
Modern furniture has been a trend for years now. It's no longer just a passing fad; it's an industry of its own, with big names and amazing products that everyone wants to have in their homes. With new materials—such as steel, faux marble, concrete, ceramic, brass, velvet, combinations of stones and resin—designers now are allowed to stray from traditional styles and create furniture that is meant to be more symbolic of our age.
Whether it's for our iconic modern Boston office desk or Natura modular sectional, our customers keep flocking to our store. They constantly receive positive feedback over the quality of our premium Lamod collection.
South Florida is modern by definition. As anyone who lives here may know, modern style with light colors and simple lines makes a perfect match with our sunny and laid-back climate. Our goal as a company is to bring ultramodern and high-quality European furniture to our customers for an affordable price.