I recently attended the Winter Fancy Food Show in Las Vegas, USA. The Specialty Food Association started the "Fancy Food" shows in 1952  and it happens every summer and every winter. This time the Winter edition was held in Las Vegas. Such a great opportunity for us to see our favorite healthy brands and see if they have any new products out. I always love going to the food shows and finding new Earth Diet-approved brands for you guys. These are all-natural by nature, and Earth Diet foods! 
1. SunButter – the organic jar! There is just one ingredient: roasted organic sunflower seeds. Incredibly tasty and at the show was used to make Chocolate Sunbutter Cups, Thai Chicken Pizza, Chocolate Sunbutter Avocado Mousse and Sunbutter Superfood Overnight Oats. 
 2. Citrus House – sparkling water with organic juice. The Pomegranate and Blueberry were my favorites. Crafted in Italy and only real organic juice is used. Not from concentrates. Disclaimer: the "natural flavors" are lemon oil for example, not to be confused with artificially made natural flavors.  
3. Remedy Drinks – the new Heal shots. The 'HEAL' Super Immunity+ Shot is crafted with high quality, 100% USDA-certified organic, plant-based ingredients to boost the body's natural power to heal and recover. Enjoy the fresh flavor combination of tart lemon rounded off with a touch of robust ginger and turmeric. 
4. Imlak'esh – Sacha Inchi. Sacha Inchi is the ultimate snack for a supercharged lifestyle. This amazing seed is packed with more complete protein and healthy Omega 3 oils than any other nut or seed. Organic & Ethically Sourced. Healthy "nut" that replaces peanuts or almonds. With a Savory Flavor as if a macadamia nut, Brazil nut and soybean had a baby. High Protein & Omega-3 Fatty Acids. No Tree Nuts, no additives, and soy-free. Vegan, Gluten Free, and Non-GMO.
5. Edward and Sons – Artichoke hearts need I say more!
6. Chi – vegan "pork" made from Sacha Inchi (Imlakesh). 
7. Primal Kitchen – Buffalo Sauce! An epic flavor and made with the cleanest whole ingredients. They have a variety of sauces and dressings and use real, high-quality ingredients so you can enjoy your favorite classic sauces, dressings, condiments and pantry staples with confidence. Their condiments, dressings and sauces, are made with avocado oil, a source of heart-healthy, good fat from plant-based oils. No Artificial Sweeteners! From sauces, dressings and mayo to collagen, across the line, Primal Kitchen products are either unsweetened or purposely sweetened with delicious ingredients, no artificial sweeteners ever. How sweet is that?
8. Truff – Truffle oil salt! Yes you read that correctly. A salt infused with truffle oil. And not just any salt but a high quality sea salt. Truff are known for their hot sauce and now their new truffle sauce and salt are hitting the market, I am so excited! 
9. OGGI – Authentic Italian gluten-free cauliflower pizza crust that tastes like a legit crust! Made by Italians. It's also vegan, egg-free. 
10. Tea Drops – drop, stir and enjoy! Tea Drops are organic, ground-leaf teas that are pressed into fun shapes. They melt in water — like a bath bomb, except it's tea! Swirl cup gently while consuming to capture every fiber-rich, prebiotic-filled sip.
11. Ocho – Organic and Fair Trade candy should be delicious & these are! These candy bars are beautiful inside & out!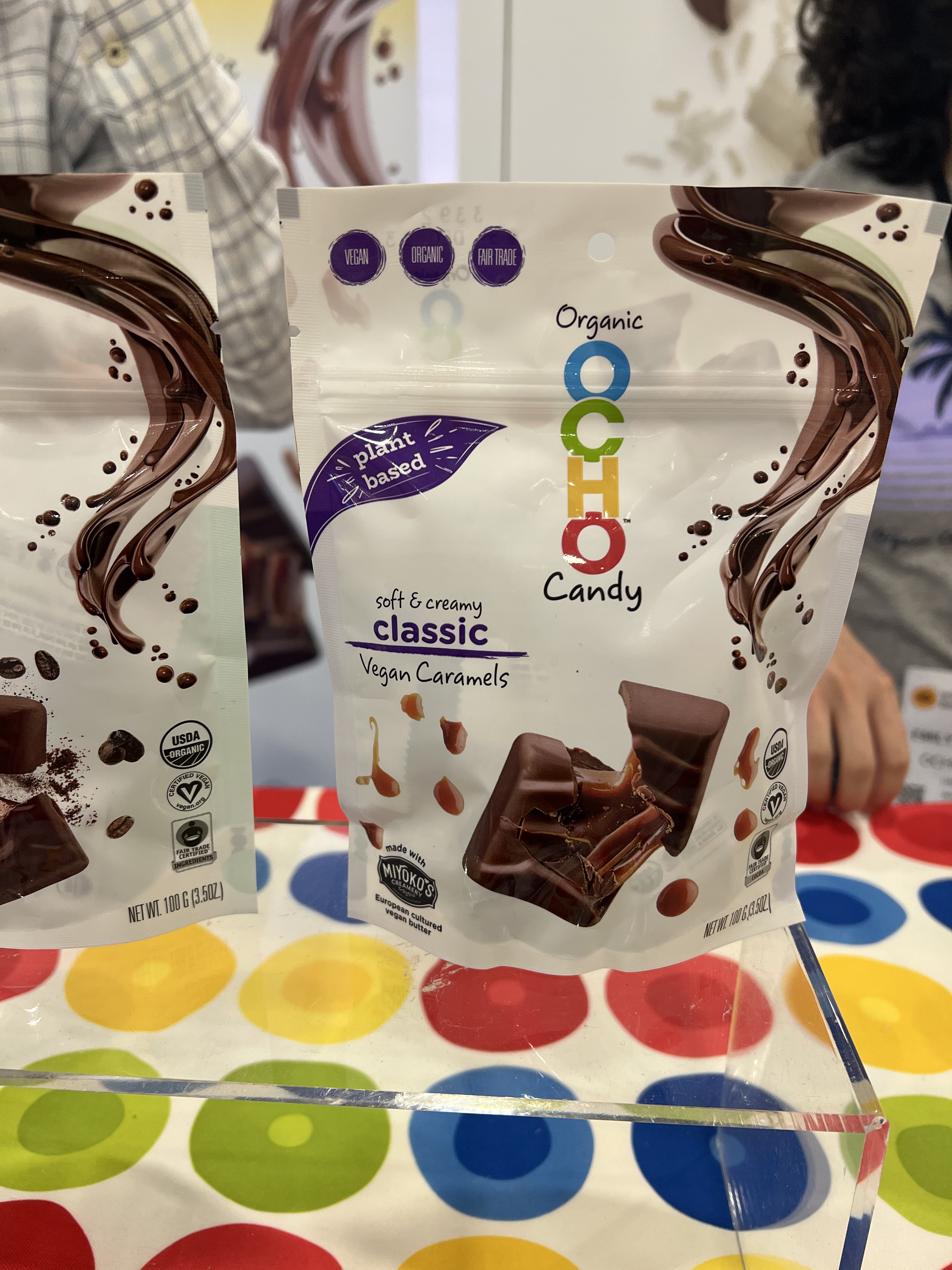 12. Lakanto – Sweetened by Monk Fruit sweetener, On the Go Healthy snack! Monk fruit contains zero calories and is about 250 times sweeter than sugar.
13. Medicine Flower Body Butters – These are incredibly rich emollients that melt onto your skin with your natural body heat, releasing their fabulous, all-natural essential oils and then absorbing into your skin. Perfect for keeping your skin smooth, silky and protected from the environment.
 14. Bean ViVO – healthy, convenient meals made from organic beans BeanVIVO ready-to-eat microwavable pouches are packed with flavor and naturally nutritious, so you can eat healthy anywhere, anytime!
15. Kitchen and Love jackfruit stew –  Kitchen and Love are dedicated to support the well-being of all people by sharing their love of innovative, great-tasting and affordable high-quality foods. They continue to make these foods with only a few, recognizable ingredients, minimal processing, and GMO-free.  Jackfruit has a versatile flavor, meaty texture, full of sustainable fiber and important nutrients.
16. La Tourangelle Avocado Oil- Is 100% pure, all-natural and handcrafted from premium avocados. They use only the freshest, most high-quality local ingredients.
17. LorAnn Oils – Organic Bakery Emulsions! Are about 3 to 4 times the strength of a typical baking extract. They have remained a family-owned and operated business specializing in the production of essential oils and flavorings.
17. Edward and Sons – Native Forest Organic Hearts of Palm are crisp yet tender and taste great straight out of the can as a low-calorie snack, on top of almost any salad, or as an ingredient in a wide range of recipes.
18. Edward and Sons – To make Native Forest Organic Simple Coconut Cream, They press the meat of their fresh organic coconuts, yielding rich coconut cream that they blend with pure, filtered water and nothing more. Delicious in soups, curries, sauces, desserts and beverages.
 20. Flock Chicken Skins – Original flavored chicken chips are made with simple ingredients: 100% real premium chicken skin and salt. With the crispy and crunchy texture of potato chips (without the carbs) and the protein of jerky, this is the ultimate guilt-free, keto-friendly, low-carb, and high-protein snack.