Here are my Top 50 Natural Foods and Products from the largest food show in the world Expo West! These are foods and products that help change our lives for the better, they are made with natural ingredients which are better for supporting our immunity, healing, beauty and also much better for the environment. 
My favorite way to take broccoli sprouts is with Broc Shot! Broc Shot is a ready-to-shoot wellness shot that is made with 100% pure broccoli sprout powder and filtered water. They are shelf-stable so you can travel with them. Broc Shot is a quick and effective way to get your daily dose of sulforaphane.Sulphoraphane is clinically proven to heal gut lining, detoxifies and acts as a prebiotic feeding the good bacteria in the gut. 
Blue Stripes is hands down the cleanest chocolate I have found! I love their booth its always fascinating seeing the actual cacao pods. Yes, they had an abundance of football-sized cacao pods from Ecuador. One of the top 10 things that helped me heal my tumor and health issues was cacao, I write about cacao in all of my books and its healing potential. Cacao is chocolate in its rawest and purest form before it's made into chocolate. You can eat this type of chocolate every day because it is a functional food. People who get it, get it. 
3. Remedy Drinks – The Breakfast solution
Remedy Organics is a great 'breakfast solution' and anytime meal replacement. You can find their 'breakfast essentials' variety pack on their website and find their products nationwide at your local grocery store.100% USDA-certified organic, plant-based ingredients to boost the body's natural power to heal and recover. 
Remedyorganics.com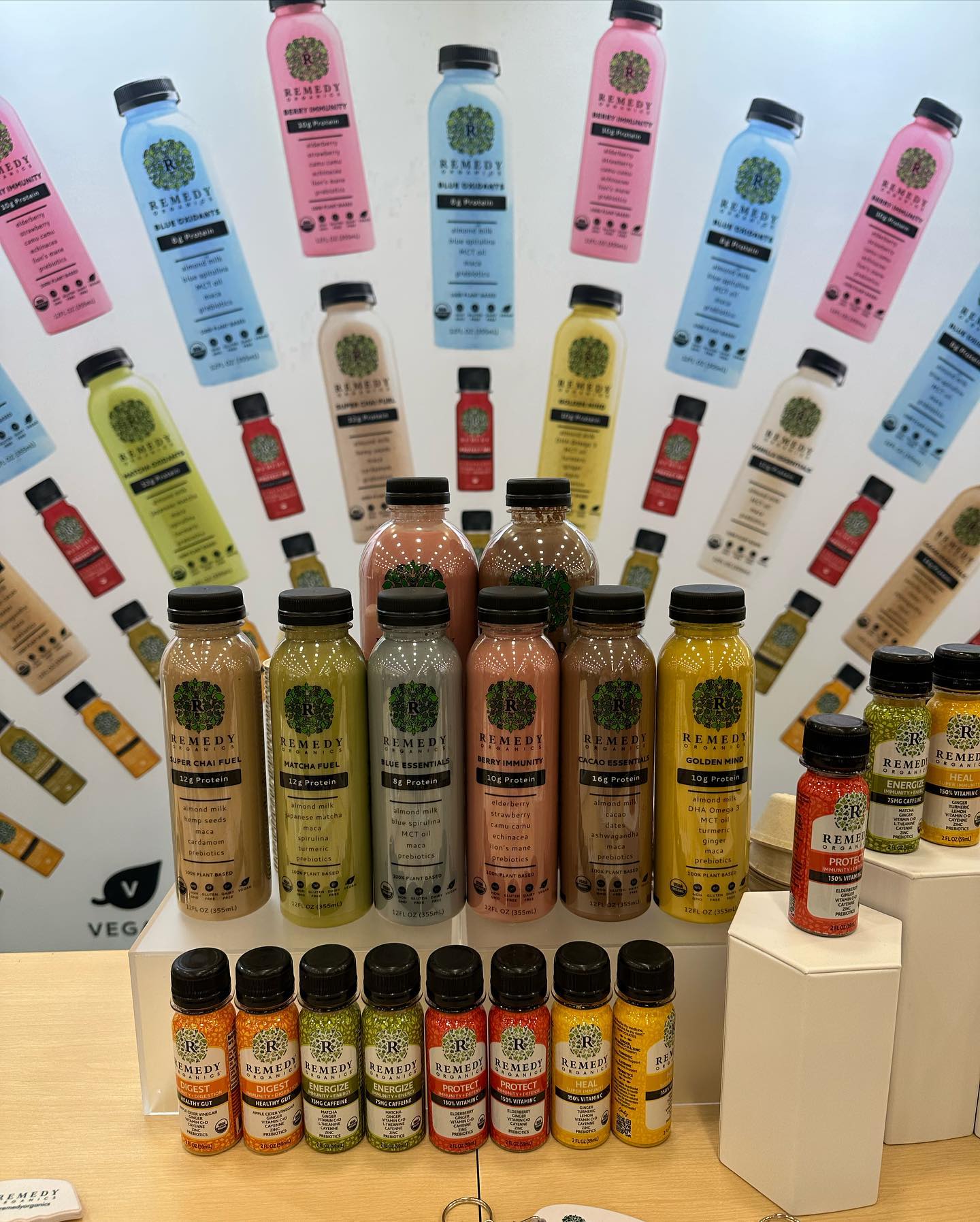 4. Food Earth –  Ready-made plant-based meals 
Food Earth is one of the booths where I did my book signing this year. They have ready-made plant-based meals. They are nutrient-dense and delicious! These shelf-stable, organic, pre-packaged meals are amazing for busy days. They taste great! They are great for on-the-go. I have even traveled with them in my carry-on luggage. I know some of you will say, eating from a microwave is not good, and I agree it is never ideal, however eating hotel food that is cooked with a microwave is worse than eating food cooked in a microwave. Sometimes we have to choose the lesser worst thing when it comes to maintaining a healthy lifestyle! 
5.SunButter – Organic jar
There is just one ingredient: roasted organic sunflower seeds. Incredibly tasty and at the show was used to make Chocolate Sunbutter Cups, Thai Chicken Pizza, Chicken Tacos and Sunbutter Superfood Overnight Oats. Their booth is always so bright and cheery, featuring a beautiful sunflower field. 
6. Explore Cuisine – Plant-protein pasta 
Explore Cuisine has incredible pasta products that are high in plant-based protein, gluten-free, and grain-free! They have the largest variety of gluten-free ingredients out there, which aligns well with The Earth Diet. Each variety is made from just one-three ingredients like edamame peas, black beans, or chickpeas. Explore Cuisine pastas are tasty, healthy, and super easy to make. Simple swaps have a big impact on our lives and are perfect for people with busy schedules. 
ExploreCuisine.com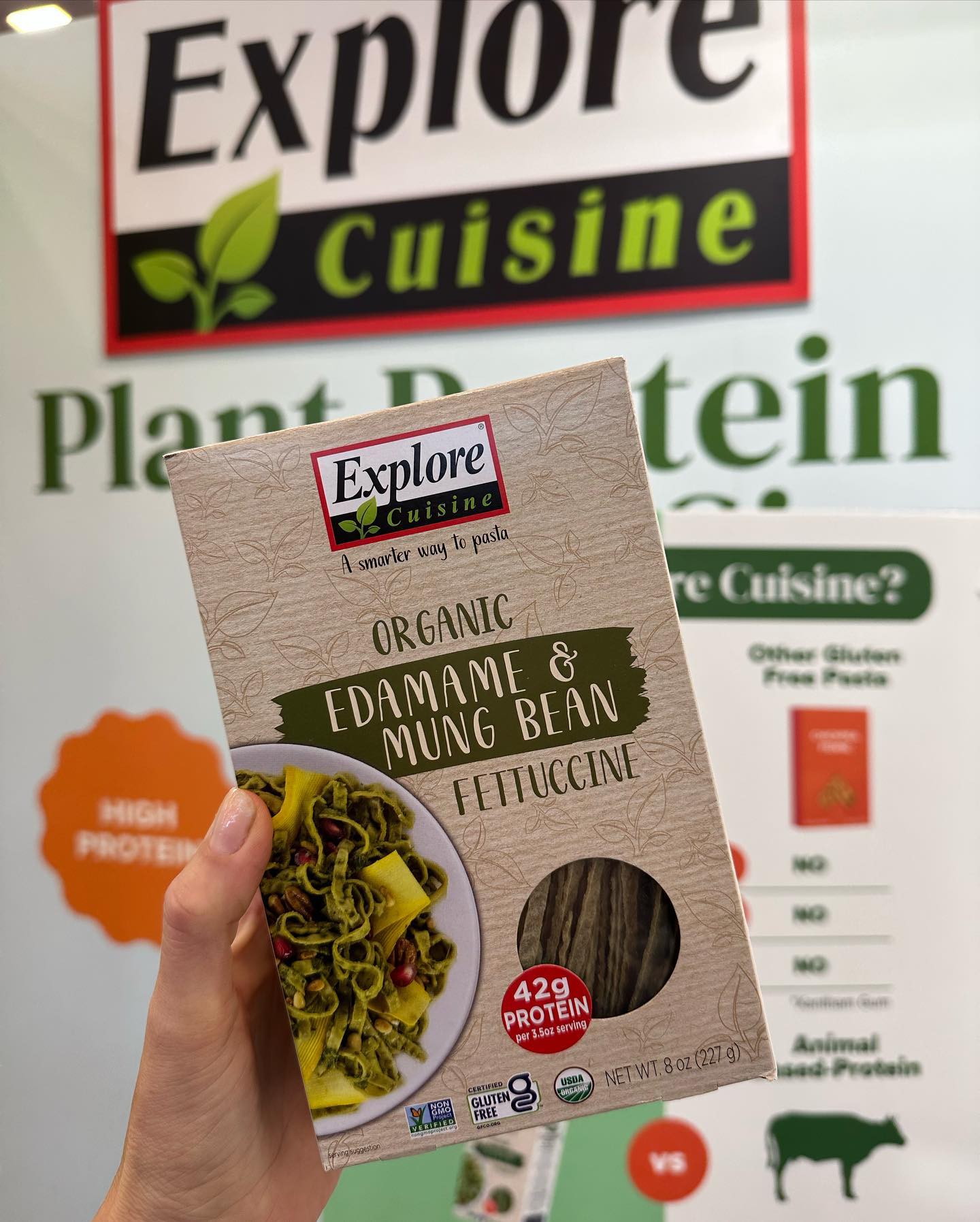 7. Primal Kitchen  – Whip dressing and spread
Primal Kitchen's new Whip Dressing & Spread is made without cane sugar or corn syrup, It's also free from eggs, soy, or canola, so you can get the zingy flavor you crave, without compromise. Made with the cleanest whole ingredients. They also have a variety of sauces and dressings and use real, high-quality ingredients so you can enjoy your favorite classic sauces, dressings, condiments and pantry staples with confidence. 
8.
OGGI
– Gluten-Free Cauliflower crust
Authentic Italian gluten-free cauliflower pizza crust that tastes like a legit crust! It's also vegan. Each crust is hand-stretched and stone-baked delivering a truly traditional style pizza. They only use extra virgin olive oil when making their delicious gluten-free crusts and hold taste and quality to the highest of standards. Oggi strives to create the best frozen products that are delicious, nutritious, and allergen-free. Their gluten-free crusts are the only ones in the industry with rising air pockets. By combining Italian traditions and modern innovation! 
Olita is an epic sunscreen company that is certified organic, reef safe, and EWG certified. (The Environmental Working Group is an American activist group that specializes in research and advocacy in the areas of agricultural subsidies, toxic chemicals, drinking water pollutants, and corporate accountability.)  It is so light-weight and easy to rub in. It doesn't even feel like sunscreen! They offer a few different varieties including, the original mineral, a baby sunscreen, and tinted. They also make a product called, After Sun which is great to hydrate the skin after a long day at the beach or for a daily moisturizer! Made with a coconut oil base and also contains aloe, the After Sun is not sticky and makes a great upgrade for the Aloe Gels on the market today. It's not often you find a sunscreen made with organic ingredients. If you are looking for a clean sunscreen, this product is for you! 
10. Dirt don't hurt – Activated charcoal detox products
Dirt Don't Hurt is a⁠ 3 Sister owned All-Natural Oral Care + Beauty & Body Care Brand focused on detoxification. All of their products are 100% Earth + Plant Based, Vegan, and Cruelty Free!⁠
Taking a more natural approach inspired them to start making their own products with clean, pure, and earth + plant-based ingredients. They incorporate activated Charcoal, earth clays, essential oils, and herbs into their beautiful products. The smell of these products is divine!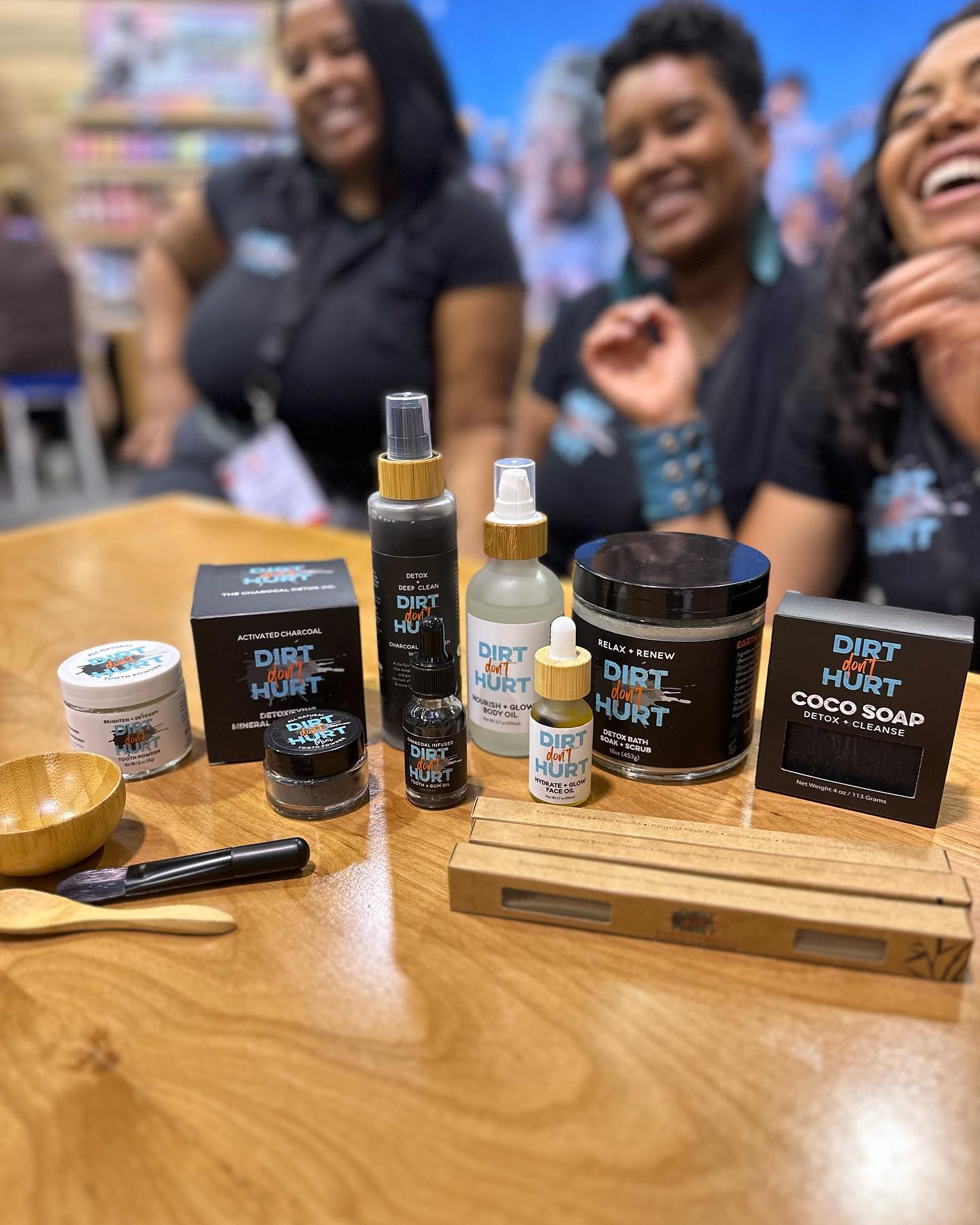 11. Ancient Nutrition– Super Greens Alkalize and Detox 
Ancient Nutrition is an amazing superfood company that provides whole food nutritional products their Super Greens Alkalize and Detox powder is Packed with 25+ cleansing, alkalizing superfoods, and probiotics so you can get your greens + the gut & body balance you crave. Founded by Dr. Josh Axe and Jordan Rubin, their products are created from the wisdom and principles of Ayurveda and Traditional Chinese Medicine. I take Ancient Nutrition supplements daily and recommend this brand to my clients. 
 AncientNurition.com
12.Dr. Bronner's – Dr Bronner's chocolate
Dr. Bronners is one of the OG health brands. They are known for their amazing soap that has 18 uses in 1. And they make delicious chocolate! My favorite is the Cool Peppermint Cream Chocolate Bar. This chocolate bar is divine! It is 70% cocoa, all vegan, sweetened with coconut sugar, and perfectly blended! There are lots of different flavors to choose from. Highly recommend!
DrBronner.com
13. Bobs red mill – Gluten Free Flour
Bob Red Mill is dedicated to providing the country's best Gluten Free products. For them, it started in the early 1980s, when the Gluten Intolerance Group first asked us if they could separate out gluten free grains. Gluten free diets weren't mainstream back then, nor were gluten free foods. However, their core value has always been that everyone should have access to whole grain nutrition, and that was the driving motivation behind the expansion into gluten free products.
Remedy Kombucha is an all-natural kombucha that's full of live cultures & organic acids that can be good for your gut health. One of the things I love most about it is it has no sugar due to its long age brew meaning it's a great option for those trying to cut down on sugar while also helping to improve your gut health! Win win
Yumy Candy is really yummy natural candy! It is the healthier, plant-based candy that offers guilt-free indulgence for the whole family with only 3 grams of sugar per bag!
Yumybear.com
16. Clean Logic
The Clean Logic line is non-toxic bath & body essentials that are carefully curated to fit your everyday needs and your lifestyle. From body exfoliators to skin and facial care products, their collection of sustainable bath products is designed to help you feel your best and look your best. They offer high-quality bath brushes, exfoliating towels and other sustainable bath products.
CleanLogic.com

17. Boody – Underwear
Boody is underwear that is quality, sustainable, everyday basics to relaxed essentials all crafted in organically-grown bamboo. So beautifully soft and comfortable!
Boody.com

18. Feelgoodz – Flip Flops
 Feelgoodz flip flops are made from Rubber Trees by a fascinating process called rubber tapping, this gives the footwear it's signature spongy comfort. Feelgoodz started from a chance encounter with a rubber farming family in Thailand over 10 years ago. Today they work with traditional weavers in Punjab, India, women-led knitting villages in Nepal, rice farmers in Vietnam and natural rubber co-ops in southern Thailand.
Apple Gate is organic, antibiotic-free, humanely raised, non-GMO natural and organic meat. The do good dog hot dog is made with beef raised on verified regenerative U.S. grasslands, taking their sourcing of beef one step further and advancing their mission- Changing The Meat We Eat.
20. 
Hello I'm Ugly
 – Cherries
Hello Im ugly started because of the growing problem of food waste. They prevent food waste by upcycling ugly fruit and transforming it into healthy dried fruit snacks.The cherries omg delicious. Better than candy. And just one ingredient. 
Nuts have a natural shield that blocks and inhibits digestion and can cause inflammation, gas, bloating and even brain fog.
At Rich Nuts, they remove this shield by mimicking the natural process of germination.  They have 6 decadent and nourishing flavors!  From Savory Sage to the kick of Crunchy Curry, Brilliant Balsamic and Maple Pecan to name a few! 
Ezekiel use only freshly sprouted certified organic grains, their products are kosher. They use absolutely no flour, are non-GMO, they don't use refined sugars. Instead, They use malted barley, a natural sweetener produced from sprouted barley, no artificial ingredients and they use a unique slow-bake process to preserve the natural fiber and bran benefits of grains.
23. 
Lesser evil – 
Popcorn
Shouldn't a handful of popcorn only have a handful of ingredients? Well, Lesser Evil has three: organic popcorn, extra-virgin coconut oil, and Himalayan pink salt. They make it with minimal processing for maximum snackability. They air pop the most tender butterfly popcorn, making it lighter, fluffier and lower in fat and calories.
24. Never Better Foods – Vegan cheese
Never better foods make vegan cheeses and oh my they are tasty! Made from a proprietary blend of sustainably grown and sourced pea protein and sunflower seeds gives their cheese the richness, creaminess, meltability and flavor of dairy cheese without the extra saturated fat and salt. It's lower in cholesterol and contains absolutely NO lactose, allergens or GMOs.
Neverbetterfoods.com

25. Sukin – Vegan skincare 
Sukin is my favorite natural vegan skincare from Australia and incorporates natural ingredients such as the Kakadu plum. Their Super Greens Detoxifying Facial Scrub is packed with green ingredients like Kale and Spirulina, as well as natural Jojoba Beads and Bamboo to polish the skin. Plus, it's suitable for all skin types! The smell of this product is amazing!
26. Edward and Sons – Miso
Miso-Cup was the first product under Edward & Sons Trading Co. Edward & Sons Miso-Cup Traditional Soup is made with Tofu, USDA Organic, Gluten Free, Vegan and Instant! Just Add Hot Water. Delish!
Edwardandsons.com
27. Phresh Greens – Alkalizing Superfoods

Phresh Greens make raw alkalizing superfoods. Their powder can go in almost anything like a green drink or juice, added to a salad, or smoothies! This powder is so helpful and convenient for getting your green drink in. It contains a variety of organic greens including broccoli sprouts, alfalfa grass and sprouts, barley grass, chlorella, kale powder, spirulina, spinach, and more! In my book, Cancer-Free with Food, I share how broccoli sprouts are the #1 anti-cancer food! This is the easiest way to alkalize your body and it's non-GMO, gluten-free, vegan, free of pesticides or herbicides, and no preservatives.  
PHreshProducts.com

28. Marks Pesto
Mark's Kitchen Pesto is made with the finest ingredients available. They use PARMIGIANO REGGIANO DOP (the best Parmesan cheese in the world) or for their Vegan line their own Vegan Parmesan (raw cashews, nutritional yeast, salt and garlic), the freshest basil (grown under the sun in Hawaii) or for the dandelion greens superfood pesto, organic dandelion greens from Lady Moon organics, baby arugula, first pressed virgin olive oil from a small family farm in Lucca, Italy, domestic grown garlic, fresh squeezed domestic lemon juice, fresh pine nuts, and sea salt. While Mark's kitchen pesto costs more than other pestos on the market, one taste of their product will show you why. Absolutely delicious pesto!
Markspesto.com
29. Simple Mills – Gluten Free Products
Simple mills have a range of delicious gluten-free products from cookies to Pizza dough mix! Their products go beyond free-from to for-more. Not just simple and real – but purposeful and nutrition packed. You are what you eat!
30. 
Pri Manuka Honey
 – Manuka Honey
Pri Manuka sells manuka honey that is 100% sourced from New Zealand and Australia! Aside from jars of honey, they sell other products including chocolate and skincare made with honey. Manuka honey is special in that it's antibacterial and bacteria resistant. It is great to use on skin for acne and cuts, but also just as great to eat! They also have new honey chocolates sweetened with nothing else but Manuka honey. They come in multiple flavors such as salted caramel, coffee, raspberry, mint, ginger, and orange. So delicious!
31.Redmond – Red Rock BBQ salt
A sugar-free version of the succulent barbecue flavor you love, Redmond Real Salt Red Rock BBQ Seasoning will keep your grilling game on point without compromising your clean values. Through a carefully sourced combo of organic spices and unrefined ancient sea salt. Redmond is known for its amazing Real Salt and Bentonite Clay, both sourced in America in Utah. Their salt is 100% pure salt sourced straight from the cave. Similar to that of Himalayan Salt but a much better option for us here in the U.S. to purchase since it is local to the U.S. 
RedmondLife.com

32. Viv – Tampons and Pads
Viv was created by eco-conscious menstruators who knew the way the world approached eco-conscious period care needed an overhaul. Each traditional pad takes roughly 800 years to break down, a startling fact that sprung the Viv founders into action. Armed with the knowledge of how harmful period care is on the environment, they made it their mission to place earth-friendly and toxin-free products into the hands of every menstruator.
 Vivforyourv.com
33. Chi – Vegan "pork" Made from Sacha Inchi (Imlakesh). 
Chi resembles a pork texture and has a delicious flavor. This is the first plant-based meat on the market I have seen that is certified organic and has CLEAN & real ingredients. They are certified organic and high in protein. I love that they are using the ancient superfood Sacha Inchi which I call the new "peanuts." The benefits of Sacha Inchi include improving cholesterol levels, aiding in weight loss, improve gut health, and they are far more sustainable to grow than nuts. They are also healthier than soy so I am stoked to see Chi use a more progressive ingredient for the base of their new plant-based meat.
34. Ming Bings– Plant powered pockets
A traditional Chinese flatbread that originated in the Ming dynasty of China. Ming Bings are plant powered pockets by Chef Ming Tsai- A 21st spin on the traditional Bing. The entire MingsBings lineup is vegan, gluten-free, dairy-free and plant-based.
35. 
Jackson's Avocado Oil
 -Sweet potato Chips
Jackson's Avocado Oil Sweet potato Chips are made with three ingredients, non-GMO sweet potatoes, avocado oil and sea salt to bring out their superior flavor. These savory and satisfying chips are perfect for anytime snacking!
36. 
Baruka
 – Baruka Nuts
Barùkas Nuts are packed with protein, fiber, and antioxidant power. Enjoy guilt-free with less fat calories than any other nut! Founded by Darin Olien. Discover A Supernut.The growth of Barùkas nuts can not only help put an end to the deforestation but also reverse it. And it allows indigenous people to make a living off the land.
37. 
Ocho 
 – New Vegan Caramels!
Made from Organic chocolate and it is Vegan! They have partnered with Miyokos which is an award-winning European Style Cultured Vegan Butter. Organic and Fair Trade candy should be delicious & these are! These candy bars are beautiful inside & out!
Ochocandy.com
38. Evive – Yogi the ultimate green smoothie
Evive smoothie cubes. Here is pictured the Yogi smoothie cubes perfect for breakfast, lunch or after a workout, there is nothing like a rich green smoothie to restore your energy. A great source of protein, this blend is perfect to nourish your body during active days. Evive is plant-based, gluten-free, and a good source of fiber. Amazing!
These premium, vegan nail polishes are naturally derived. Mineral Fusion provide cosmetics that fit your needs, from a mineral foundation that protects your skin, to vegan nail polish. Mineral makeup is made from natural minerals and ingredients that are gentle and safe for the skin. 
Bocon is a frozen ready meals manufacturing company founded in 1987 in the Venice area. Their mission is to take the real taste of traditional Italian food all over the world. To achieve this, they always make sure that their gnocchi, risotto and gratins are as genuine and natural as if homemade. Alongside traditional specialties, they lately developed an innovative line of products that combine wellness and taste, ranging from high-in-protein gnocchi to gluten free mini gratins and sweet vegan muffins.
41. 
Buddha tea
-Tea
Buddha Tea strive to create teas that do more than satisfy a thirst. Our teas use fresh, high quality ingredients to explore nature's best qualities and enrich the lives of tea drinkers everywhere. The fresh, organic herbs and tea leaves allow our teas to stay pure and natural, free from chemicals, preservatives and added flavoring. Our minimal processing and eco-friendly packaging helps to honor and protect the earth with every tea we make. This is our promise to you – that every sip provides you with the very best nature has to offer.
Carbone is the only brand I have seen on the market that sells real, traditional tomato sauce that also uses non-GMO ingredients. It's new Rao's- but better because it is non-GMO verified! The brand originated at their award-winning restaurant in New York City, which now has a location in Miami. The flavor profile of all four of their flavors is out of this world. It pairs so well with plain pasta or in a delicious pasta dish. Their four flavors include Marinara, Arrabbiata, Tomato Basil, and Roasted Garlic. 
Carbone.com
43. Crave Brutal– Plant protein puff snacks
Crave Brutal plant-protein puff snack, it comes in three amazing flavors, protein-packed, delicious and light. 'Chocho' lupin bean, a variety of lupin that grows at an elevation of 11,000 to 14,000 feet, in the Andean region of Ecuador, brutally superior in nutritional value, and environmental impact. The harsh environmental conditions of the region where 'chocho' grows, contributes to its survival superpowers, and one of the main reasons that make it the highest protein content compared to all other lupin varieties, and a highly efficient and regenerative crop, basically waterless as it only needs rain to grow.
Crave Brutal.com

44. Rind– Dried fruit
Rind are bold, sweet fruit snacks! Nutritious, zero-waste snacks that are better for you and the planet. More vitamins, antioxidants, and fiber are found in the RIND than anywhere else. Variety of Flavors. Non-GMO. Gluten Free. Eat The Peel. A few flavors are Straw-Peary, Orchard, Coco-Melon and Tropical.
Meati is OMG absolutely delicious! Made from mushroom root which is very similar to muscle tissue, making it easy for their culinary team to gently form our main ingredient into any shape, texture and flavor. Like a perfectly blank canvas, They marinate the mushroom root with a handful of natural ingredients to create the delicious protein and fiber-rich cut you know and love.
46. 
Elavi 
– Cashew butters and protein bars
Elavi are low sugar, gut friendly superfood snacks! They cut the bloat-inducing cheap ingredients found in most protein snacks and designed a line of elevated protein bars and nut butters enhanced with superfoods that benefit your body. Plus, they taste amazing!
Bellwether Farms' devotion to simplicity and wholesome tradition is no more apparent than in its Sheep Milk Yogurt and Organic Cow Milk Yogurt. Most yogurt these days is created by first cobbling together a variety of low-fat milk and cream sources — and then adding colors, fillers, flavors and sugars to make up the difference lost in taste and texture. In contrast, Bellwether Farms makes yogurt in small batches from whole milk straight from healthy, happy sheep or cows. Thanks to this premium sourcing and also to using time-honored techniques perfected over thousands of years, the resulting yogurt is lusciously smooth, delicious, and nutrient-dense.
48. 
Eboost
.-  Real Energy Drink
This was the very first product I tried of Expo West 2023. We were driving at the convention center and traffic was bumper to bumper Traffic was crazy said real energy drink not like the others and I was like ok we will see. 
Woombamboos eco-friendly bamboo toothbrushes are coated in a Vegan-friendly wax and use the highest quality dental-grade bristles, free of harmful dyes. When you buy a WooBamboo toothbrush, you're also funding the removal of plastic waste from high-risk environments and waterways all over the globe.  
Lakewood Organic products are Certified Organic which means the fruit and vegetables are grown and harvested in accordance with the USDA National Organic Program (NOP). All Organic fruit and vegetables are grown and processed according to strict guidelines such as soil quality, pest and weed control, and without the use of additives, growth regulators or prohibited substances such as most synthetic fertilizers and pesticides. Yum!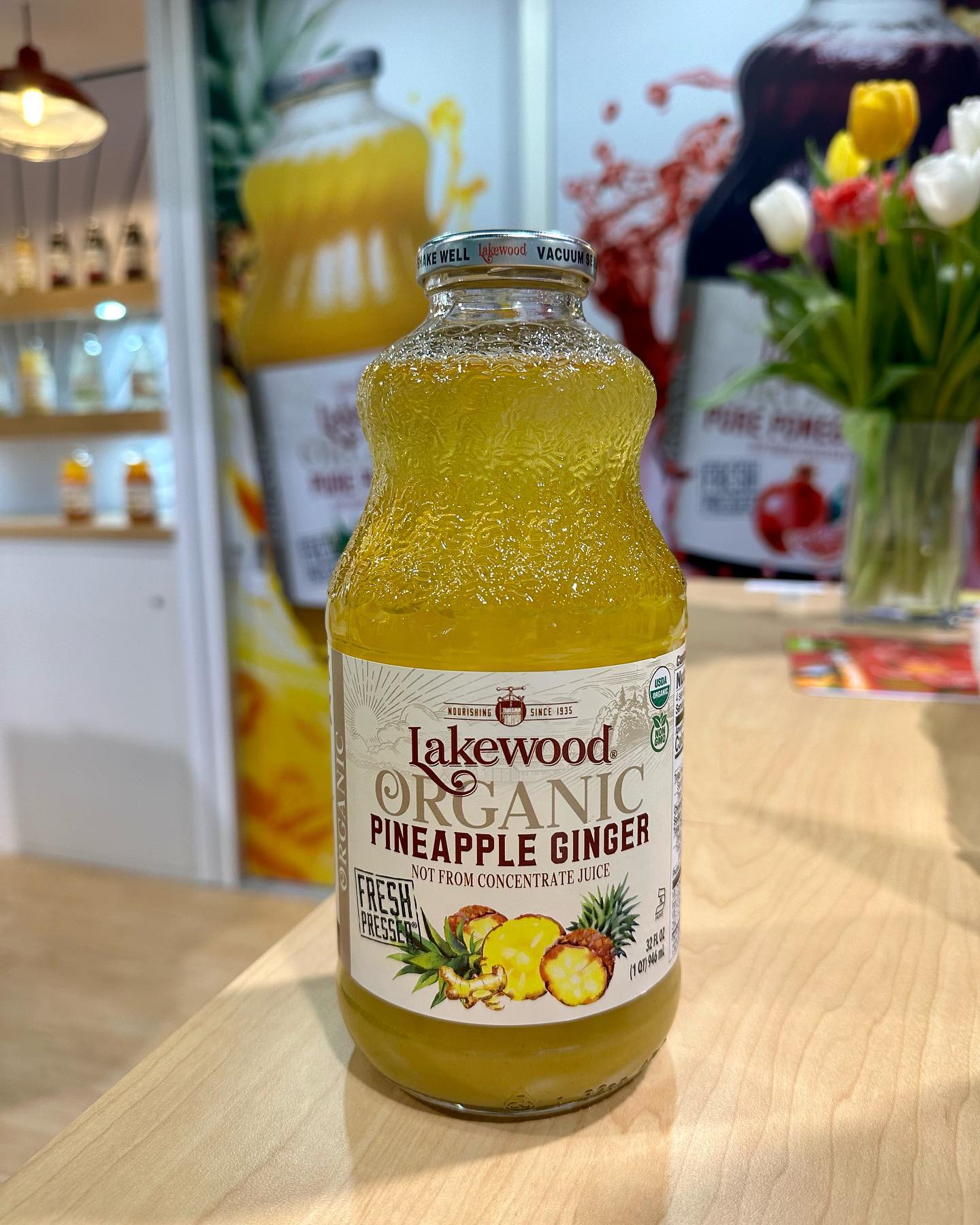 My Anxiety Free Supplement is made with 10 natural and USDA-certified organic ingredients including ashwagandha.
People who took my Anxiety Free supplement at Expo West reportedly felt more stable, less anxiety, less stressed and run down, more focus and clarity, felt a stronger immune system, happier, calm and energized in the brain. All good things!