This Smoked Sausage, Kale, and Potato Soup is hearty and delicious! A creamy soup recipe made with smoked sausage, kale, and potatoes that's done in just 30 minutes.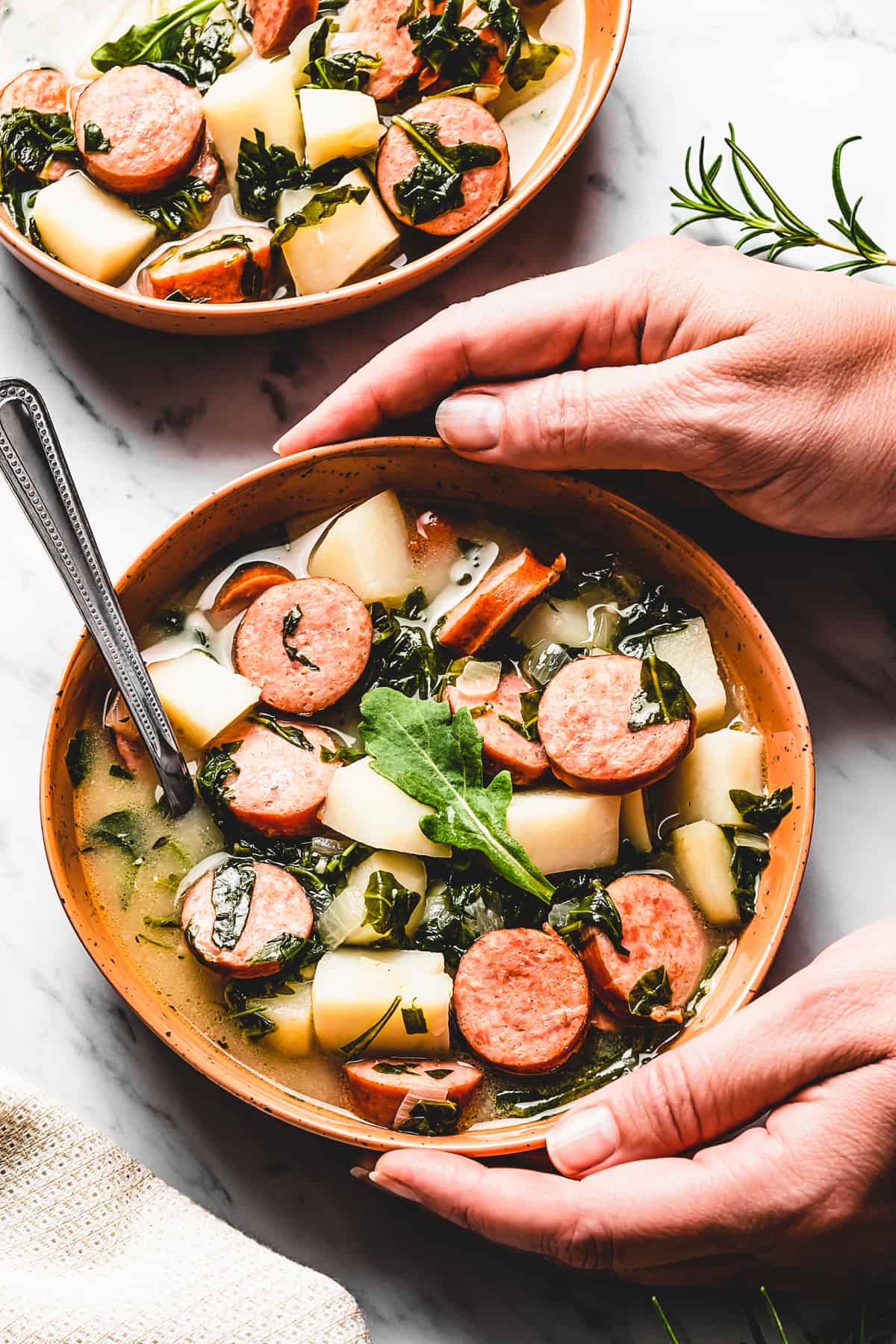 An Easy Soup Recipe That's Loaded with Flavor
I've got your ideal winter-best-friend. This smoked sausage, kale, and potato soup is everything! It's cozy and wintry and basically hug in a bowl, if you will. Perfect for chilly days and nights!
Because cold weather and soup just go together, this Creamy Crab and Wild Rice Soup made its appearance a few times in the past several weeks, along with my Gnocchi Zuppa Toscana. But this one just might be my favorite of the three!
Oh, who am I kidding? I can't pick a favorite! But I am excited to share this creamy sausage soup with you guys – I know you'll love it as much as I do. It's simple to make, comes together quickly, and is good for you, too.
Ingredients
Here's the list of ingredients you will need to make this cozy soup. It's not a long list, but each item is a flavor powerhouse! Let's take a look:
Butter and Olive Oil: For sauteing.
Onion: I use yellow onion, but any kind will do.
Garlic: Finely chop a few cloves of fresh garlic, or substitute garlic powder.
Smoked Sausage: Such as kielbasa – I used Eckrich brand. Slice the sausage into 1/4-inch rounds.
Kale: Tear the kale leaves into bite-sized pieces.
Salt and Pepper
Fresh Rosemary: Or a small amount of dried rosemary.
Dried Thyme: This pungent herb helps balance the richness of the sausage.
Potatoes: Wash and cube the potatoes.
Broth: I use low-sodium, fat-free chicken broth, but regular chicken broth is fine, too.
Soy Milk: For a creamy finish. I used Silk Soymilk.
Can You Leave the Skins on Potatoes in Potato Soup?
Potatoes with rough skin, like russet potatoes, should be peeled before adding them to soup. However, if you use waxy potatoes with delicate skin, like red potatoes or fingerling potatoes, you can peel them, or just scrub them and leave the skins on.
How to Make Smoked Sausage, Kale, and Potato Soup
I have mentioned a couple of times how easy this soup is, but seriously you guys, it has three steps! Four, if you count actually eating it. Here they are:
Cook the Aromatics, Sausage, Kale, and Seasonings. To start, set a large soup pot over medium heat. Add the butter and olive oil. Once those are hot, stir in the diced onion, garlic, sausage, kale, rosemary, thyme, salt, and pepper. Let these ingredients cook for 8 minutes or so, stirring occasionally.
Add the Potatoes, Broth, and Soy Milk. Next, add the potatoes to the pot, along with the chicken broth and soy milk. Bring the soup to a boil, and then reduce the heat to a simmer. Let the soup cook for 10 to 14 minutes, or until the potatoes are tender.
Finish the Dish. Take the soup off of the heat, and taste for salt and pepper. Add more if needed, and discard the rosemary sprig. Ladle the soup into bowls, and serve it warm.
Tips and Tricks
There are lots of ways to customize this recipe, and I've collected a few of the best right here. Check out these easy tips to help you achieve the yummiest soup ever.
Sausage Substitute: For a more zuppa toscana feel, try using browned Italian sausage in this recipe. Sweet, mild, or spicy – it's your call!
Green Options: Kale is a favorite in this recipe, but you can also use other greens if you need to. Fresh or frozen mixed greens, collards, or mustard greens can be substituted, and each will add its own unique flavor and texture.
Veggie Additions: Want more veggies? Feel free to stir in sliced or diced carrots, celery, or leeks right into the pot. Yum.
Dairy Version: If you'd like to use regular dairy instead of the soy milk, try using half and half or whole milk in the recipe. Make sure to add this at the end of the cooking process, though, or it may curdle! Stir it in right before you ladle the soup into bowls.
Add Parm: Drop a parmesan rind into the soup for extra flavor, or sprinkle grated parmesan into your bowl.
Serving Ideas
Need some side dishes to make this a meal? (Well, more of a meal? Because honestly, I could make a meal out of this hearty soup all by itself.) No worries – I have all kinds of side dish inspo right here:
Salad: A fresh, crunchy salad is great alongside a hot bowl of potato soup. This Macedonian Shopska Salad is made with feta, tomatoes, cucumbers, and more – so tasty!
Bread: Simple no-knead bread is always a hit with cozy soup. Try making Rosemary and Garlic No-Knead Skillet Bread, and see how addictive this ultra-easy technique can be.
Chicken: Want a little more protein in your meal? Try adding a healthy serving of chicken. This recipe for Juicy Stove Top Chicken Breasts delivers tender, flavorful perfection, every time.
How to Store and Reheat Leftovers
You can store this in your refrigerator for 2 to 3 days. Make sure to cover it tightly or transfer it to an airtight container to keep it fresh.
To reheat, just put the desired amount in a small saucepan and heat over medium heat until all of the ingredients are warmed through. Or, just use your microwave! Either way, be sure to stir the soup often for even heating.
Does Smoked Sausage, Kale, and Potato Soup Freeze Well?
Yes, you can freeze this soup. Just let it cool down, and then pack it into airtight freezer-friendly containers.
Store in your freezer for up to 2 months, and thaw in the refrigerator before reheating. Pro tip: when you freeze liquids, always leave a little room at the top of the container so the liquid can expand.
ENJOY!
Melt butter and heat olive oil in a soup pot set over medium-high heat.

Add diced onions, garlic, sliced smoked sausage rounds, kale, salt, pepper, rosemary sprig, and thyme; stir to combine and cook for 8 minutes, stirring occasionally.

Stir in potatoes and cook for 1 minute.

Add chicken broth and half & half (or milk); bring to a boil.

Reduce heat to a simmer and continue to cook for 10 to 14 minutes or until potatoes are fully cooked and tender.

Remove from heat.

Taste for salt and pepper and adjust accordingly.

Remove rosemary sprig.

Ladle soup into bowls and serve.
Sausage: I like to use either Polish Kielbasa or Andouille Sausage for this particular soup recipe. However, you can also use Italian Sausage, chicken sausage, turkey, and so on.
Leafy Greens: Kale is a favorite in this soup recipe, but you can also use any fresh or frozen mixed greens, such as collards or mustard greens, or baby spinach.
Vegetables: If you want to add carrots, celery, and leeks, go right ahead. 
Dairy Options: To lighten things up, I used soy milk, but you can use any milk you have on hand. You can also use Half & Half or Heavy Cream; make sure to stir in the heavy cream right before the end of the cooking process and stir well so it does not curdle. 
Serving: 1.5 cups | Calories: 248 kcal | Carbohydrates: 7 g | Protein: 9 g | Fat: 21 g | Saturated Fat: 8 g | Polyunsaturated Fat: 2 g | Monounsaturated Fat: 9 g | Trans Fat: 0.05 g | Cholesterol: 48 mg | Sodium: 418 mg | Potassium: 334 mg | Fiber: 1 g | Sugar: 3 g | Vitamin A: 2886 IU | Vitamin C: 27 mg | Calcium: 132 mg | Iron: 1 mg | Net Carbs: 6 g
Nutritional info is an estimate and provided as courtesy. Values may vary according to the ingredients and tools used. Please use your preferred nutritional calculator for more detailed info.
More Easy Soup Recipes
Lodge 6 Quart Enameled Cast Iron Dutch Oven. Classic Red Enamel Dutch Oven (Island Spice Red)

$133.00

$79.90

 in stock
26 new from $79.90
46 used from $54.14
Free shipping


as of Jan 13, 2023 9:51 PM

Features
A flawless pairing of form and function that doesn't quit, the Lodge Dutch Oven is an enameled cast iron classic that's great for preparing and serving memorable meals.
WHAT IS PORCELAIN ENAMEL ON CAST IRON. It is actually glass that becomes bonded to the cast iron at high temperatures. A particulate of glass, called frit, is applied to the cast iron vessel and then baked at temperatures between 1200 and 1400° F. The glass frit melts and fuses to the cast iron, forming a bond. Porcelain enamel on cast iron is heat tolerant and impervious to water and other consumables.
MAKE EVERY MEAL A MEMORY. Lodge knows that cooking is about more than just the food; it's about the memories.
FAMILY-OWNED. Lodge is more than just a business; it's a family. The Lodge family founded the company in 1896, and they still own it today. From environmental responsibility to community development, their heads and hearts are rooted in America. All Lodge seasoned cast iron and carbon steel cookware is proudly made in the USA, meaning you'll get craftsmanship that has been passed down through generations. Lodge Enameled Iron products are made in China to strict metallurgical and casting specifications.
Imarku Pro Kitchen 8 Inch Chef's Knife High Carbon Stainless Steel Sharp Gyutou Knives Ergonomic Equipment

$62.99

$39.99

 in stock
3 new from $39.99
Free shipping


as of Jan 13, 2023 9:51 PM

Features
High-Carbon Stainless Steel Blade- It is manufactured from high-quality stainless steel that maintains its functionality for a long time. And to boost its sturdiness, the steel contains 0.6-0.75 carbon. This makes it two times as hard as other knives in its class as they contain about 0.3% carbon.
Multi-functional Knife- The gyutou knife is classified and designed to be multipurpose knife for professional applications .It cuts,dices,slices,chops and also cuts meat off bones. It comes with a HRC( Rockwell Hardness Scale) of 56-58 which makes it among the tough knives in its class.
Ergonomic Pakka Handle- To make it more professional and minimize any fatigue, finger numbness or aches after holding it continuously for an extended time the knife's handle is made from Pakka. This is material that originates from Africa and its known for its comfort, strength and stability.
Ultra-sharp Edge- Sharpness is key to achieving the best cuts and this is evident in the knife's blade which is quite sharp and will remain this way even after tough tasks such as cutting tough meat or removing flesh from bones. The sharpness is further boosted by use of the latest Japanese engineering.
Corrosion and Stainless Blade- In addition to carbon, 16-18% chrome is also included in the blade's metal composition. This gives its a glossy finish which will not tarnish even after using it for a long time, making it the perfect gift for mother's day, father's day, wedding and birthday.
EXTRA LARGE Organic Bamboo Cutting Board with Juice Groove – Best Kitchen Chopping Board for Meat (Butcher Block) Cheese and Vegetables | Anti Microbial Heavy Duty Serving Tray w/Handles – 18 x 12

$24.00

$19.97

 in stock
2 new from $19.97
2 used from $18.15
Free shipping


as of Jan 13, 2023 9:51 PM

Features
EXTRA LARGE SIZE AND AMAZING VERSATILITY! This fantastic cutting board comes with a multifunctional double sided design, as well as handles carved into the sides, making it the ideal board for all your cutting and chopping needs. Extra large wood cutting board, it also doubles up as a cheese board or serving tray, making for an extremely versatile product for everyday use.
KNIFE-FRIENDLY SURFACE WITH STUNNING DURABILITY! The Royal Craft Wood Cutting Board is made out of 100% natural bamboo, offering greater durability than your standard cutting boards for kitchen. The surface of our board is strong, but flexible, so your knife won't become blunt through regular use.
BUILD-IN GROOVE – NO MESS, NO STRESS! Our chopping board makes cutting meat, fruits or vegetables efficient and clean. The innovative built-in drip groove is able to hold juices for a neat cutting surface. With a robust structure, it will stick to your countertops without sliding or tilting, allowing you to express your culinary skills to the fullest.
ALL-NATURAL PREMIUM BAMBOO BOARD! This large cutting board is made entirely out of carefully selected bamboo. The nonporous structure of our carving board will absorb less liquid, making the surface resistant to splinters, cracks or peeling. Easy to clean by hand, no more flavor mingling while you cook! Our cutting board is a great gift idea for holidays, birthdays, anniversaries, housewarming parties, or any occasion.
OUTSTANDING QUALITY AND WARRANTY! This cutting board is a quality product made for years of use, we offer a 1-year warranty for this large cutting board, as well as a 100% Money-Back guarantee. If you are not absolutely thrilled at it, we will fully refund you, NO QUESTIONS ASKED!