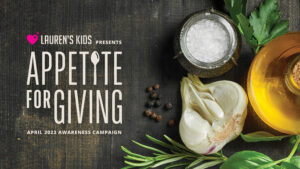 To recognize National Child Abuse Prevention Month and National Sexual Assault Awareness Month in April, many South Florida restaurants have partnered with Lauren's Kids for the Appetite for Giving fundraising campaign. The program is a restaurant partner campaign in which restaurants are invited to join in the fight to prevent child sexual abuse. For the entire month, the Appetite for Giving educational brochure will be found in the check-stuffer of participating restaurants, which will feature a QR Code for guests to donate on the Lauren's Kids website. Donations collected enable Lauren's Kids to help vulnerable children when needed most and will go towards Lauren's Kids' education and prevention efforts.
The month-long partnership will also help raise awareness of the need to protect children and empower the 42 million survivors of childhood sexual abuse in the U.S., with one in three girls and one in five boys sexually abused before age 18.
Participating restaurants include Azucar Ice Cream Company; Bachour; Bagel Emporium & Grille; Beaker & Gray; Books and Books; Casa D' Angelo Ristorante; Epazote Mexican Restaurant; Fireman Derek's Bake Shop; Korner 67; La Fresa Francesa; MaryGold's Florida Brasserie; Platea; Reunion Ktchn Bar; Silverlake Bistro; Tablé By Bachour; Temple Street Eatery; Timo; TUR Kitchen; Uchi Miami and Vivace Gourmet Pizza & Pasta.
"On behalf of the Lauren's Kids Foundation, we are humbled and thank each restaurant participating in Appetite for Giving," Lauren Book, founder and CEO of Lauren's Kids, based in South Florida. "South Florida is a very generous community and having these restaurants join in the fight to prevent child sexual abuse is a difference maker that brings our community together to help prevent these crimes. We also want to recognize and thank Brustman Carrino Public Relations firm, event sponsor, for also helping to shine the light to protect children."