Juicy sirloin and Old Bay-seasoned shrimp collide in these super easy Surf 'n Turf Foil Packs! With red onion, grape tomatoes, and garlic, there's plenty of flavor to go around.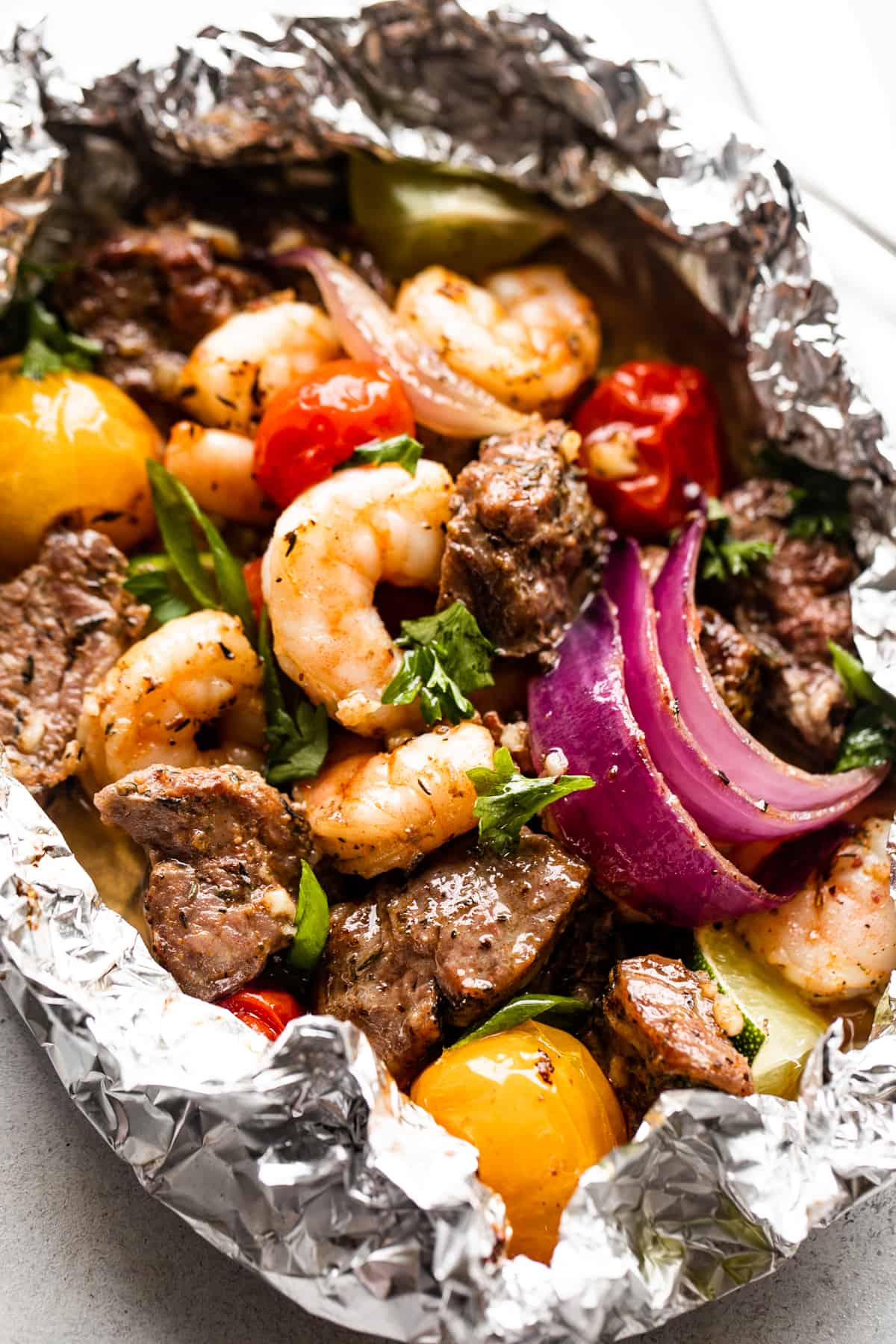 Succulent Shrimp and Tender Steak, Easy and Fun!
Who doesn't love surf 'n turf? Made with tender steak and savory shrimp, it's a combination that's exciting, nourishing, tropical, and steakhouse-y, all at the same time! If you're looking for a meal to wake up your mouth and shake up torment, this is a great choice.
To take things a step further, this recipe shows how to make surf 'n turf the easy way: using foil packs! Just seal all of your tasty ingredients inside, and bake (or grill) to juicy perfection. No need to stand over the stove, just serve with your favorite sides.
How Do You Make a Foil Pack?
Making foil packs might look like origami, but it's super simple to do. All you need to do is place the ingredients on a big sheet of foil, and then bring two sides together. Fold them a couple of times to seal. Then fold each end to seal. Done!
The Ingredients You'll Need
You can use all kinds of different seasonings and veggies with steak and shrimp, so keep that in mind and change it up if you want to. This is my basic ingredient list:
Steak: I like sirloin steak for surf and turf, but you can use other tender cuts, as well. Cut the steak into 1-inch pieces.
Shrimp: Raw shrimp, cleaned and deveined. If you use frozen shrimp, be sure to thaw them and pat dry.
Grape Tomatoes: Cut in half. Using multi-colored grape tomatoes adds visual interest, but regular grape tomatoes are fine, too.
Red Onion: Cut into thin wedges. White or yellow onions will also work.
Garlic: Minced fresh garlic is best, but garlic from a jar or powdered garlic can be substituted.
Seasonings: Old Bay, dried thyme, and cumin give the dish a balanced yet zesty flavor. 
Olive Oil
Garnishes: Parsley, thinly sliced green onions, and lime wedges finish the dish perfectly.
What Cut of Steak Is the Best for This Recipe?
For these foil packs, any cut of steak will work as long as it is a tender cut. Think sirloin, ribeye, New York strip, etc. Save cuts like top round and flank steak for other recipes where you can tenderize them.
How to Make Surf 'n Turf Foil Packs
Now it's time for the fun part: cooking! Let's take a look at this easy, quick cooking method. Here's how to do it.
Prep the Oven and Foil. To get started, set your oven to preheat to 425˚F. Next, cut four large sheets of foil, 12×12 inches each. 
Make the Steak and Shrimp Mixture. In a big mixing bowl, combine the steak, shrimp, tomatoes, red onion, garlic, Old Bay seasoning, thyme, cumin, and olive oil. Toss to coat the ingredients thoroughly in the oil and seasonings.
Assemble the Surf 'n Turf Foil Packs. Spoon the steak and shrimp mixture evenly onto the four foil sheets. Bring two sides together, and fold them a couple of times to seal. Then fold each end of the package a couple of times to seal.
Bake. Place the sealed foil packs on a large baking sheet, and slide that into the oven. Bake for 15 minutes, or until the internal temperature of the steak registers at 130˚F.
Enjoy! Once the steak is done, take the foil packs out of the oven and carefully open them away from your face. Garnish with fresh parsley and green onions, and serve with lime wedges.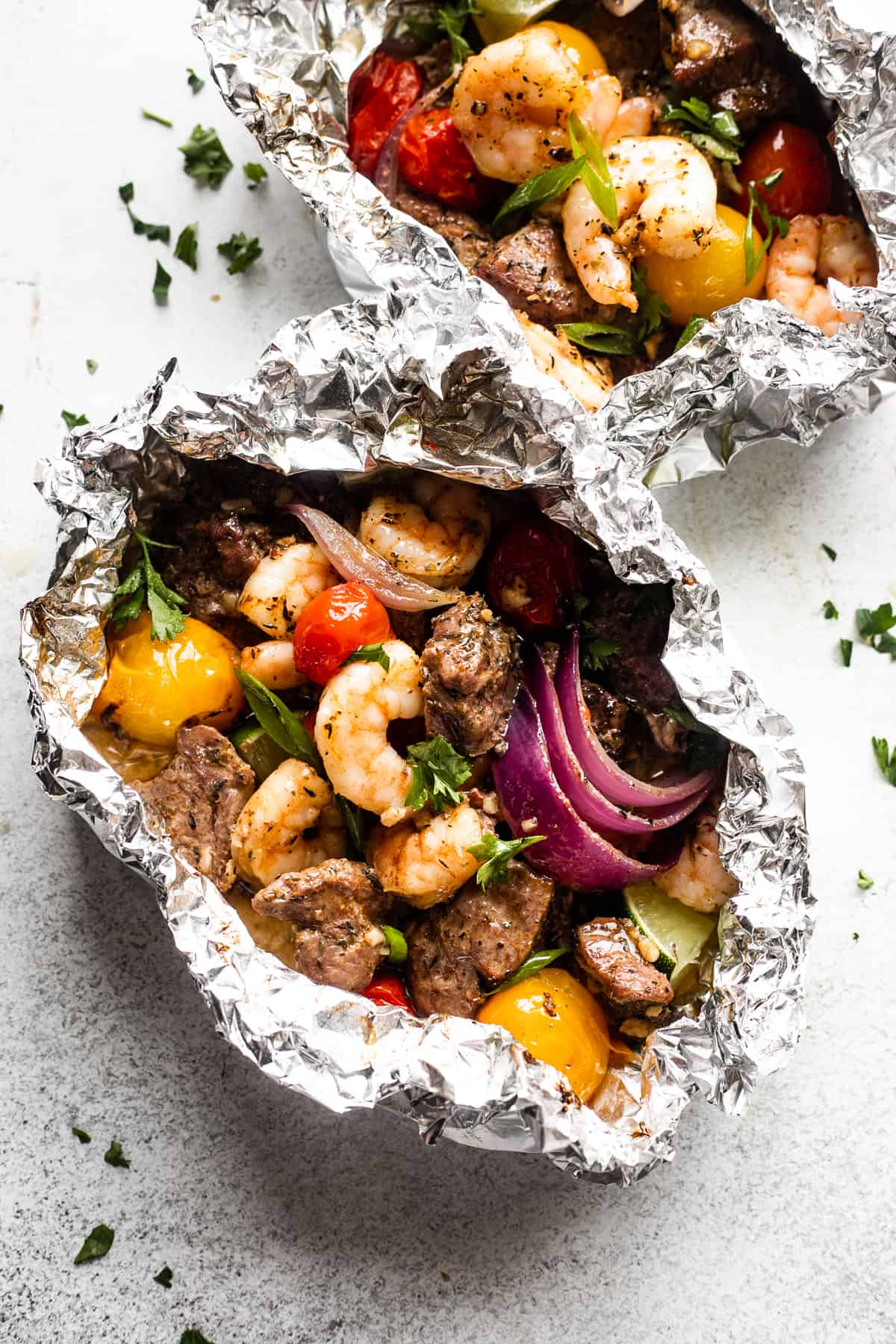 Tips for Success
This easy meal is even easier with a few helpful tips, which I'm happy to share! Read on, and happy cooking!
Add Veggies: This is a great recipe to add some extra veggies to; think mushrooms, summer squash, asparagus, fresh green beans, bell pepper, and other tender veggies.
Cutting the Ingredients: Make sure to cut the meat into uniform pieces, so that it cooks evenly. If you have large and small pieces, the smaller ones will overcook while the larger ones may be undercooked.
Grilling Method: You can also throw surf and turf foil packs on a gas grill if you like! Just heat your grill to HIGH, and then cook the packs on the preheated grill for 7 minutes. Flip the packs, and cook for 7 more minutes.
Side Dish Ideas
Need a few side dish ideas to go with surf and turf? I've got you covered! These easy recipes are the perfect place to start when you're looking for menu inspo.
Potatoes: Mashed, baked, or however you serve them, potatoes are a favorite side dish that goes very well with both steak and seafood. Try these Crispy Air Fryer Potatoes with Herb Butter – they're super simple to make and so full of flavor.
Salad: A simple chopped salad or green salad adds lots of healthy nutrients to this meal, but for something a little different, you should definitely try Macedonian-Style Grape Caprese Salad! These tasty little salad skewers are utterly addictive.
Corn: Corn on the cob is another favorite to serve with shrimp or steak, so why not serve it with both? For the ultimate easy cooking method, try Air Fryer Corn on the Cob. It's irresistible!
How to Store and Reheat Leftovers
The best way to reheat leftover surf and turf is slowly and gently, so the ingredients don't toughen. A covered skillet over low heat would work very well. I recommend heating the steak first until it's almost warmed through, and then adding the shrimp at the last minute to avoid overcooking.
Can I Freeze This Dish?
Freezing steak and shrimp is technically possible, and the food will be safe to eat afterward. However, the texture of these somewhat delicate ingredients doesn't always handle freezing and thawing well, so I don't recommend it. 
If you do decide to freeze this dish, spread the steak and shrimp out on a clean plate or tray and place in the fridge until frozen solid. Then pack the steak and shrimp into freezer bags, and store in the freezer for up to 3 months. Thaw in the fridge before reheating.
ENJOY!
Preheat oven to 425˚F.

Cut 4 sheets of foil, 12×12 in size.

In a large mixing bowl stir together the steak, shrimp, tomatoes, red onion, garlic, old bay seasoning, thyme, cumin, and oil.

Divide the prepared steak and shrimp mixture evenly between each foil sheet.

Wrap and seal foils tightly around the food.

Place foil packs on a large baking sheet.

Cook for 15 minutes, or until the internal temperature of the steak registers at 130˚F.

You can poke through the aluminum foil to check the temperature using an Instant Read Meat Thermometer.

Remove from oven.

Carefully open up each foil packet, away from your face.

Garnish with fresh parsley, green onions, and serve with lime wedges.
Steak: A tender cut, like, top sirloin, ribeye, or tri tip, works great in this recipe.
Veggies: You can add any vegetables to the foil packets. I like to use grape tomatoes and red onions, but I also love to add in sliced mushrooms and bell pepper strips. If using root vegetables, parboil them before adding to the packet.
Checking for doneness: Keep in mind that there is a wide range of doneness and this depends on how you prefer your steak cooked: rare, medium-rare, well done, etc… I suggest to stop cooking the steak once its internal temperature reaches 130˚F. However, if you want a well done steak, give it a few more minutes, or until the internal temperature registers at 145˚F. Down side of cooking the steak for too long is, the shrimp will be overcooked and chewy.
How To Grill Surf and Turf Foil Packs: 
Preheat a gas grill to HIGH.
Cook the foil packets for about 7 minutes PER side.
Calories: 129 kcal | Carbohydrates: 5 g | Protein: 13 g | Fat: 6 g | Saturated Fat: 2 g | Polyunsaturated Fat: 1 g | Monounsaturated Fat: 4 g | Cholesterol: 35 mg | Sodium: 36 mg | Potassium: 329 mg | Fiber: 1 g | Sugar: 2 g | Vitamin A: 353 IU | Vitamin C: 7 mg | Calcium: 46 mg | Iron: 2 mg | Net Carbs: 4 g
Nutritional info is an estimate and provided as courtesy. Values may vary according to the ingredients and tools used. Please use your preferred nutritional calculator for more detailed info.
More Foil Pack Dinner Recipes