These taco bowls are full of perfectly seasoned ground beef, veggies, and beans served over rice and topped with avocado and fresh cilantro. They are quick and easy to throw together and make for the perfect all-in-one meal.
Easy Taco Rice Bowls
Are you looking for a new spin on taco night? Try these taco rice bowls instead! All the goodies you would find in a delicious taco served over rice instead of wrapped up in a tortilla. Between the beef, the veggies, the black beans, and the rice, you are getting a whole meal out of just one recipe.
Thanks to the taco seasoning added to the beef and the beans, everything is bursting with flavor. And Taco Bowls are ready in just 30 minutes! You'll be enthusiastically plunging your fork into these bowls in no time.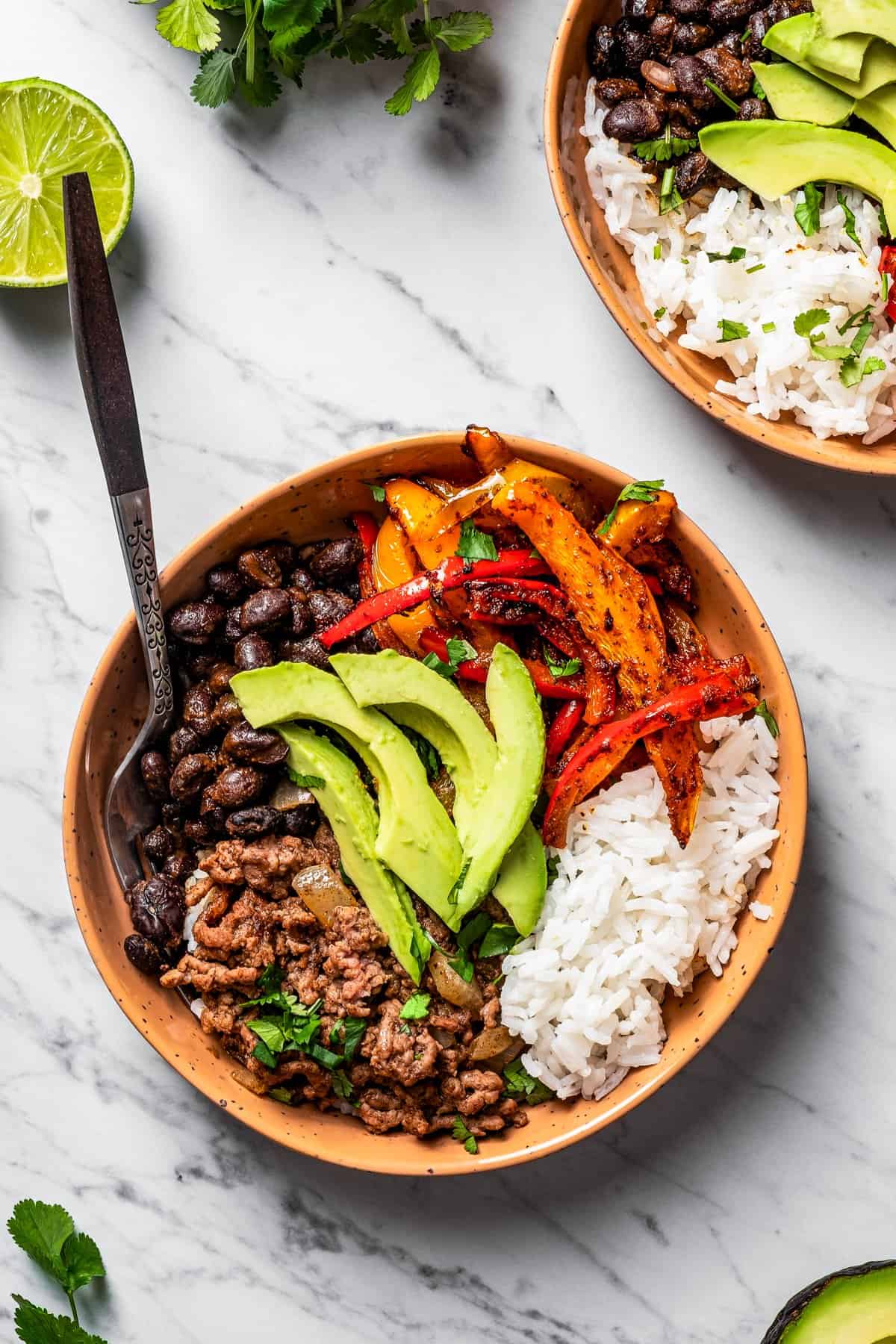 What You'll Need
Here's what you will need to make these easy beef taco bowls. It doesn't take much, but they come together to make a delicious dish.
Rice
Water
Jasmine rice – Make sure to rinse the rice before using.
Roasted bell peppers
Bell peppers – Use any color you'd like.
Olive oil
Cumin
Smoked paprika
Sea salt
Ground black pepper
Beans
Canned black beans – Black beans are my favorites, but you could use pinto beans instead. Refried beans would work here as well.
Taco seasoning – I used Trader Joe's taco seasoning, but any 1-ounce packet will do.
Sea salt
Seasoned ground beef
Olive oil
Onion
Ground beef – Feel free to use ground chicken or turkey instead.
Sea salt
Taco seasoning
To assemble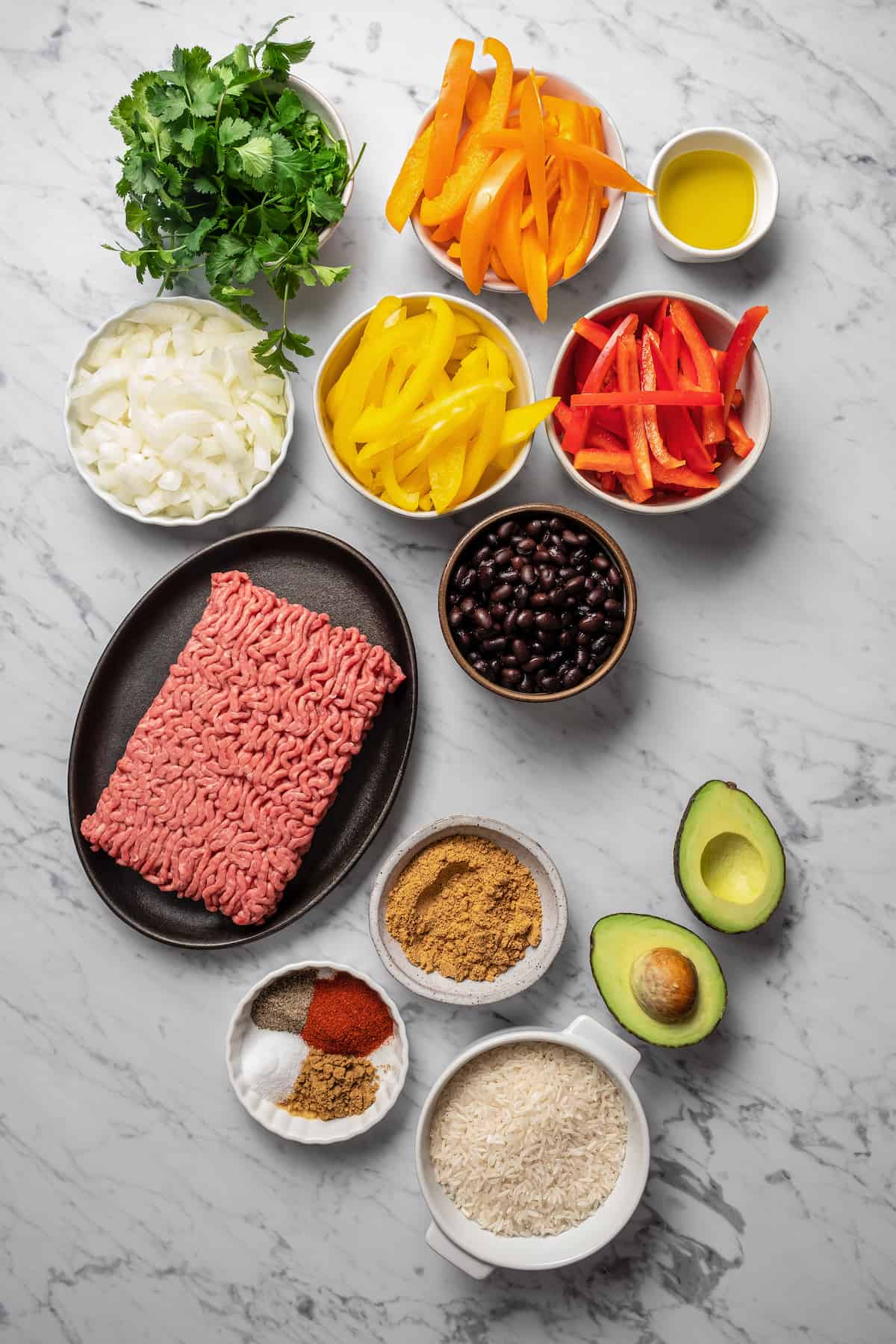 Healthy Taco Bowl Toppings & Variations
These taco bowls are pretty fabulous as is but by all means feel free to play around with different toppings and variations. Here are some suggestions.
Choose a different protein. Ground turkey or chicken would work well here. Feeling creative? Replace the ground beef with the meat from my Instant Pot Chicken Carnitas Tacos recipe.
Add extra veggies. The bell peppers are great in this recipe but feel free to add roasted zucchini, tomatoes, or even mushrooms.
Add salsa or guacamole. Add a dollop of your favorite store-bought version or try making your own. I have been loving this Avocado Tomatillo Salsa, my Avocado Salsa, and this Fresh Mango Guacamole.
Make it a salad. Throw these taco bowls over a bed of lettuce and you've got yourself a taco salad!
How to Make Taco Bowls
This recipe requires you to cook the rice, roast the bell peppers, heat the beans, and cook the ground beef. Each component is very simple to prepare and will take only a short time. Just follow the recipe one step at a time. Make sure to scroll to the recipe card below for more detailed instructions.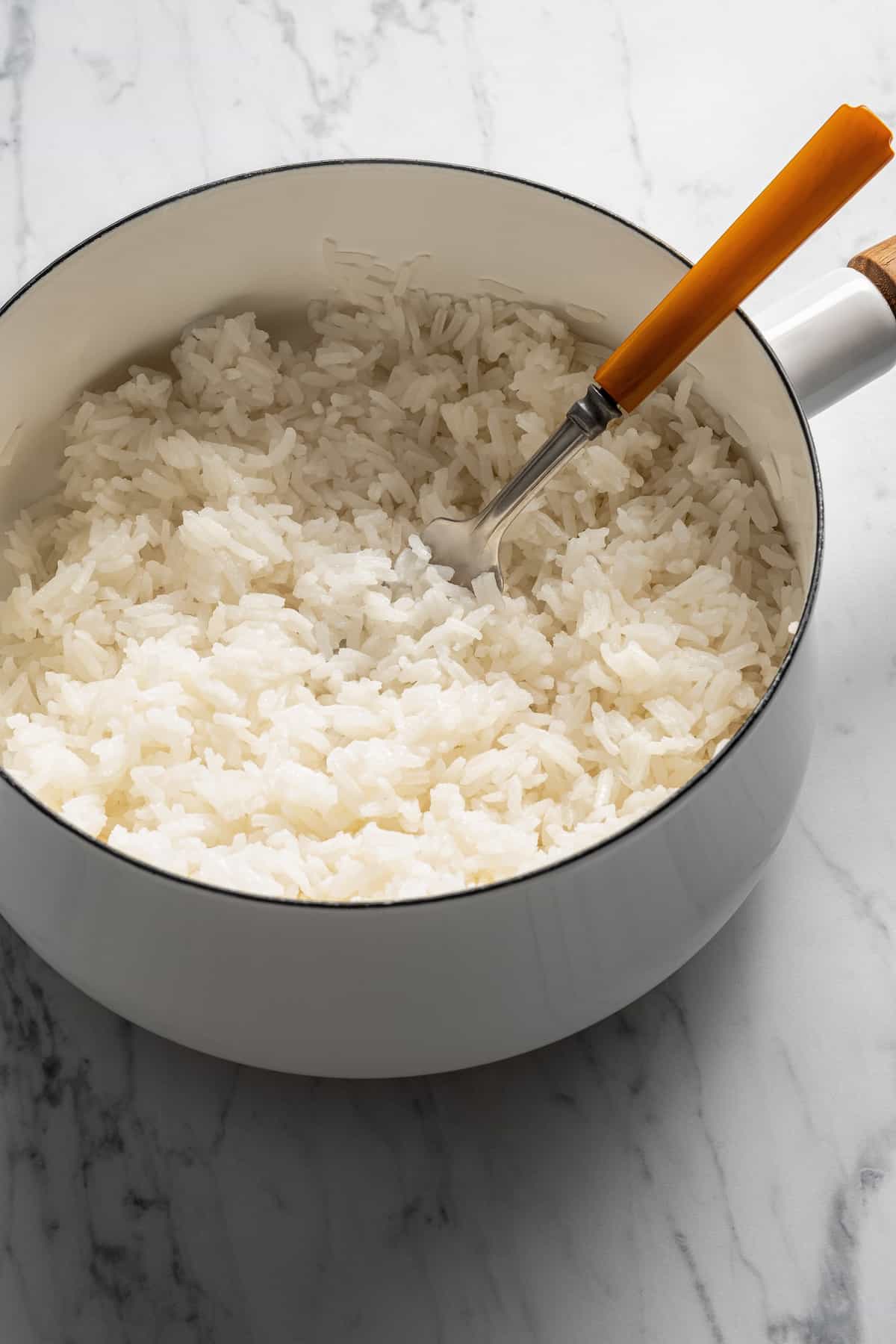 Make the Rice
Boil the water and add the rice before reducing the heat to a simmer.
Cook the rice covered for about 20 minutes before removing from the heat and fluffing with a fork.
Roast the Bell Peppers
Spread the bell peppers over a baking sheet lined with aluminum foil and drizzle with olive oil, cumin, smoked paprika, sea salt, and ground black pepper. Toss to coat.
Bake for 20 minutes at 425˚F, stirring halfway through.
Prep the Beans
Combine the beans and the taco seasoning in a saucepan and simmer for 10 minutes.
Make the Seasoned ground beef
Heat the olive oil over medium-high heat and add the onions and saute until translucent.
Brown the ground beef. Add the beef to the pan with the onions and season with sea salt and taco seasoning. Brown the beef, breaking it apart, and stir until browned and cooked through.
Assemble Your Taco Bowls
Distribute the rice, beans, bell peppers, and ground beef between 4 bowls.
Top with cilantro and avocado.
Tips for Success
Anyone can make these simple taco bowls, but there are definitely a couple of little tips and tricks you can follow that will give you the best results. Here they are.
Pick the right rice. It is important to select rice that has a relatively low starch content. Long-grained rice like Jasmine and Basmati would both be great picks. Rice high in starch tends to clump up, which you do not want in this dish.
Don't crowd the pan. You want as much surface area of the beef to touch the hot pan as possible in order for it to brown properly. So make sure your pan is large enough and that you do not overcrowd it.
Check on the bell peppers. Bell peppers have a habit of sticking to aluminum foil when roasting. So make sure to give them a toss halfway through their time in the oven.
Beef Taco Bowl Serving Suggestions
These taco bowls are a complete meal in and of themselves, but that doesn't mean you can't experiment by serving them with a delicious side or a chilled cocktail. Here are some of my favorite ways to serve healthy taco bowls.
How to Store & Reheat Leftovers
Prepare all of the component of these taco bowls (the rice, the beans, the roasted bell peppers, and the seasoned ground beef) and allow them to cool completely before sealing them in separate airtight containers. Store the separated components in the refrigerator for up to 4 days.
When it's time to reheat, assemble the rice bowls (don't add the avocado and cilantro just yet) and pop them in the microwave for 1 minute. Once they are warm, arrange the avocado slices and chopped fresh cilantro over the top. Serve.
More Easy Recipes with Taco Flavor
Tacos are such a quick and easy way to get all of your nutrients in one compact package. Check out these other easy taco recipes. Let me know which is your favorite.
For the roasted bell peppers
Rice
Bring the water to a boil in a saucepan.

Add the rice and reduce the heat to a simmer.

Cover and cook for about 20 minutes or until all of the water has absorbed into the rice.

Fluff with a fork. Set aside.
Roasted bell peppers
Preheat the oven to 425˚F.

Line a sheet pan with aluminum foil and spread the bell peppers over it.

Drizzle the olive oil over the bell peppers.

Season with cumin, smoked paprika, sea salt, and ground black pepper and toss to coat the bell peppers in the olive oil and seasoning.

Roast in the preheated oven for 15 minutes, stirring halfway through.
Beans
Meanwhile, add the beans, the taco seasoning, and a splash of water to a small saucepan and simmer over low heat for about 8 minutes, stirring often.
Seasoned beef
In the meantime, heat the olive oil in a heavy-bottomed skillet set over medium-high heat.

Add the onion and sauté until translucent, about 2 minutes.

Add the ground beef and break it apart with a wooden spoon until it covers the surface of the pan.

Stir in the taco seasoning and salt and cook the beef until browned, about 6 to 8 minutes, stirring occasionally. Remove from heat.
To Assemble
Put ½ cup of cooked rice in the bottom of each of the 4 bowls.

Top the rice with the beef, beans, and roasted bell peppers (distribute the components evenly between each bowl).

Divide the cilantro between each bowl.

Fan avocado slices over each bowl.

Serve.
Ground Beef: If you would like to swap ground beef for ground chicken, pork, or turkey, feel free to do so. 
Rice: For rice bowls, you want to use rice with low starch content. Jasmine and Basmati, and any other long-grain rice are great picks. 
Taco Seasoning: Use your favorite taco seasoning – I almost always make my own or buy the "Ortega" brand or Trader Joe's taco seasoning. 
Beans: The beans need a little heat to cook them through. Yes, the canning process does cook the beans, and they are safe to eat as is, but I like to season them and warm them up for several minutes before using them. 
For variation, add extra veggies like tomatoes or zucchini. You can also add a dollop of sour cream, salsa, or guacamole on top.
Serving: 1 bowl | Calories: 609 kcal | Carbohydrates: 69 g | Protein: 37 g | Fat: 21 g | Saturated Fat: 5 g | Polyunsaturated Fat: 2 g | Monounsaturated Fat: 13 g | Trans Fat: 0.4 g | Cholesterol: 70 mg | Sodium: 1712 mg | Potassium: 1301 mg | Fiber: 15 g | Sugar: 5 g | Vitamin A: 3285 IU | Vitamin C: 125 mg | Calcium: 94 mg | Iron: 7 mg | Net Carbs: 54 g
Nutritional info is an estimate and provided as courtesy. Values may vary according to the ingredients and tools used. Please use your preferred nutritional calculator for more detailed info.