Have you ever given much thought to what your belly looks like or why it may look the way it does? This may not be something you considered until you realized that your belly does look a little different.
Or maybe you noticed it during pregnancy, a time where there tends to be a lot of focus on bellies and what they "should" look like. 
So What is a B Belly?
In the simplest of terms, B bellies are shaped like the letter 'B.' Typically there is a "waistband" effect that divides the belly into an upper and lower part, resembling the letter 'B' from the side. This differs from the more common 'D-shaped' bellies or apron bellies that don't have the waistband.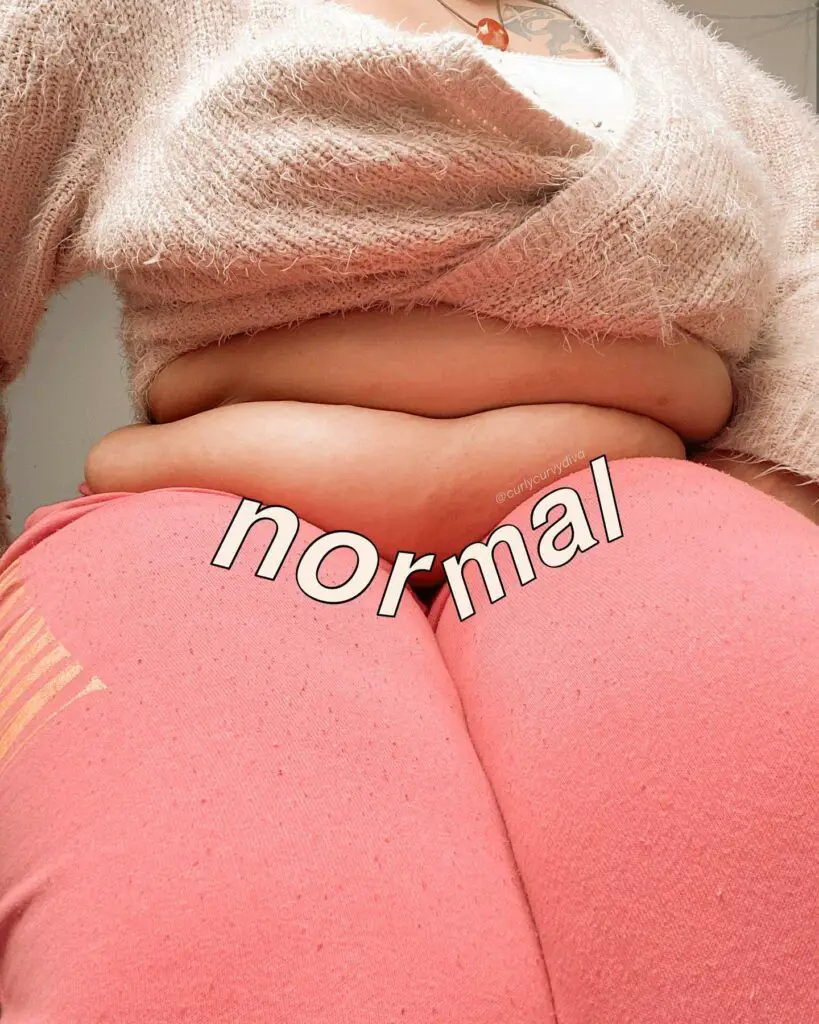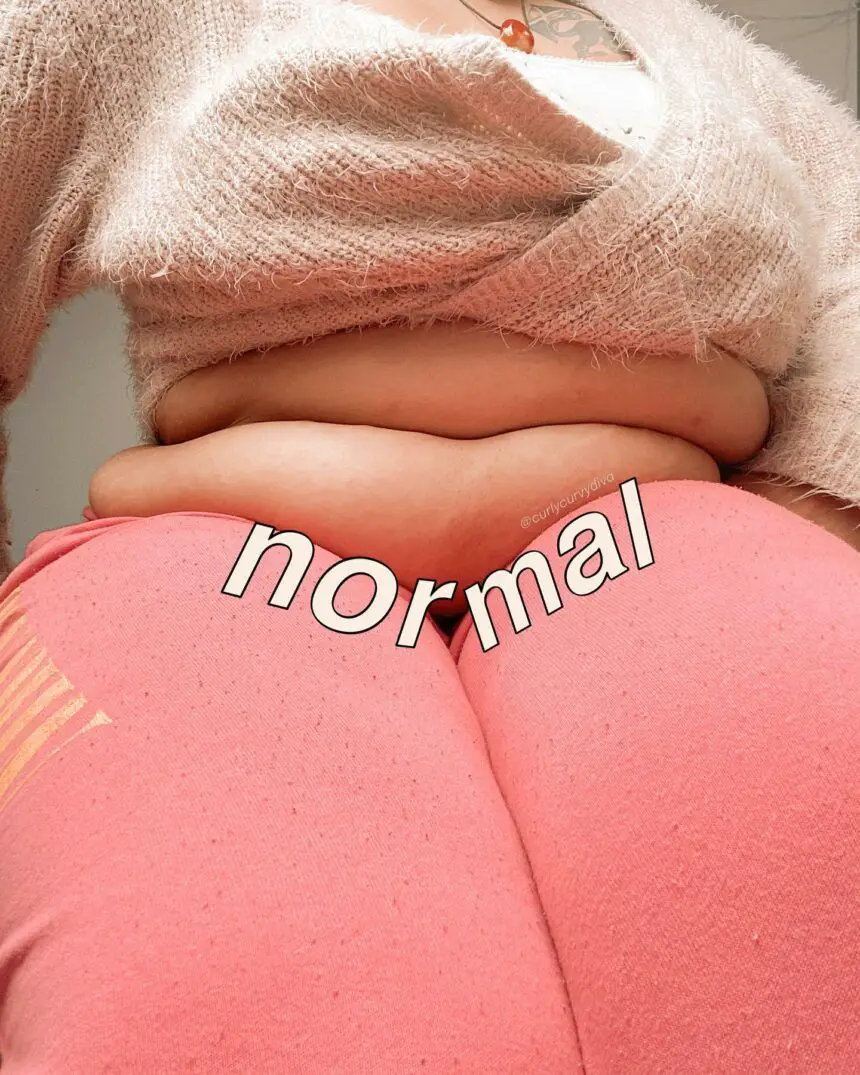 Let's Get Into the Theories!
You may be asking yourself why this happens – why some of us have a "waistband" and some don't. A lot of us have been told since childhood that we have B bellies because of wearing our pants in that spot or because of tight pants that caused the indent. This is one of the most common myths and is not backed by any sort of evidence.
One theory is damage to abdominal fascia. Fascia is the thin casing of connective tissue that surrounds and holds every organ, blood vessel, bone, fiber, and muscle in place. Damage to fascia can happen due to dehydration, poor posture, stress, injured muscles, and more. 
Similarly, the muscles in your abdomen can be damaged during pregnancy. Some women only notice B bellies once they become pregnant and it may stick around post-pregnancy. During pregnancy, muscles stretch to accommodate the growing baby and can cause muscles to widen, sometimes resulting in diastasis recti. Diastasis recti occurs when the right and left sides of the outer abdominal muscles separate, causing a bulge where they have separated.
What is Hourglass Syndrome?
Perhaps the most intriguing theory behind B bellies is hourglass syndrome, also known as stomach gripping. Hourglass syndrome occurs when the individual has continuously overused their upper and internal core muscles, causing the diaphragm to create a muscular imbalance within the core muscles.
You may be thinking yourself, "could this be related to sucking in my stomach when I was younger in an attempt to make my stomach look flatter?" The short answer is yes! It very well could be! The name comes from the action of "sucking in" the stomach in order to pull in the lower ribs and give the waist a smaller, hourglass shape. 
Growing up plus size in society, we are often told to shrink ourselves or to do anything we can to appear closer to the beauty standard. This led to many of us holding in our stomach muscles to make our stomachs appear smaller. Unfortunately, because of society's emphasis on appearance, this condition appears to be becoming more common.
Many people, after learning about hourglass syndrome via social media, have named singing or playing instruments as additional potential culprits for the uneven use of their abdominal muscles. It is also not specific to plus size folks. Anyone can have stomach gripping, but it does appear less-pronounced, even more muscular, on thinner bodies.
There are some common symptoms related to hourglass syndrome. Low back pain can occur because of the incorrect usage of abdominal muscles, causing stress on the lower back joints and discs, and resulting in pain. Neck pain and headaches can result from the neck not being supported properly while breathing.
The diaphragm should have the freedom to raise and lower without resistance but stomach gripping restricts that process. The restriction of the diaphragm can also cause breathing issues, chest tightness, acid reflux, and difficulty when exercising.
The first person to bring hourglass syndrome to TikTok was Marie Soledad in May of 2021. Marie states, "When I first made my hourglass syndrome videos, I didn't think that anyone would watch them, except for a few friends. I had even thought about scrapping the whole series, because I was kind of embarrassed. But within the past two years, those videos have received millions of views, hundreds of thousands of likes, and have inspired further medical research on stomach gripping."
Marie goes on to say, "Most importantly, I have received a ton of comments and seen so many TikTok videos of other people sharing their experiences with stomach gripping. I've gotten comments or stitches where people will say they had no idea this had a name and no idea that anyone else had a stomach like this. Women who are in their 50s and 60s would comment and say I never had the language for this and I thought I was doing something wrong this whole time."
Marie's videos on hourglass syndrome have spurred a lot of additional videos, research into the condition, and countless articles. But she is often not credited for bringing this information to light. 
Marie's says, "I've been pretty upset about not receiving credit for the work I did creating these videos. Knowing that I not only found answers for myself, but for thousands of other people, reminds me, that I didn't create these videos to become viral. I made them to share information, get answers, and find community with other people experiencing the same thing."
Is There Anything That Can 'Fix' Hourglass Syndrome?
There are some options to help treat hourglass syndrome. Learning to relax the muscles to address the tightening of the core muscles, practicing proper breathing, and exercises to treat the muscle imbalance can help, especially if you have been actively sucking in your stomach.
Physical therapy and chiropractic care to correct postural and muscle issues is also an option. If you have body-image concerns that cause you to habitually hold in your stomach, psychological therapy is available to address those issues.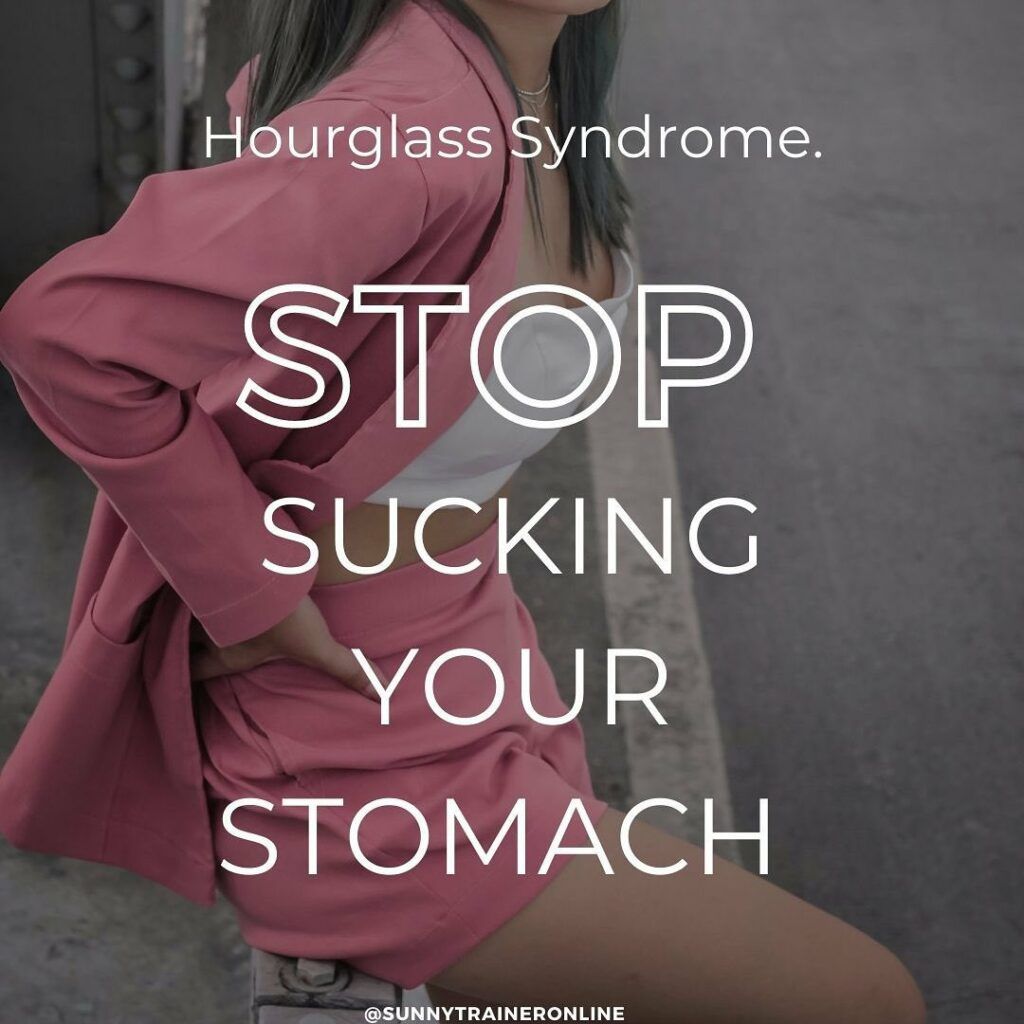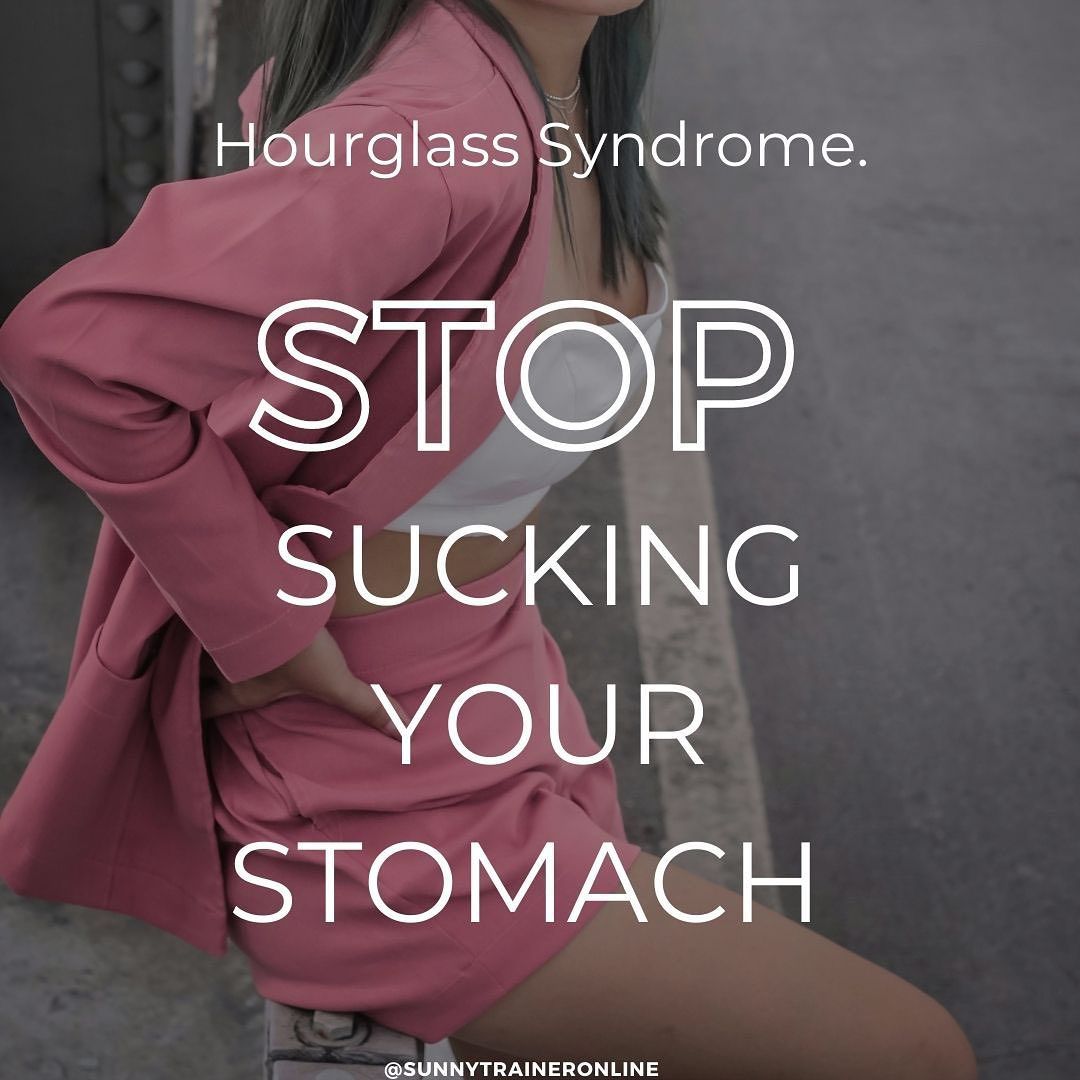 Is There Hope For the Future?
You may be thinking, "oh great, B bellies are just another thing overlooked by the medical community because they are most noticeable in plus size people." And you may be wondering what the outlook is going forward with this information.
Stomach gripping is commonly born out of discomfort or unhappiness with our own bodies because of comparing ourselves to the traditional beauty standard.
Following others on social media (like @PlusSizeMommy) who are going against those standards and fighting for fat liberation gives us hope that the next generation won't have that same discomfort with their bodies and learn to love the skin they're in.