Washington, D.C. – On Thursday, December 1, MoveOn Political Action will host a virtual celebrity One Chip Challenge event to raise money to fund get-out-the-vote efforts in the Georgia Senate runoff. During the live #ChipInForGA event, celebrities will participate in this viral internet challenge by trying to eat a single Paqui tortilla chip made with one of the hottest peppers on the planet, the Carolina Reaper.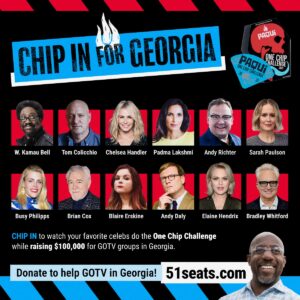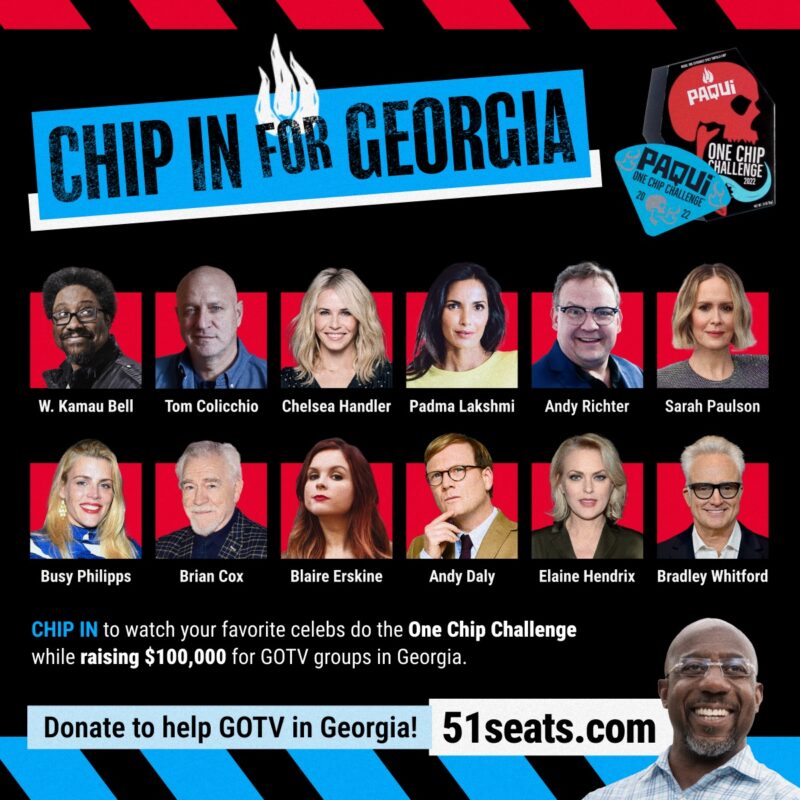 Celebrities such as Tom Colicchio, Chelsea Handler, Bradley Whitford, Andy Richter, Padma Lakshmi, Sarah Paulson, and more will be participating in the event. 
The event is part of MoveOn Political Action's campaign efforts to mobilize millions of members—including hundreds of thousands in Georgia—to vote, volunteer, and donate to ensure Senator Warnock is reelected. All of the proceeds raised from the event will be donated to fund local grassroots GOTV organizers in diverse communities across Georgia who are helping Democrats secure the 51st Senate seat: Poder Latinx, Asian American Advocacy Fund, Black Voters Matter Fund, and New South Super PAC. Said MoveOn Political Action Executive Director Rahna Epting, "Sen. Raphael Warnock has been a fighting voice for all Georgians. MoveOn is fully invested in mobilizing voters to support Warnock's reelection, and we are thrilled to fire up GOTV efforts needed to secure the 51st seat in the Senate. Winning in Georgia is critical, and we're all-in to ensure Sen. Warnock returns to the Senate."

WHAT: Virtual, celebrity-driven One Chip Challenge event to raise money for Warnock GOTV efforts

WHEN: Thursday, December 1, 9-10:30 p.m. ET

WHO:
Comic and host of "United Shades of America" W. Kamau Bell
James Beard and Emmy award-winning host of "Top Chef" Tom Colicchio
Golden Globe and Emmy winner Brian Cox
Emmy-nominated actor J. Smith Cameron
Actor and comedian Andy Daly
MoveOn Executive Director Rahna Epting
Comedian and "Jimmy Kimmel Live" writer Blaire Erskine
Comedian Chelsea Handler
Actress Elaine Hendrix
Emmy-nominated host of "Top Chef" and "Taste the Nation" Padma Lakshmi
Emmy, Golden Globe, and SAG Awards winner Sarah Paulson
Critics Choice Awards winner and actor Busy Philipps
Actor and comedian Andy Richter
Actor, director, and Academy Award-winning producer Fisher Stevens
Emmy and SAG Awards winner Bradley Whitford   

WHERE: MoveOn.org/live

###
About MoveOn Political Action
MoveOn is a people-powered force for progress. MoveOn mobilizes the left to elect Democrats and enact progressive change. We are the homebase for millions of members who refuse to accept the status quo and are moved to take action. For more than a generation, MoveOn has been a bulwark against the radical right, channeling our voices to end wars, protect democracy, and advance justice for all.