"TRUMP IS NOT ABOVE THE LAW": That is the message that loomed over Donald Trump last Tuesday, April 4, as he returned to Mar-a-Lago from his arrest and arraignment in Manhattan.
It's the takeaway from prosecutors' willingness to bring criminal charges against the former president—in just one of several investigations finally aiming to hold him accountable for a litany of crimes and corruption. It's also the message that MoveOn members made sure he saw on his drive home—emblazoned on the 48-foot billboard that his car drove directly past when he left Palm Beach International Airport.
Check out this local coverage of our billboard and MoveOn's efforts!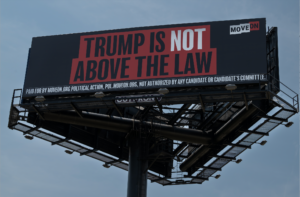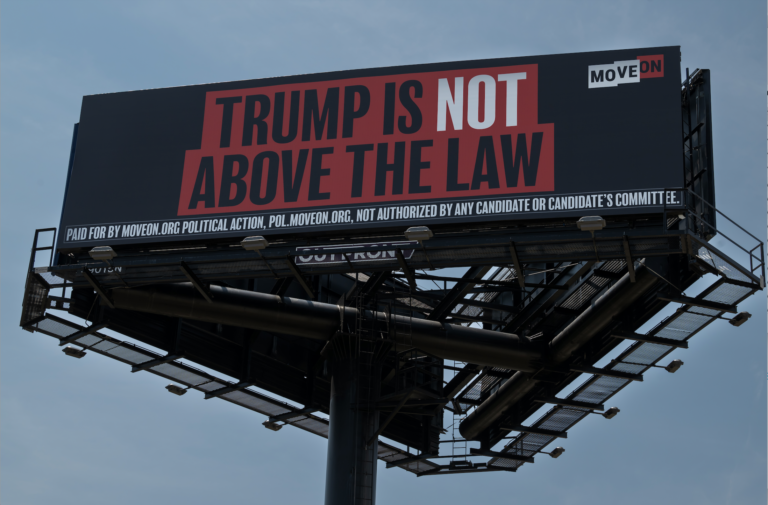 MoveOn members funded this billboard—just one more step in years of work to hold him accountable. And now, thanks to our collective efforts, this billboard is a daily reminder to Trump and his allies that nobody is above the law.
And here's a bit more detail of just how close to Trump's home the billboard is located.
MoveOn member Hayden J. started a Prosecute Trump petition that has rocketed to 335,000 signers! It's gotten significant media attention in the aftermath of Trump's indictment. Take a look at Hayden's interview that ran on the nightly news in Mar-a-Lago!
Our billboard went up just as Trump was in transit for his New York arraignment. And because of our rapid response, MoveOn members' values and voices became part of the story of Trump's day in court. Our billboard made the rounds in local news outlets near Mar-a-Lago, including on local Fox, ABC, and NBC affiliates. And we've also reached hundreds of thousands of people through social media. 
While Trump spent the day regurgitating his usual lies and list of grievances, his take about being unfairly targeted isn't landing. The truth is that a majority of Americans support this indictment, and 9-in-10 agree with the billboard's statement that Trump is not above the law. Because we acted quickly, MoveOn was able to provide a critical, alternative message to Trump's posturing. 
Just a few miles from Mar-a-Lago, is a second billboard, featuring a text message quote from Tucker Carlson that has been exposed in the Dominion lawsuit, the unprecedented $1.6 billion defamation lawsuit brought against Fox News for its coordinated campaign after the 2020 election. It reads, "I hate [Trump] passionately." 
Trump and his allies won't be able to miss either of these billboards.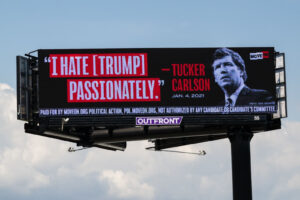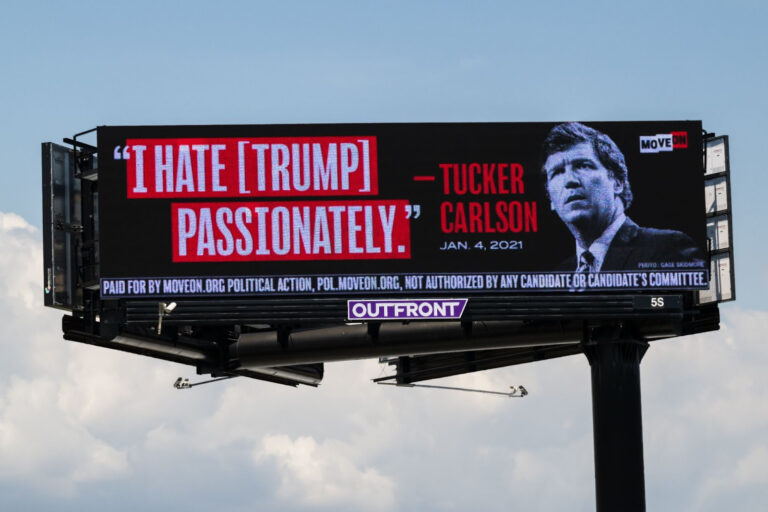 Both of these billboards are possible because of support from MoveOn members who are committed to holding Donald Trump and all who seek to undermine our democracy and freedoms accountable. 
You can help by clicking here, adding your name to the Prosecute Trump! petition, and sharing this message with your family and friends.