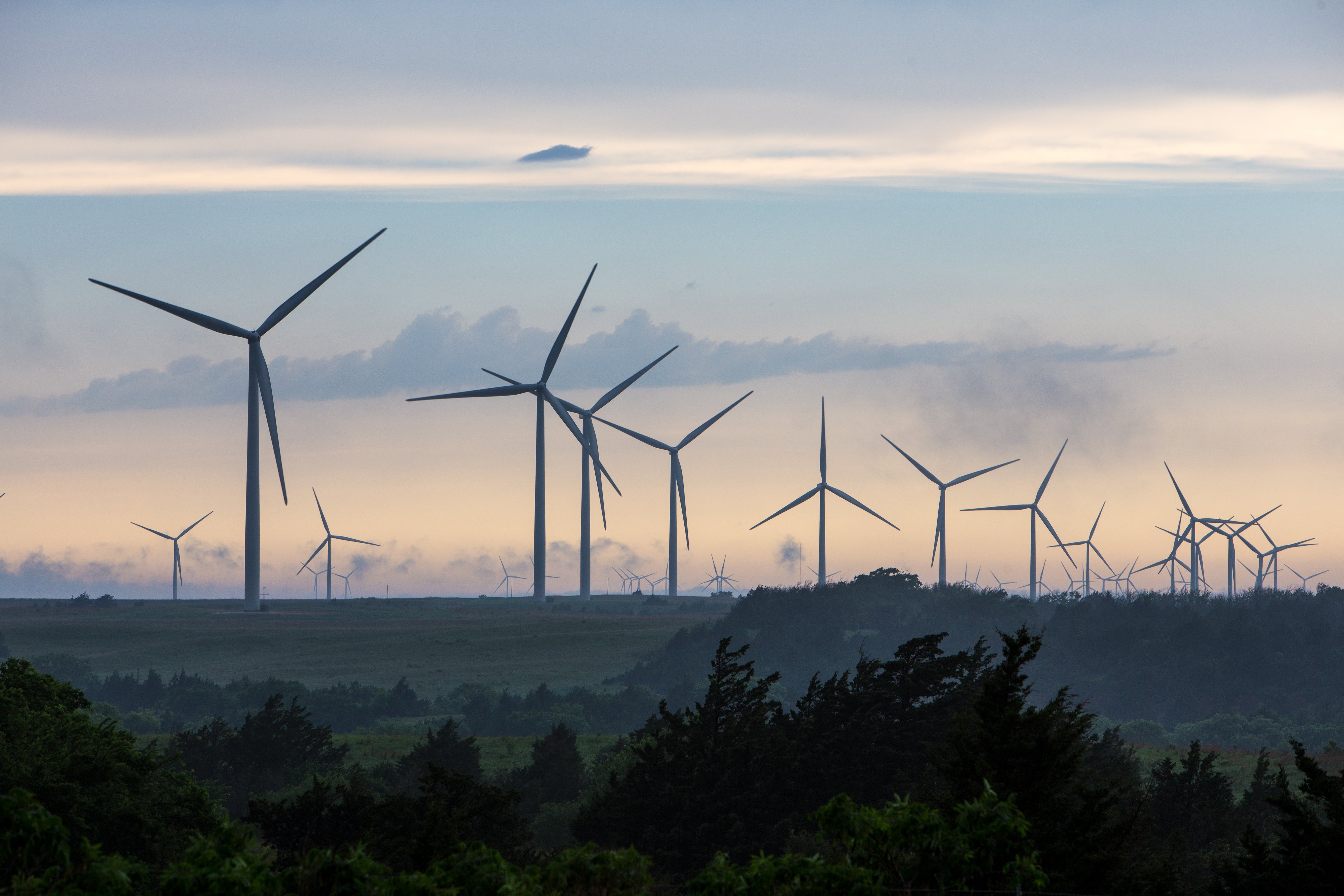 Renewables are on track to generate more power than coal in the United States this year. But the question is whether they can grow fast enough to meet the country's climate goals.
Supply chain constraints and trade disputes have slowed wind and solar installations, raising questions about the United States' ability to meet the emission reductions sought by the Inflation Reduction Act. The Biden administration is banking on the landmark climate law cutting emissions by 40 percent below 2005 levels by 2030.
Many analysts think the United States will ultimately shake off the slowdown thanks to the Inflation Reduction Act's $369 billion in clean energy investments. But it may take time for the law's impact to be felt. Tax guidance needs to be finalized before developers begin plunking down money on new facilities, and companies now face headwinds in the form of higher interest rates and the looming threat of a recession.
The Inflation Reduction Act's emission reductions hinge on the country's ability to at least double the rate of renewable installations over the record levels observed in 2020 and 2021, said John Larsen, a partner at the Rhodium Group.
"Every year we don't have capacity additions beyond the record is lost ground," he said. "It's going to be that much harder to make that up over time. There is a point where we don't get to the outcomes we projected because we blew the first few years of the transition."
For now, U.S. renewable output is edging higher. Wind and solar output are up 18 percent through Nov. 20 compared to the same time last year and have grown 58 percent compared to 2019, according to the U.S. Energy Information Administration. The government energy tracker predicts that wind, solar and hydro will generate 22 percent of U.S. electricity by the end of this year. That is more than coal at 20 percent and nuclear at 19 percent.
Renewable output also exceeded coal in 2020, though that year saw a decrease in energy generation across the board due to the economic lockdowns associated with the Covid-19 pandemic.
Wind and solar growth has to continue at a blistering pace to meet the United States' climate targets. Researchers at Princeton University estimate the country needs to install about 50 gigawatts of wind and solar annually between 2022 and 2024, or roughly double the 25 GW that the United States installed annually in 2020 and 2021.
Through the first nine months of this year, the United States installed 11 GW of wind and solar (Climatewire, Nov. 3).
Steve Cicala, an economics professor at Tufts University who studies energy markets, said he was optimistic the Inflation Reduction Act will ultimately spark a renewable boom. The law provides economic certainty for developers by providing incentives over 10 years. That is an improvement over the past, where renewable subsidies had to be extended by Congress every couple of years.
Still, there are limits to the law's impacts, he said. Transmission lines need to be strung to facilitate that growth. Grid operators face a backlog of projects trying to connect to the power system. The Lawrence Berkeley National Laboratory estimates that some 930 GW of wind, solar and battery projects are waiting to connect to the grid. By comparison, the total capacity of the U.S. power system today is about 1,150 GW.
"The important thing is it continues to grow and we get more capacity installed and output from renewables," Cicala said. "The reason that is important is it will mean less generation from fossil resources."
EIA thinks gas will fall from 38 percent of U.S. power generation this year to 36 percent next year, while coal will decline from 20 percent to 19 percent. The decline is due to a mix of a weaker economy, a cooler summer and growing renewables, which are projected to increase to 24 percent of U.S. power generation in 2023.
Yet supply chain concerns have also prompted utilities to delay coal retirements, as they wait for new solar and wind farms to be built. IHS Markit estimates that 13 GW of planned coal retirements have been delayed, most by a couple of years. EIA projects more than 8 GW of coal retirements for 2023.
The question for climate is how much those coal plants actually run. If they are used sparingly to meet surges in electricity demand, then their emissions impact will be limited, Larsen said.
"But obviously, if the coal plants are running more than that, [it] is obviously bad news for climate because coal is still the dominant source of emissions in the power sector," he said.
Reprinted from E&E News with permission from POLITICO, LLC. Copyright 2022. E&E News provides essential news for energy and environment professionals.