Kyiv, Ukraine – Ukrainian President Volodymyr Zelensky recently announced new sanctions against more than 650 individuals and legal entities that the government describes as "working for Russian aggression." "None of those who help terrorists, work for them, supply or produce weapons for terror will escape responsibility" Zelensky said last week, in a video message.
Dealing with saboteurs and collaborators – those who secretly helped Russia lay the groundwork for their invasion of Ukraine a year ago – is a task that the Ministry of Internal Affairs (MIA) has been dealing with since the first day of the war, according to its new director, Ihor Klymenko.
Speaking in his first interview since being sworn into office, Klymenko told The Cipher Brief in February that saboteurs and collaborators working inside Ukraine have been sowing chaos since the war began.
"They tried to infiltrate the very heart of Kyiv as they were seeking to paralyze the work of the state authorities," said Klymenko. "They were conducting all kinds of subversive activities.  They were trying to sabotage the country's critical infrastructure. They were trying to block and control the roads. And they were trying to gain a foothold in places where they could convey information to their forces."
Within hours of the launch of Russia's full-scale invasion, officers from the MIA were working with the country's Special Services units (SSU) to find and arrest those who had helped Moscow lay the groundwork for Russia's invasion.
The spies, as Klymenko describes them, placed hidden cameras in strategic locations, were marking targets for Russian attack and created booby traps for the Ukrainians who would respond.  All activities that significantly added to the early confusion in the opening days of the war.
When President Zelensky declared martial law, nighttime curfews were instituted as a means to make the work of the saboteurs harder.  Checkpoints were set up around the capital and were manned initially by soldiers who were part of the national guard units and later, in some cases, were manned by people who had been just average citizens days earlier. 
Checkpoint guards interrogated drivers who were caught violating curfew, sometimes forcing them from their cars at gunpoint while they inspected their vehicles.  Kyiv's suburbs were instantly transformed to battlegrounds and the MIA, along with the military, were among the guardians charged with bringing order.
"We have worked with the Special Services hand-in-hand to ensure that all the subversive groups that have crossed the border and have entered the districts of the capital were neutralized. And I believe that we have done a miraculous job," said Klymenko from his new office at the ministry headquarters, not far from the presidential palace.
---
It's not just for the President anymore. Are you getting your daily national security briefing? Subscriber+Members have exclusive access to the Open Source Collection Daily Brief, keeping you up to date on global events impacting national security. It pays to be a Subscriber+Member.
---
Since the start of the war, MIA units have detained approximately 2,000 people on suspicion of cooperating with subversive groups.  Today, the ministry is focusing on countering subversive activities along the frontlines, in the places that have seen some of the country's worst fighting.
"We are trying to detect those saboteurs who are trying to mingle with and hide within the ranks of the civilians," said Klymenko.
Since February 24, 2022, more than 100 units have been set up to find and deal with collaborators, with the help of residents who live in those areas. "Those settlements in the combat action areas have little population left, so it's very easy to spot a stranger there," he said.
And then there are the collaborators.
"Along with the SSU, we were in possession of information concerning the persons who were holding official positions in the temporarily occupied territories, thus collaborating with the occupiers," Klymenko explains.  And his ministry is acting on that information. "Collaborators are right now being detected and identified in the liberated territories. And some of those collaborators are being served with notices of charges in absentia, as they are currently residing in the temporarily occupied territories." 
The National Police of Ukraine have initiated more than 2,450 criminal proceedings on charges of collaboration since the war began.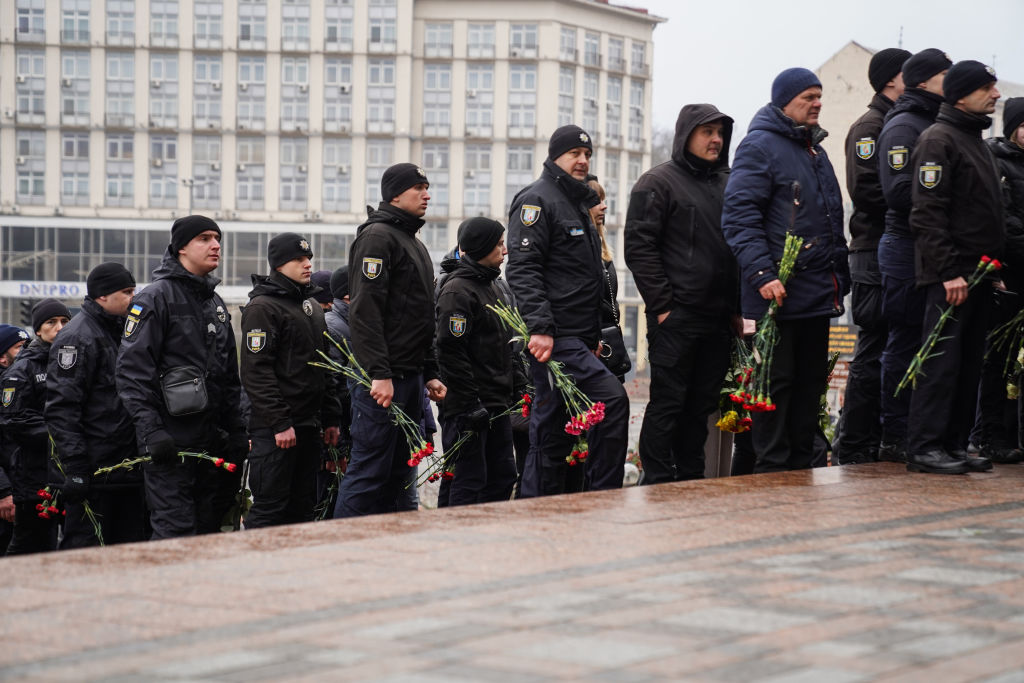 Klymenko didn't take over as director of Ukraine's Ministry Internal Affairs in the way he would have liked.  The one-time beat cop who rose to become head of the National Police of Ukraine, was sworn into office on February 7, after the MIA's previous director, Denys Monastyrsky, his deputy Yevhen Yenin and 12 other people were killed in an accidental crash of an EC-225 Super Puma helicopter in Kyiv in January.
Within 20 days, Klymenko was officially leading an organization that had seen its workload increase by 70% since the Russian invasion a year earlier. It marked the beginning of the director's new task of finding ways to master the chaos that had been inflicted upon a ministry traditionally charged with overseeing policing, security and emergency services.
Today, his organization is also tasked with documenting Russian war crimes, de-mining in some of the most dangerous parts of the country and forming new brigades.  All are tasks that the 34-year police veteran never would have expected before the war.
He's now overseeing the registering and controlling of weapons that were distributed to the population as Ukrainian citizens became soldiers overnight. And he's leading his workforce through a transition from roles based on traditional law enforcement skills to the kinds of skills that will keep you alive on the battlefield.   
"Right now, we are forming eight National Guard of Ukraine assault brigades, one National Police of Ukraine brigade, and one brigade that will fall under the commandment of the State Border Guard Service of Ukraine," says Klymenko.  Though Ukraine still needs the weapons to arm them, military instructors to teach them, and the logistics required to sustain them, like heavier equipment and field hospitals, he noted. "We are still getting acquainted with our new obligations and new roles," he said. 
Klymenko pointed to a large cutout map made of wood that hangs on the wall in his office, pointing out the region of Kherson, where 30,000 police officers have been sent. "Dozens of National Guard Officers are now stationed there as well as rescue services and the State Border Guard Service of Ukraine," he says.
"We're also mitigating the consequences of the missile and airborne attacks that are being carried out against our country and dealing with clearing the debris that is created by these attacks," said Klymenko.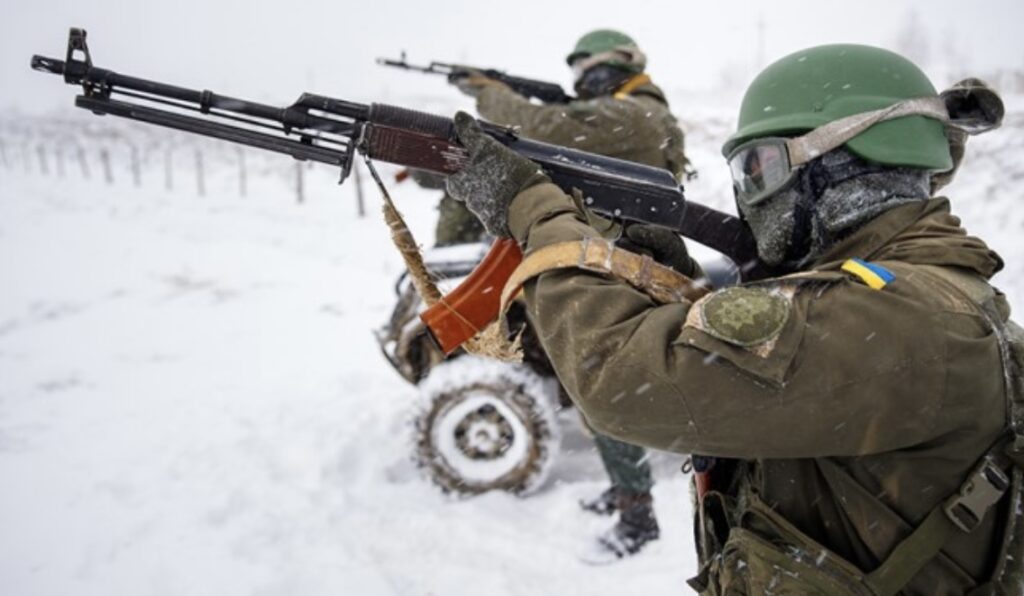 The MIA had no experience in documenting war crimes prior to the invasion but is now taking the lead role in collecting and reporting war crime-related information to international authorities. As of February, Klymenko said the MIA had documented more than 7,516 Ukrainian citizens who were killed as a result of Russia's invasion, 461 of them children. 
"We are fully aware that the numbers are far from being consolidated as we understand that with the liberation of other territories, the numbers and the death tolls of victims will grow," he said.  "Since the start of the war, we have been exhuming the bodies of our civilians who are being buried in graves and identifying them. We are fully aware that even more of this work is awaiting us in the liberated territories."
Klymenko says that as of February, MIA has documented the destruction of 152,000 homes, 3,200 educational institutions, 1,200 medical institutions and 7,500 pieces of critical infrastructure.
"Russia must be duly brought to justice for the atrocities committed in our country and we understand that the majority of crimes committed should be tried by international courts," he said.
---
The Cipher Brief hosts expert-level briefings on national security issues for Subscriber+Members that help provide context around today's national security issues and what they mean for business.  Upgrade your status to Subscriber+ today.
---
SABOTEURS ARE USING MINES, TOO
Saboteurs who are working in the areas around where the heaviest fighting is taking place – along Ukraine's eastern and southern borders, are also using mines as weapons. Klymenko says a stunning 30% of the country has been mined and that Ukraine's demining teams have collected nearly 500,000 pieces of unexploded ordnance.  The military is neutralizing the part of the explosives that cannot be used again and the other parts are being sent to the Armed Forces of Ukraine to "fight the enemy back" in Klymenko's words.  Today, a lot of the demining activities are taking place near critical infrastructure sites.
"We are talking about the gas pipelines and the electrical grids that are now being restored," said Klymenko.  "The issue we're facing right now, for example, is in the city of Kherson, where a lot of mines have been placed in administrative buildings or buildings housing critical infrastructure objects that are very difficult to be demined."
Saboteurs in those areas are planting in walls or basements, so that when doors are opened, a large explosion is triggered.
"This has already happened on the premises of the main Department of National Police of Ukraine in the Kherson region as one of our EOD experts picked something up off the floor, setting off an explosion that blew up the entire building," said Klymenko, who also says saboteurs are mining office equipment and furniture. "For example, they have planted mines into the seat of a chair and set a printer on top of it. So, when a person comes in and tries to pick up the printer, they set off an explosion."
Ukraine is a country based on agriculture and as the weather gets warmer, Klymenko's team will take on the task of demining vast amounts of the country's agricultural fields. To date, Klymenko says Ukraine has demined some 90,000 hectares of land, soon to be followed by the demining of rivers and areas of the Black Sea.  But he says his staff still needs vehicles that will allow them to quickly and safely demine those areas.
THE FUTURE
Klymenko says he is still working on feeling comfortable in his new role.  He describes the entire ministry as still being in a state of shock over the loss of their leadership this past January.  He says he's thinking a lot about the future work ahead, including finding ways for citizens who have fled the country, to return and rebuild their lives while also trying to minimize the numbers of weapons that are now being distributed amongst the population. He's also planning now, for the eventual reality that drug crimes are likely to take hold here once again, even though crime rates have been low since the war began.  And he also worries about the men and women who didn't ask for this war and who are paying a heavy price for it. "We are talking about the heavily wounded, people who have lost limbs, people who are now facing mental health issues. Those people require both mental and physical support."
Klymenko says what he relies on most on his mission to bring order to the chaos, is having the right team around him. "I take no acquaintances. I take no friends.  The only thing that matters is the professionalism and the expertise of those who have proven themselves since the start of the full-scale aggression. Those who have stayed in Kyiv, who have resided in Ukraine, and other parts of our country and who have fought back the enemy. Trust me, I place a great hope in those people," he says.  "Unfortunately, we have lost a lot of lives, yet we are doing our utmost in achieving victory."
The Cipher Brief's interview was conducted with a translator and has been edited for length and clarity.
Ukraine's Military Intelligence Chief Predicts How War Will End
Read more expert-driven national security insights, perspective and analysis in The Cipher Brief and become a Cipher Brief Subscriber+Member for exclusive access to expert-led content.