Seitan is the secret to this plant-based version of everyone's favorite chicken stir fry recipe. This healthy vegan cashew "chicken" stir fry is packed with flavor and loads of veggies – plus it can be whipped up in 30 minutes!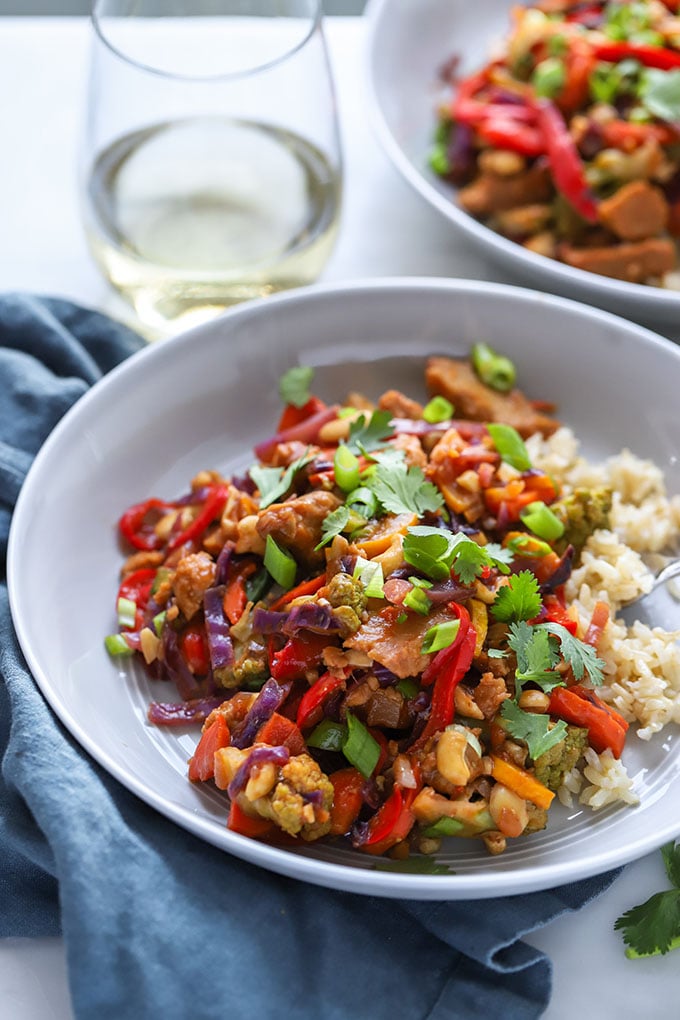 This vegan cashew "chicken" stir fry is one my new favorite meals for busy weeknights since everything gets cooked up in one pan in just about 30 minutes. It is one of those back pocket recipes that you can turn to when you have a bunch of veggies that need to be used up and not a lot of time to get dinner on the table.
The inspiration for this dish came from trying to recreate a classic take out recipe like cashew chicken to make it plant-based.
Why You'll Love this Recipe
A 30 minute, one-pot weeknight meal! Want to make it even faster? Buy pre-chopped veggies or pre-chop your vegetables on the weekend so you can toss this meal together even faster.
Prevent food waste by adding using up any leftover bits of vegetables that may be left in your fridge at the end of the week. I don't know about you, but we always have bits of random vegetables left over at the end of the week from other recipes. Save those veggies from the trash and add them to a stir fry like this one!
A delicious way to try seitan! If you aren't familiar with seitan, this stir fry in a non-intimidating way to try it out.
Ingredients You'll Need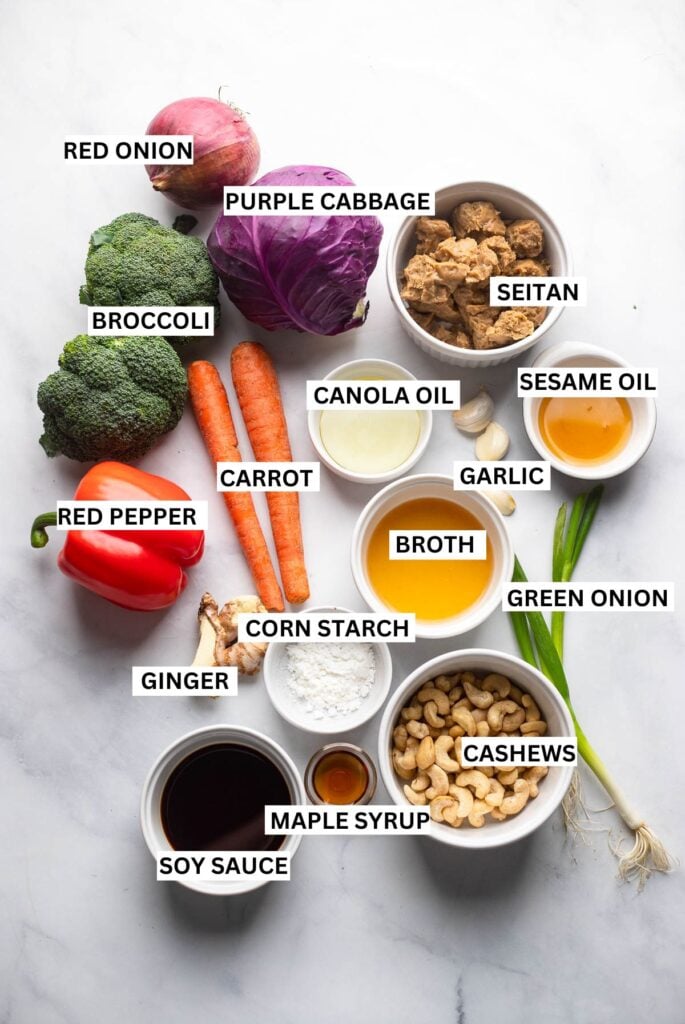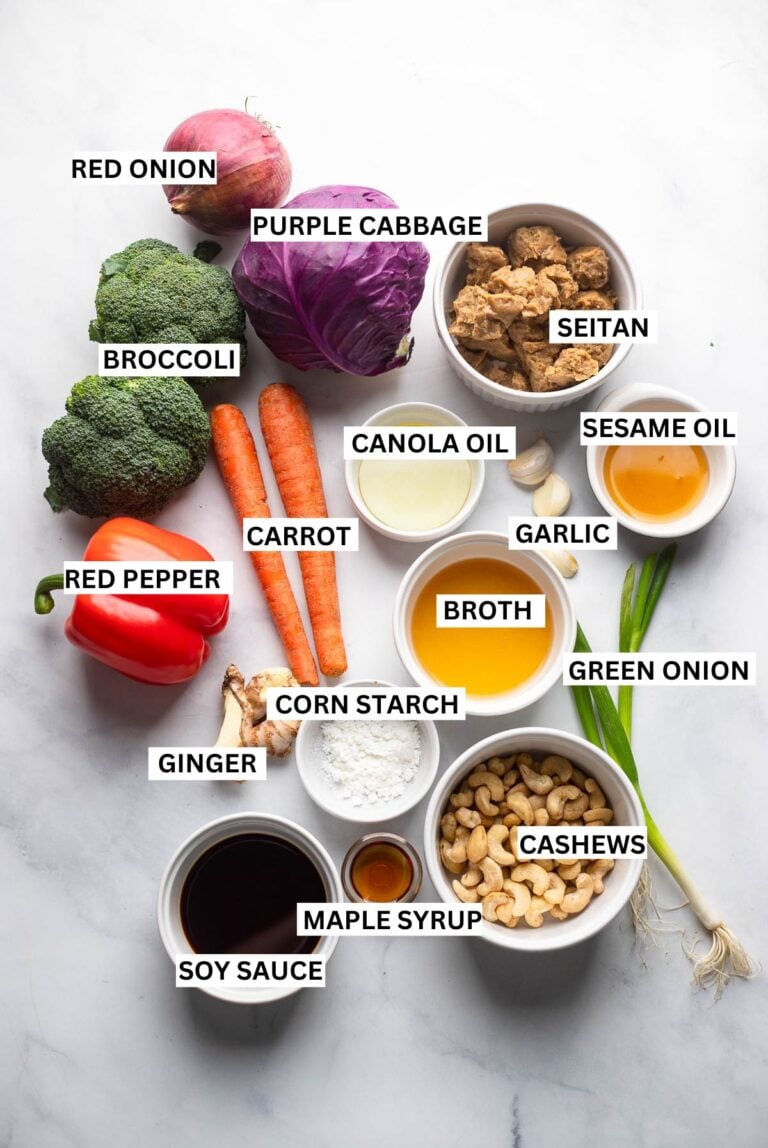 Seitan: We like to use this seitan for this stir fry recipe because it is easy to find at most grocery stores and has a meaty texture that is similar to chicken.
Vegetables: I like to use the vegetables as written in the recipe below, but you could use a variety of different veggies in this stir fry. Adapt it to whatever you have on hand!
Cashews: These add a lovely crunch and some healthy fats to this recipe. You could also use unsalted peanuts.
Soy Sauce: Adds a ton of rich flavor to this stir fry. You can also use tamari. For those who are salt sensitive, using a reduced sodium soy sauce may be beneficial.
Broth: Adds a bit more flavor to the sauce. You can substitute water if you don't have broth on hand or want to reduce the sodium content of the recipe.
Cornstarch: You'll add a bit of cornstarch to the sauce for this recipe because it helps thicken it as you stir fry everything together. Make sure to whisk it well with the other sauce ingredients before using for the best results.
Ginger: If you don't have ginger paste (I buy it from Trader Joe's – it's super handy!), you can use fresh grated ginger root or dried ground ginger. However, I prefer to use the paste or fresh ginger because I think it has so much more flavor.
How to Make this Recipe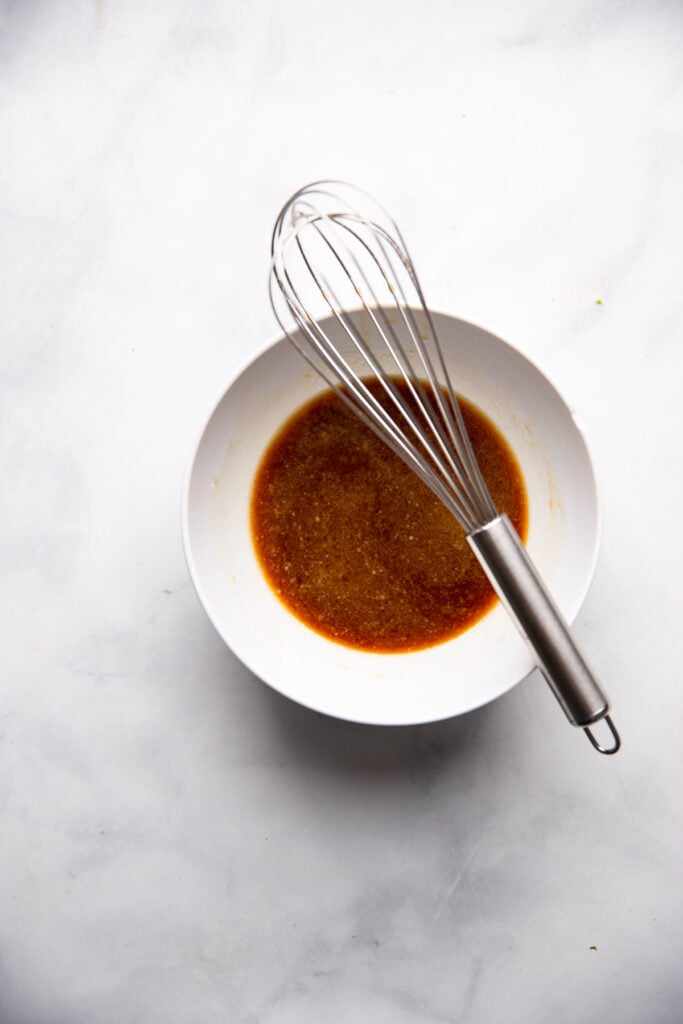 STEP 1: Gather all the ingredients you'll need for this recipe and chop all the vegetables before you start cooking. Stir fry recipes like this one cook quickly, so you want to have everything ready to go before you start! You don't want your ingredients to cook unevenly since you are trying to chop and stir at the same time.
STEP 2: Start by whisking together the sauce that you'll need for this recipe in a small bowl. Whisk until you see the cornstarch dissolve and then set aside.
STEP 3: Add oil and the seitan "chicken" to your pan and sauté until golden brown. Set aside on a plate.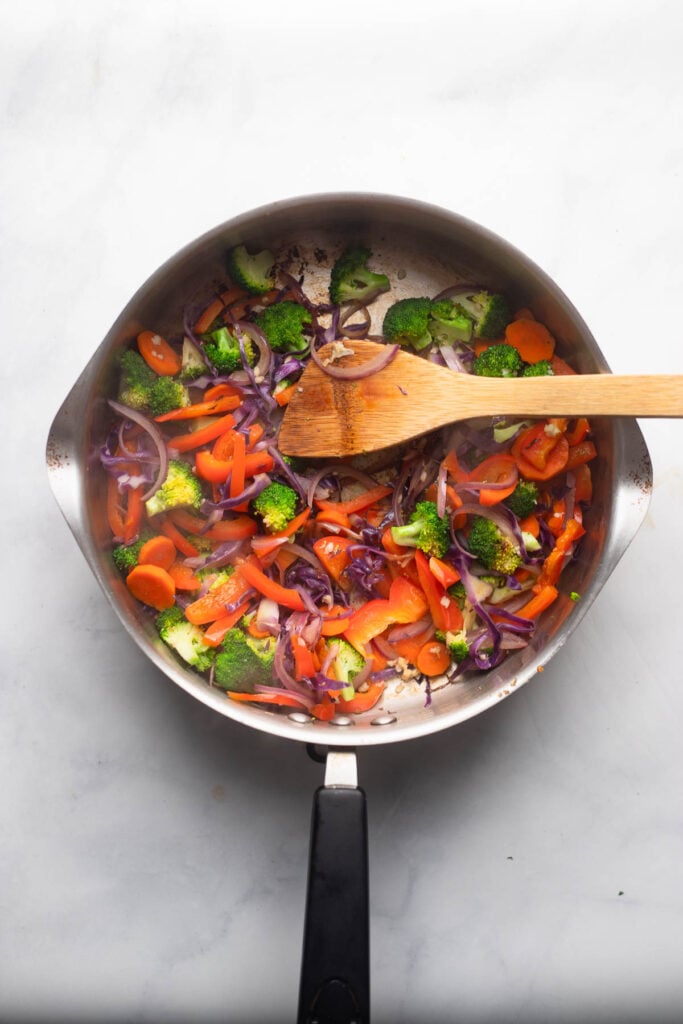 STEP 4: Add the vegetables to the same skillet that you used for the seitan. Cook just until crisp-tender, about 5-7 minutes. You don't want limp vegetables in your stir fry so err on the side of undercooked vs overcooked at this step since you still need to add the sauce.
STEP 5: Add the sauce, cashews, and cooked seitan. Sauté for about 2 minutes to thicken the sauce and warm the cooked seitan back up.
Recipe Notes:
When chopping your vegetables, try to make everything the same size so that they cook evenly. Feel free to switch up the veggies depending on what your family likes or what you happen to have on hand. Some of my favorite veggies for this dish include: purple cabbage, carrot, broccoli, cauliflower, bell pepper, carrots, and zucchini.
For a pop of color, add some chopped green onion and cilantro to the stir fry when serving. I also sprinkle it with a few sesame seeds, but didn't have them when I took the photos for this recipe. (Funny story – the reason that I didn't have any sesame seeds is that our dog Honey stole them off the kitchen table when we left the house and ate the whole bag!)
Do you get frustrated that your fresh ginger root goes bad before you use it all up? I peel it and chop it into 1″ pieces and store it in the freezer. The frozen ginger is much easier to grate and it lasts for months in the freezer. (Plus, the small 1″ pieces are easy to toss in the blender for smoothies!)
What is Seitan?
If you aren't familiar with seitan, it is a plant-based meat substitute made from wheat gluten, which is the protein contained in wheat. Although it may seem like a new product in the US, seitan was actually created centuries ago by Buddhist monks as a meat alternative.
Seitan has a yeasty, nutty flavor and a meat-like texture that can be easily sliced so it works well in savory recipes like this vegan cashew "chicken" stir fry.
You can find seitan in the refrigerator with the rest of the tofu and other vegan products. If you can't find seitan, you could also use a faux chicken product from the store or you can just use an 14 oz. package of firm tofu that has been pressed and cubed.
Have questions about plant-based/vegan protein? Check out my ultimate vegan protein guide!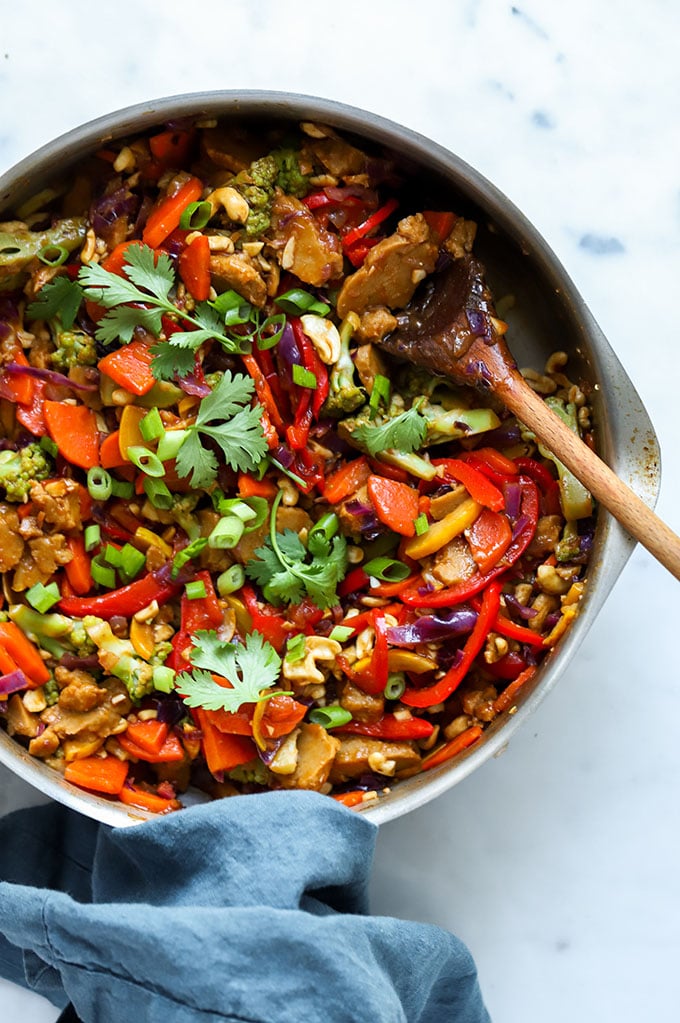 Frequently Asked Questions
What can I use instead of seitan?
You can use either: 1) a 14 oz package of firm tofu that has been pressed and cubed, 2) four ounces of soy curls (rehydrate in water or broth before adding to stir fry), 3) shredded/sliced king oyster mushrooms.
How do I make this recipe gluten free?
Use tofu or soy curls instead of the seitan and replace the soy sauce with tamari.
How to Serve This Vegan Cashew "Chicken" Stir Fry
We like serving this stir fry with some fluffy white rice. You could also serve over brown rice or cauliflower rice (for a low carb option). This stir fry is also delicious when served over noodles like rice noodles, ramen, or soba noodles.
When plating the stir fry, I like to garnish with some sliced green onion, fresh cilantro, and a sprinkle of sesame seeds. Want to add some spice? Add a few dollops of sriracha sauce.
Storage and Make Ahead
Make Ahead: Make the sauce 2-3 days in advance and store in a mason jar in the fridge. You can also pre-chop all of your vegetables several days in advance and store in the fridge until ready to use. Prepare rice a few days in advance and store in the fridge.
Leftovers: Allow leftovers to cool to room temperature and then store in an airtight container in the fridge for 3-4 days. To reheat, pop it into the microwave for a couple of minutes until hot. You can also reheat on the stovetop in a skillet over medium high heat for about 5 minutes or until hot.
More Delicious Recipes You'll Love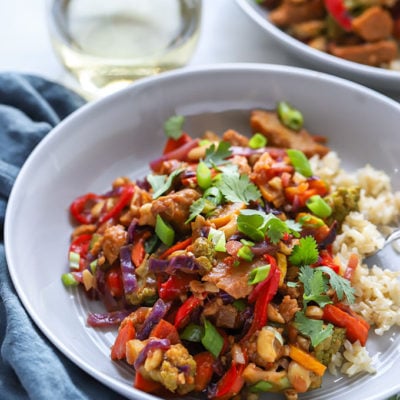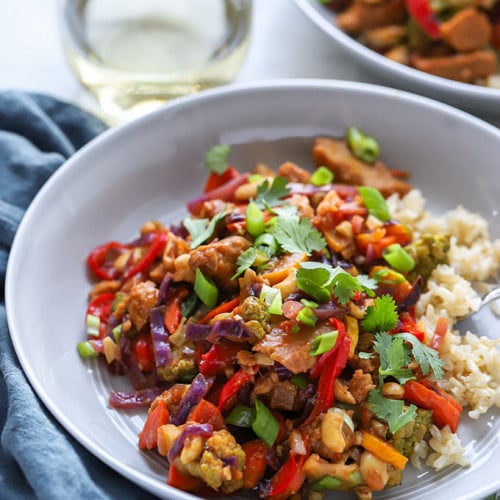 Vegan Cashew "Chicken" Stir Fry
Created by: Deborah Murphy
This vegan cashew "chicken" stir fry is super simple to whip up making it a great meal for busy weeknights. 
Prevent your screen from going dark
Ingredients  
For the Sauce
1/4

cup

reduced sodium soy sauce

1/4

cup

low sodium vegetable broth

1

tablespoon

cornstarch

1

tablespoon

maple syrup or brown sugar

1

teaspoon

sesame oil

2

cloves

garlic, minced

1

teaspoon

grated fresh ginger*
For the Stir Fry
2

tablespoons

canola oil*

8

oz.

seitan, chopped

2

cups

chopped broccoli

1

red bell pepper, sliced

1

carrot, peeled and sliced

1

cup

sliced red cabbage

1/2

small red onion, sliced

2/3

cup

unsalted cashews
To Serve
cooked rice

cilantro

green onion, sliced
Instructions
Make the Sauce
In a bowl, whisk together soy sauce, broth, cornstarch, maple syrup, ginger, and garlic. Set aside.
Make the Stir Fry
Add oil to a large, deep skillet or an enamel dutch oven. Add the chopped seitan and sauté until lightly browned, about 5-7 minutes. Transfer to a plate and set aside.

In the same pan, add the broccoli, red pepper, carrot, cabbage, and red onion. Sauté over high heat until softened, about 6-8 minutes. (You want them to be crisp-tender rather than limp so don't over cook here!)

Stir in the sauce, cashews, and seitan "chicken". Cook another 2-3 minutes until sauce has thickened and seitan "chicken" is hot.

Serve over cooked rice and sprinkle with chopped fresh cilantro and chopped green onion.  
Notes
Don't like seitan? Substitute a 14 oz package of firm tofu that has been pressed and chopped into cubes OR 4 ounces of soy curls (rehydrate in water before use).
For high heat cooking like this stir fry, we usually reach for canola oil. However, you can use a different cooking oil if you prefer.
Feel free to use different vegetables based on what you have on hand. You want to use about 6 cups total of cut vegetables. Suggestions for other vegetables to include: zucchini, summer squash, green beans, and cauliflower.
If you don't have fresh ginger, you can also use 1 teaspoon of ginger paste or 1/2 teaspoon ground ginger.
Nutrition information is an estimate and does not include rice. 
Nutrition
Serving: 1/4 recipe | Calories: 326kcal | Carbohydrates: 24g | Protein: 20g | Fat: 18g | Saturated Fat: 2g | Polyunsaturated Fat: 4g | Monounsaturated Fat: 10g | Trans Fat: 0.03g | Sodium: 864mg | Potassium: 545mg | Fiber: 5g | Sugar: 9g | Vitamin A: 4011IU | Vitamin C: 94mg | Calcium: 63mg | Iron: 3mg
Reader Interactions